STCC's biotechnology program serves as a springboard to bountiful opportunities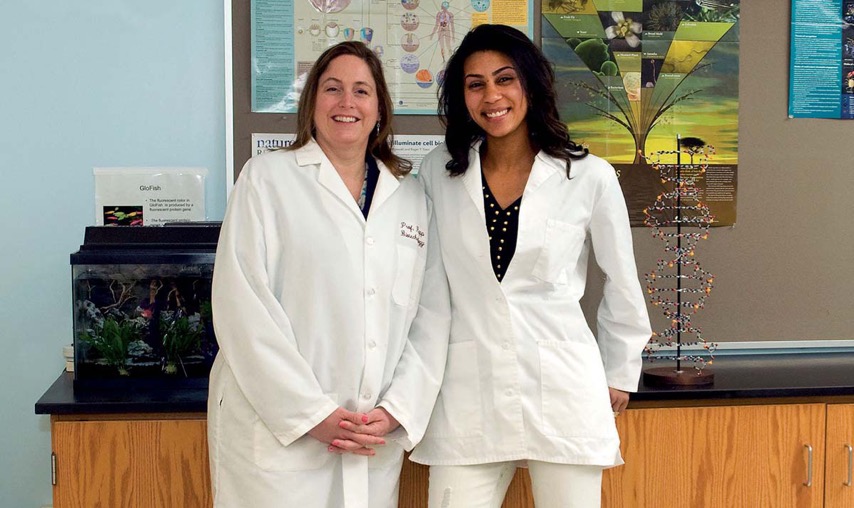 SPRINGFIELD, Mass. – Springfield Technical Community College offers dozens of degree programs, but Ivy Rivers decided to zero in on biotechnology.
"I like the sciences," said Rivers, of Agawam. "I thought it wouldn't be too hard to get a job in an up-and-coming field."
She appears to have made a wise choice. Biotechnology is a booming area of business, representing a critical part of a variety of industries, from food and pharmaceuticals to energy and clothing. Graduates with two-year associate degrees in biotechnology are sought-after job candidates, especially if they want to work in state, said STCC Professor Lisa Rapp, the biotechnology department chair.
"Massachusetts has the highest concentration of biotechnology and pharmaceutical companies in the world," Rapp said. Other major biotech hubs are California and North Carolina. Industry employment in Massachusetts recently reached an all-time high, according to the Massachusetts Biotechnology Education Foundation (MassBioEd).
While some with associate degrees will dive in to a hot job market after earning their diplomas, about half of STCC's biotechnology graduates transfer to four-year institutions to obtain higher degrees, Rapp said.
Massachusetts has the highest concentration of biotechnology and pharmaceutical companies in the world. Professor Lisa Rapp,

Biotechnology Department chair at STCC
That's what Rivers did. She transferred to UMass, where she earned a degree in microbiology. She hopes to continue her studies and obtain a master's degree in molecular and cellular biology. With a master's degree, she likely will be offered a higher salary and be in even more demand in the biotech job market.
Wherever Rivers ends up, she said she will look back fondly at STCC's biotechnology program, where her journey began.
"I like the teachers," Rivers said. "The teachers really want you to learn. They have office hours and they're always there for you. Professor Rapp would email you late at night if you have a question. She wanted to make sure you understood everything."
Rapp taught Rivers and countless other students since arriving at STCC in 1999, two years after the biotech program was founded. Rapp acknowledged that many people, even new students, stumble over the concept of biotechnology, which encompasses a range of applications that use living organisms such as cells and bacteria to make products humans can use.
"It's really more biology than technology," Rapp said. "It's using micro-organisms to produce a product."
How biotechnology is used to create pharmaceutical products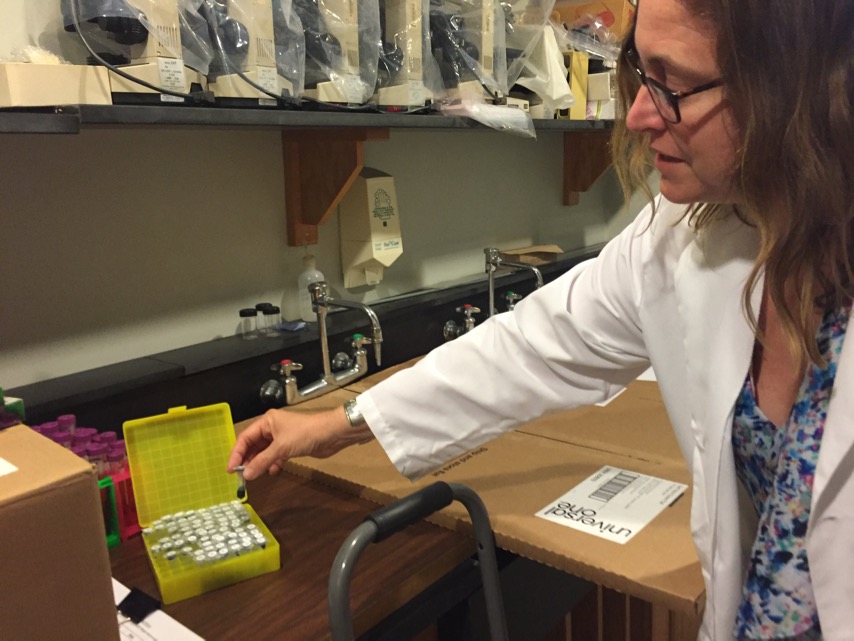 How does a living thing become a product such as a vaccine? Rapp cited the production of insulin as an example. Used by millions of diabetics to regulate blood sugar levels, insulin decades ago was made from a pig pancreas. But in the early 1980s, scientists took the gene for insulin from a human and inserted it into bacteria.
"Now they use bacteria to produce insulin," Rapp said. "That's an example of biotechnology – taking a gene from one organism and putting it into another."
Rapp's graduates often land jobs in the pharmaceutical industry, where they might be involved in designing, manufacturing, testing, or packaging and handling of drugs. But some can find employment in the food industry at companies involved in creating genetically modified crops or organisms.
Other biotechnology applications include industries that create clothing and cleaning products. Technicians manipulate micro-organisms to produce industrial enzymes used in the production of blue jeans or laundry detergents.
Biotechnology also covers forensics, which might excite students who grew up watching the "CSI" TV series. But that's only a small piece of the academic program at STCC, Rapp said.
The most common applications of biotechnology include:
Industrial production of pharmaceuticals
Genetic testing
Modifying cells to better understand how they work
Genetic engineering of plants and animals
STCC's program is designed to meet the growing demand for trained employees in the field of biotechnology. In Massachusetts, upwards of 500 companies employ more than 53,000 people in biotechnology and pharmaceutical companies.
One area employer that has hired STCC graduates is Avista Pharma Solutions, of Agawam. Avista, formerly known as Microtest Laboratories Inc., is the area's largest employer for biotechnology graduates, Rapp said.
"They've been a strong supporter of the program since its inception," she added.
"We've been grabbing as many (STCC graduates) as we can," said Steven Richter, who founded Microtest Laboratories and now works as chief science officer for Avista.
Richter credited STCC's biotech program with helping to get his company off the ground.
"Without the STCC program, this company never would have grown," Richter said. "I couldn't get people and train them fast enough. Microtest is indebted to STCC."
With locations in Agawam, North Carolina and Colorado, Avista employs over 250 people, said Richter. The biotech industry continues to grow.
"The program at STCC is really important right now," he said. "There's no other program in this region that's like the STCC program. It's very unique."
Richter recommends a career in biotechnology to "anybody who wants to have a great job and do something for people who are less fortunate."
"Some of these products make people feel better, and they cure diseases," said Richter, adding that the pay scale is higher than it is for most other science disciplines.
Other biotech companies in Massachusetts that have hired STCC graduates include:
Con-Test Analytical Laboratory, of East Longmeadow
Berkshire Sterile Manufacturing, of Lee MA
Eurofins Spectrum Analytical, of Agawam
Genzyme, of Framingham
Aileron Therapeutics, of Cambridge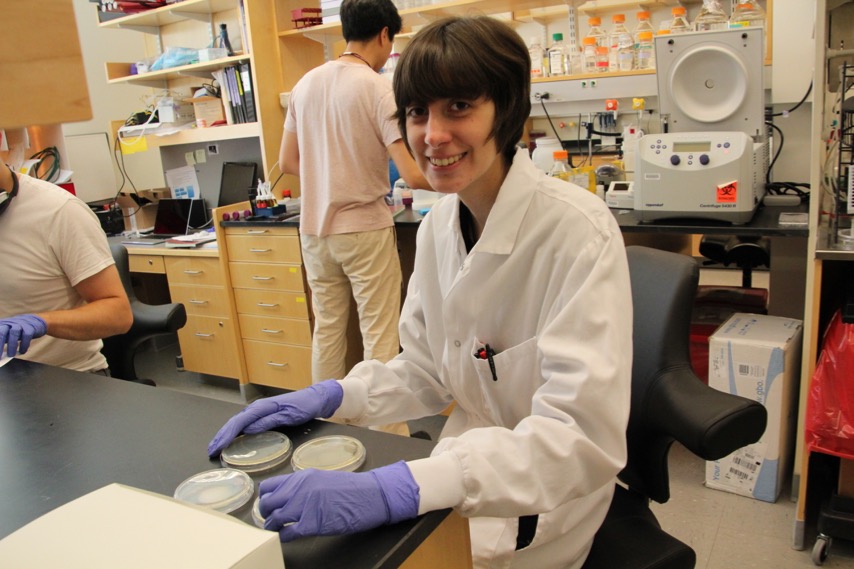 Natalie Soares, 25, a graduate of STCC's biotechnology program, worked at Avista when it was known as Microtest Laboratories Inc. She received her bachelor's degree from Rochester Institute of Technology. Wanting to live in the Boston area, she accepted a job as a lab manager at the McGovern Institute for Brain Research at the Massachusetts Institute of Technology.
"STCC was the foundation that allowed me to move on and stand a chance when I transferred to RIT," said Soares, who grew up in Palmer. "Without it, I would have been really lost."
Jobs are plentiful for biotechnology graduates, "especially in the Boston area," she said.
"Startups are everywhere. There are also big companies. You have a lot to choose from," Soares said.
Grant allows STCC to buy state-of-the-art equipment
STCC ensures students are trained to use state-of-the-art lab equipment. Thanks to a Massachusetts Life Sciences Center grant in 2015, STCC received $225,000 to enhance the biotechnology program. The money paid for lab equipment and supplies and for the redesign of a room used for cell culture and microscopes.
The biotech program was able to purchase new anatomical models and lab equipment such as centrifuges, electrophoresis apparatus, digital hemocytometers, electronics for DNA analysis, and environmental and physiological monitoring sensors among other high-tech tools.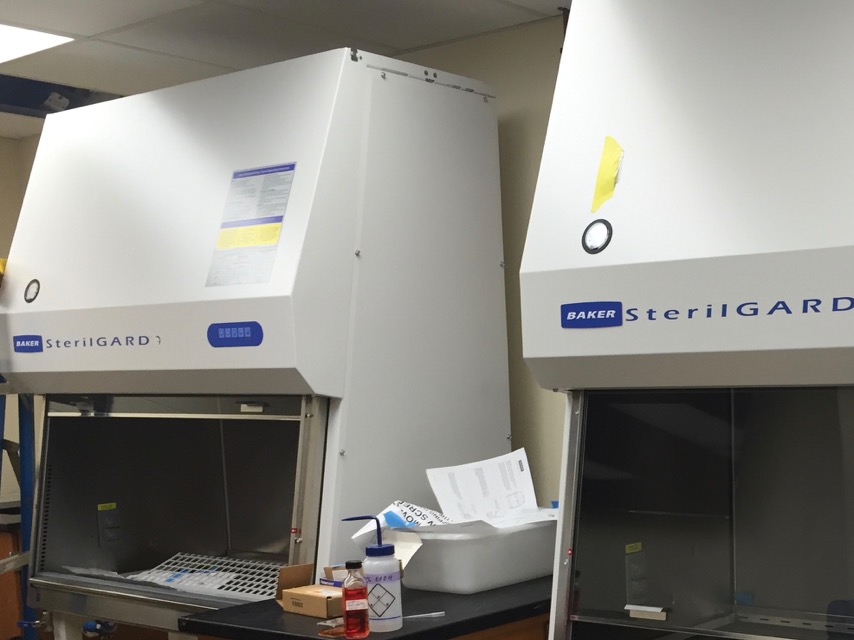 The investment meant STCC could acquire biosafety cabinets that allow students to safely grow mammalian cells and train students in cell culture techniques.
"We purchased a new inverted microscope for viewing these cells, along with two new cameras and digital display equipment which allows us to view and project cell images onto two new large screens," Rapp said.
The funding built on a $150,000 grant awarded in 2012 to update equipment and labs at STCC to align with the needs of life sciences companies.
"Both of these grants have enabled us to have state-of-the-art equipment to teach our students current techniques used in the biotechnology and pharmaceutical industries," Rapp said.
STCC's biotech lab features not only high-tech equipment, but odd creatures that might be at home in a science fiction movie. The STCC biotechnology lab is home to bioluminescent salamanders that glow, using fluorescent protein genes derived from jellyfish.
In the summer of 2016, STCC hosted the Amgen Biotech Experience program, which offered area high school biology teachers an opportunity to perform biotechnology techniques used in research and industry. Harvard University in Cambridge hosted the same program for Boston-area educators.
Rapp said teachers visited STCC to learn how to use equipment and reagents (chemicals and solutions). During the school year, teachers have picked up kits consisting of equipment, materials and reagents needed for experiments their students conduct in high school classrooms.
"It allows them to bring biotech to high schools in an affordable way," Rapp said.
Amgen, a multinational biotech company, sponsored the program in order to create a more-educated workforce at a time when the industry is rapidly growing.
Biotech hiring trends upward
According to the Massachusetts Biotechnology Education Foundation's most recent available job trend report (July-September 2016), industry employment reached an all-time high in March 2016, at 66,258. What's more, quarterly job listings rebounded significantly in the third quarter of 2016, with a 4.7 percent increase over the same quarter last year, according to the foundation.
The potential to get jobs in Massachusetts that start between $16-$20 an hour drew students like Rivers to the STCC program.
"When I decided on biotech, I knew there would be jobs and opportunities," said Rivers, who was working low-paying jobs with difficult hours before coming to STCC.
Rivers, 31, faced challenges when she first enrolled in the biotech program, which requires a strong math background. "I was horrible at math," she admitted.
She said she struggled in algebra II, but passed with help from the tutoring center.
Her advice to anyone who thinks they're not strong enough in math or science to succeed in a program like biotechnology: "I would say definitely take advantage of the services at STCC, because they're free and they're very helpful," Rivers said.
Like many STCC students, she also had to find a school-work-life balance. "I was working, and I had my son and school work. Somehow I made it. It was tough, but the scheduling at STCC made it work," said Rivers, who was a single mother when she enrolled at STCC.
On graduation day at STCC, her family, including her young son, watched her receive her college diploma – the first in her family to do so. She clearly had come a long way.
"Everybody was excited," Rivers said. "It was hard work. I felt like my son saw me succeed at something. If he saw me do that, he'd be able to do the same."
If you're interested in applying to STCC's Biotechnology program or have questions, call Admissions at (413) 755-3333. You can also apply online at www.stcc.edu/apply.
About Springfield Technical Community College:
Founded in 1967 and located on 35 acres of the Springfield Armory National Historic Site, STCC is a major resource for the economic vitality of Western Massachusetts. As the only technical community college in Massachusetts, STCC, an Achieving the Dream Leader College, offers a variety of career programs unequalled in the state. STCC's highly regarded transfer programs in business, engineering, liberal arts, science and technology continue to provide the most economical options for students pursuing a four-year degree. With an annual enrollment of more than 8,500 day, evening, weekend and online students, STCC is a vibrant campus rich in diversity.
For more information about STCC, visit www.stcc.edu. Follow us on Facebook and Twitter (@S_T_C_C).
Media Contact:
Jim Danko, coordinator of media relations
(413) 755-4812, jdanko@stcc.edu