Microsoft MTA Windows 10 Certification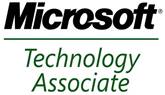 WITS-005 Microsoft MTA Windows 10 Certification (28 hours)
Fee: $839 Includes textbook, materials, and practice exams
For more Information, please contact:
Workforce Development Office
Building 27, 1st Floor

Schedule
Section
Date & Time
E31

Mondays and Wednesdays, 5:00 p.m. - 9:00 p.m.

January 22, 27, 29
February 3, 5, 10, 12
Free Information Session
Date: Thursday, September 12, 2019
Time: 5 p.m. - 7 p.m.
Location: Scibelli Hall (B2), room 410
Learn all about STCC IT Workforce Training Programs
Explore our Non-credit IT Programs with the Program Developer
Call 413-755-4225 for Information
Course Description
The Microsoft Technology Associate (MTA) is Microsoft's newest suite of technology certification exams that validate fundamental knowledge needed to begin building a career using Microsoft technologies. This course prepares students for the Windows 10 essentials exam (98-349).
This program:
Is targeted primarily for entry level technicians such as college students
Provides an appropriate entry point to a future career in Information Technology (IT)
Assumes some hands-on experience or training but does not assume on-the-job experience
Prerequisites
Candidates for this course should have:
A working knowledge of fundamental Windows Operating System concepts
Basic Keyboarding and Mouse Skill
Exam Objectives
MTA Exam 98-349 (updated 2/16/2018)
This exam measures your ability to accomplish the technical tasks listed below. The percentages indicate the relative weight of each major topic area on the exam. The higher the percentage, the more questions you are likely to see on that content area on the exam.
The information after "This objective may include but is not limited to" is intended to further define or scope the objective by describing the types of skills and topics that may be tested for the objective. However, it is not an exhaustive list of skills and topics that could be included on the exam for a given skill area. You may be tested on other skills and topics related to the objective that are not explicitly listed here
1. Understanding Operating System Configurations (15-20%)
Configure Control Panel options

Configure administrative tools, configure accessibility options, configure power settings, configure File Explorer settings

Configure desktop settings

Configure profiles, display settings, and shortcuts; configure and customize Start Menu; configure Task Bar settings; configure toolbars; configure notifications

Configure native applications and tools

Configure Microsoft Edge, configure Cortana, configure Hyper-V, configure settings using MSCONFIG, configure processes and applications using Task Manager, configure computer management

Configure mobility settings

Configure Sync Center, Windows Mobility Center, and Remote Desktop

Configure and use management tools

Configure MMC, configure the Windows PowerShell console and Windows PowerShell ISE
2. Installing and Upgrading Client Systems (15-20%)
Identify Windows operating system editions

Identify hardware and compatibility requirements, determine appropriate editions per device type

Identify upgrade paths

Identify upgrade paths from previous Windows versions, identify application compatibility

Understand installation types

Perform a clean install, upgrade via Windows Update, migrate from previous Windows versions, perform removable media installation, perform network installation

Understand operating system architecture

Understand kernel mode; understand user mode; understand memory, IRQs, drivers, CPUs, and UI; understand 32-bit versus 64-bit architecture
3. Managing Applications (15-20%)
Configure applications

Understand local versus network applications, configure desktop applications, configure app startup options, configure Windows features, configure Windows SmartScreen, configure application removal, configure Windows Store apps

Configure user account control (UAC)

Understand standard user versus administrative user, understand types of UAC prompts and levels

Configure antivirus settings

Configure Windows Defender and the Malicious Software Removal tool

Understand services

Understand service start-up types, service accounts, and service dependencies
4. Managing Files and Folders
Understand file systems

Understand FAT32, NTFS, and ReFS

Understand file and print sharing

Configure File System permissions, configure Share Permissions, configure HomeGroup settings, configure print drivers, configure effective permissions, create shares, create mapped drives

Understand encryption

Understand BitLocker and Encrypting File Systems (EFS)

Understand libraries

Understand offline files, configure libraries, add multiple local locations to a library, add networked locations
5. Managing Devices (15-20%)
Connect devices

Connect, enable, and disable plug-and-play and Bluetooth devices; connect and disconnect printers; install third-party software for devices; install device drivers

Understand storage

Understand disk types, security (encryption), storage device types (eSATA, USB, IEEE 1394, iSCSI, InfiniBand), and storage drive types (basic, primary, extended, logical, dynamic disk, VHDs); configure OneDrive use; optimize drives

Understand printing devices

Understand local printers, network printers, print queues, print-to-file, and Internet printing

Understand system devices

Understand video, audio, and infrared input devices; understand Device Manager
6. Understanding Operating System Maintenance (15-20%)
Understand backup and recovery methods

Configure System Restore; configure a recovery drive; configure recovery boot options, such as Last Known Good, and various Safe Mode options; recover files from OneDrive

Understand maintenance tools

Understand Disk Defragmenter, Disk Cleanup, Task Scheduler, and System Information

Configure updates

Configure Windows Update options; implement Insider Preview, Current Branch, and Current Branch for Business scenarios; manage update history; roll back updates
Suggested Enrollment Process
To Enroll Online:
Click: Online Registration
Click on Search and Register for Workforce Training Classes
Type in 'MTA" and hit 'Submit"
Carefully click the SELECT box for the course that you want to take. There may be several choices so make sure you select the right course and dates.
Enter in your credit card information. Your receipt will be immediately emailed to you. It should have the Building and Classroom for the course. If it does not, check with our office at 413-755-4225 a few weeks prior to the class to confirm the room numbers.
To Enroll in Person:
Go to STCC Building 27, 1st Floor to register for the course or call 413-755 4225