STCC Remembers Community Leader Ronn Johnson on MLK Jr. Day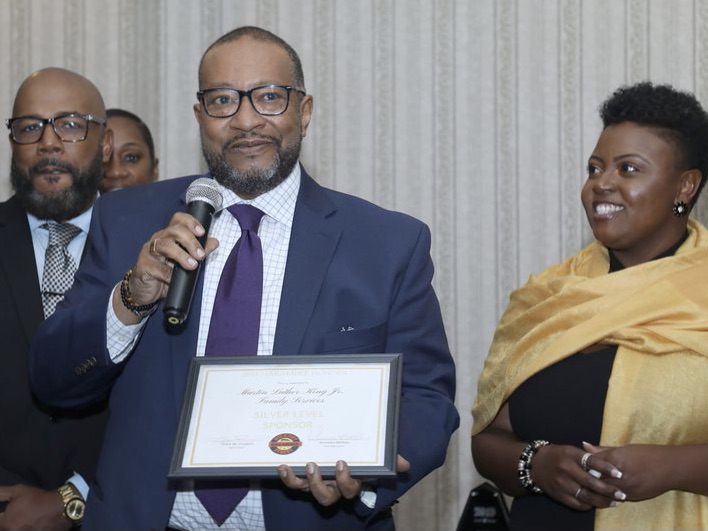 Ronn Johnson, holding a microphone, stands with Tracy Chappell, left, and Jynai McDonald, right, a STCC trustee. In the background is Veronica McNair.
At Springfield Technical Community College, we are deeply saddened over the loss of Ronn D. Johnson, a lifelong advocate for justice and community leader.
Mr. Johnson served as executive director for Martin Luther King Jr. Family Services in Springfield and passed away on what would have been Dr. King's 93rd birthday. As the Springfield Republican reported, friends and colleagues of Mr. Johnson said it was "fitting that he died on the birthday of the hero he often emulated."
Admissions Info Sessions are a great way for prospective and incoming students to learn more about specific facets of life at STCC. Please join us!
Register for an Info Session
Mask up. Vax up.
Students are required to be fully vaccinated against COVID-19 and submit verification of their fully vaccinated status to enroll in on-campus Spring semester classes.
STCC is committed to accessibility and inclusion, ensuring that all are able to access college programs, activities, and events.
Prospective students or current students, who need accommodations, should contact the Office of Disability Services at 755-4785 or via email at disability_services@stcc.edu at least two weeks in advance.
Members of the general public or employees who need accommodations should contact Affirmative Action Officer, Kathryn C. Senie, Assistant Vice President of Human Resources at (413) 755-4749 or kcsenie@stcc.edu at least two weeks in advance.
VISITORS: STCC welcomes thousands of visitors to our campus each year. Whether you are a prospective student (or a friend or family member) or here to attend a meeting, conference, the Amy H. Carberry Fine Arts Gallery, or an event at Scibelli Hall Theater, we hope to make your visit as enjoyable as possible. If you anticipate needing a reasonable accommodation for an event, please contact the event sponsor in advance of your visit.
STCC adheres to Section 504 of the Rehabilitation Act of 1973, the Americans with Disabilities Act (ADA) of 1990, and the Americans with Disabilities Act Amendments (ADAAA) of 2008 which states that "no qualified individual with a disability shall, solely on the basis of their disability, be excluded from participation in, be denied the benefits of, or otherwise be subjected to discrimination under any program or activity in higher education.