STCC puts students on pathway to construction careers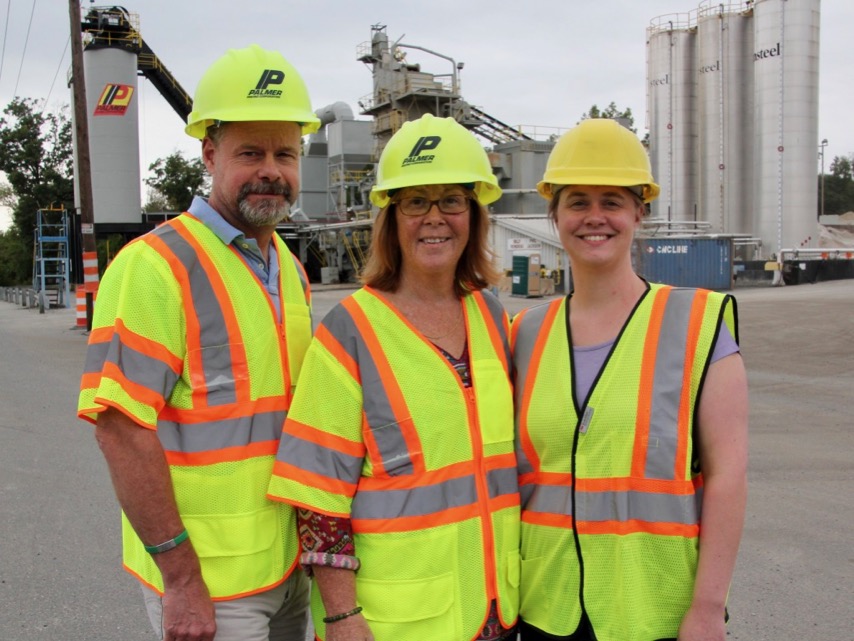 Janet Callahan, center, president of Palmer Paving Inc., with STCC graduates Jim Madden, left, and Mary Lessard.
SPRINGFIELD, Mass. – Janet Callahan, the president of Palmer Paving Inc., likes to hire Springfield Technical Community College graduates.
"We've hired STCC graduates because they come out with a proficiency of knowledge," Callahan said. "They're prepared to go into the workplace with a basic understanding of our business."
An STCC graduate with a two-year associate degree in civil engineering technology (CET) will make an ideal candidate for a job at Palmer Paving, Callahan explained. Her company, established in 1955, specializes in interstate highway construction and commercial paving. Palmer Paving also produces hot mix and warm/cold asphalt and other construction materials.
"It's not necessary to have a four-year degree," she said. "We want to hire people with two-year degrees from STCC."
One of the STCC graduates employed at Palmer Paving, Mary Lessard, has been with the company since 2005, a year after she earned her CET degree from STCC. A contract administrator, Lessard says her degree at STCC led to a fulfilling career in construction.
"Since I started working here 14 years ago, I got married and started a family," Lessard said. "It's been great. STCC gave me that major stepping stone. It helped me go from being a high school student to joining the workforce and being prepared for challenges."
Lessard enjoyed the STCC experience. She wanted to go to a local, affordable college, where she could be close to her parents. At STCC, she enjoyed the small classrooms and the one-on-one interactions with professors.
"I didn't want to be a number at a university. My professors knew me and that made a difference," Lessard said.
Before starting college, Lessard contemplated a career in accounting, but decided engineering would be a better fit. "With accounting, you get the same numbers every day. I can't do that. I need different problems to solve."
She was drawn to the CET program, which opened her eyes to the diversity of engineering. The CET program teaches skills in computer-aided design, construction estimating and introduces students to construction materials and methods. They learn about surveying, concrete testing, asphalt production, roadway and roadway construction, among other skills.
With a two-year associate degree, a civil engineering technology graduate is poised to work in a growing field where the median pay in 2018 was $52,580 per year, according to the Bureau of Labor Statistics.
STCC gave me that major stepping stone. It helped me go from being a high school student to joining the workforce and being prepared for challenges. Mary Lessard,

STCC graduate who works at Palmer Paving
The BLS projects that jobs for CET graduates will continue to grow over the next 10 years. "The need to repair, upgrade, and enhance an aging infrastructure will sustain demand for these workers," according to the BLS.
"CET is a hallmark program at STCC. Founded in 1968, it is one of the original engineering technology programs," said STCC Professor Beth McGinnis-Cavanaugh, who chairs the CET program. "I think that speaks to the consistency of the demand for civil engineering technicians. The need to upgrade existing infrastructure and build new infrastructure is constant. Jobs are in high demand."
Callahan said the program does a great job at preparing students, citing Lessard as an example of how a STCC graduate can thrive in the construction industry.
"Mary's baseline of knowledge allowed her to grow into her position. We would love to have more like her," Callahan said.
Another civil engineering technology graduate, Jim Madden, has worked at Palmer Paving for 16 years. A 1987 graduate, Madden currently is chief estimator at Palmer Paving. "I've always been interested in building things, so civil engineering was something I wanted to do in my junior year in high school," Madden said.
His STCC degree helped him land construction management jobs at companies in Western Massachusetts before he joined Palmer Paving.
"It's a great education that prepares you for a lot of in-demand jobs in Western Massachusetts," Madden said. "STCC prepares you to get right in there. You learn what's required to do this kind of work."
One of STCC's industry partners, Callahan said she will continue to work with the college to help make sure the curriculum reflects the needs of the construction industry.
Callahan has been working with the college to develop an "Asphalt Academy" to train asphalt technicians and inspectors. The civil engineering technology program is looking at ways to incorporate the specialized asphalt training into the curriculum to better prepare students.
"We need trained asphalt technicians and inspectors right now," Callahan said. "STCC can help our industry meet the demand in the market. There's a need not only for construction companies like ourselves, but consulting firms and other types of engineering firms. Right now, it's difficult to fill these critical positions.
"For us at Palmer Paving, Springfield Technical Community College is a really important academic institution," she said. "We like to hire STCC graduates and help them grow. We hire local. If you want to stay here in Springfield, we can provide you a great earning potential and a great life here."
Interested in applying to STCC? Visit stcc.edu/apply or call Admissions at (413) 755-3333.
About Springfield Technical Community College
Founded in 1967 and located on 35 acres of the Springfield Armory National Historic Site, STCC is a major resource for the economic vitality of Western Massachusetts. As the only technical community college in Massachusetts, STCC offers a variety of career programs unequalled in the state. STCC's highly regarded transfer programs in business, advanced manufacturing, healthcare, liberal arts, and STEM fields continue to provide the most affordable options for students pursuing a four-year degree. With an annual enrollment of about 7,000 day, evening, weekend, and online students, STCC is a vibrant campus rich in diversity.
For more information about STCC, visit www.stcc.edu. Follow us on Facebook, Twitter (@S_T_C_C) and Instagram (@stccpics).
MEDIA CONTACT:
Jim Danko, (413) 755-4812, jdanko@stcc.edu