Community Engagement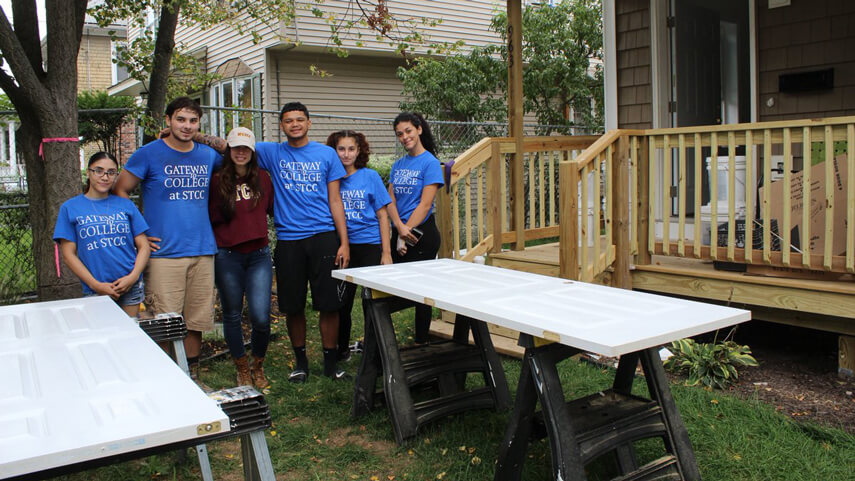 The Community Engagement Office provides students with opportunities to become civically engaged as active and responsible members of our community. Through our most recent collaboration with STCC's Gateway to College students and staff we partnered with Habitat For Humanity for a full in-service day in Springfield. Students and staff volunteered their time to upgrade sidewalks and paint walls and doors to prepare a new home for a deserving family.
Upcoming Events
November 9 - LEAD meets Attorney Rose Colon
Lead Mentorship Program
STCC students participate in community forum
STCC, student participate in community forum @ South End Middle School. Forum hosted by SOAR MA & South End Middle School. They share their experience as a college students and provide advice to 7th & 8th grader.
STCC, collaborates with Dr. Latoya Bosworth founder of Keep the Youth Dreaming and Striving (KYDS).
By hosting the 10th Bi-annual Gifted Diva Showcase. This showcase promotes self-love, confidence. Will also encouraging young women to use their voice without being afraid.
Become involved & take ownership of your educational career.
Ways to become involved.
Join: The Black and Hispanic Women Association
LEAD Mentorship Program
MILE Mentorship Program - Both programs are designed to provide inclusive academic support, mentoring and community engagement opportunities to male & female students at STCC.
The Be Empowered Project is a new resource on campus located in Building 14-300. The mission of the Project is: To shape an empowered STCC that is free of power-based interpersonal violence including sexual assault, intimate partner violence and stalking through providing trauma-informed counseling and advocacy, leading comprehensive and innovative prevention strategies, and fostering a culture of courageous community responsibility.

There are 2 primary components of the Be Empowered Project:
Prevention Education
The Be Empowered Project provides violence prevention education, promotes awareness and calls community members to action to create an environment free from domestic violence, dating violence, sexual assault, and stalking. Program includes bystander intervention, engaging men, and cultural competency.
Counseling & Advocacy Services
A confidential counselor from the YWCA rape crisis center, Danielle Petrangelo, works on campus in the Be Empowered Project twice per week (Tuesdays and Wednesdays from 9am-5pm in Building 14-300). Danielle offers FREE and CONFIDENTIAL individual counseling, court advocacy, and group counseling for anyone affected either directly or indirectly by domestic violence, sexual assault, dating violence or stalking. Danielle is able to meet with students, faculty, and staff members as well as the family members of students, faculty, and staff.
"Paint Night for a Cause"
Raising $1,000 to go towards scholarship to help Black and Latina students with books. The scholarship was created by the Black and Hispanic Women Association.

Prevention Education Planning Committee:
If you are a member of the campus community and would like to join our planning efforts, please contact us below. We welcome your support and contributions.
Danielle Petrangelo, YWCA Counselor
Location: Building 14-300, Email: dlpetrangelo@stcc.edu
Phone: 413-755-5327 (on-campus) or 413-732-3121 x308 (YWCA)
Cindy Breunig, M.Ed., Project Consultant, OVW Campus Safety and Empowerment Grant
Location: Building 13, Room 344, 413-755-6553
Lidya Rivera-Early
Director Of Community Engagement
Springfield Technical Community College
1 Armory Sq. P.O. BOX 9000
Springfield, MA 01102
Phone: 413-755-4787
Cell: 413-204-7559