STCC Bookstore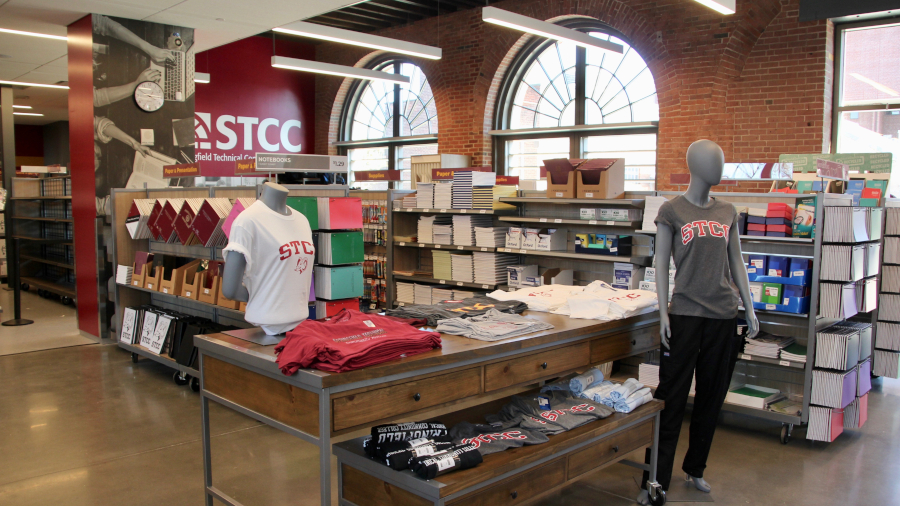 Welcome to the Springfield Technical Community College (STCC) Bookstore. We are happy to assist you in purchasing the books and materials you'll need for your classes. Whether you're making a purchase online or in person, please have your schedule with you for easy reference.
The STCC Bookstore is located on the 1st floor of the Ira H. Rubenzahl Student Learning Commons (B19) and can be reached at (413) 755-4833 and kascala@stcc.edu.
Bookstore Hours
Monday - Thursday: 8:00 a.m. - 4:00 p.m.
Friday: 8:00 a.m. - 1:00 p.m.
Financial Aid
When Financial Aid is open to students it can also be used on STCCStore.com.
Ordering Books Online
To order your books online click here: College Textbooks from efollett.com
Payment Methods
We accept Visa, MasterCard, American Express, and Discover Card. You must present your credit card when making in-store purchases or requesting refunds.
Personal checks are not accepted.
Book Buy-backs
We buy back books during regular business hours. You must bring a valid STCC RAM Card or State ID.
Our Refund Policy
Textbooks in resalable condition may be refunded with a receipt within seven (7) calendar days from the start of classes or within two (2) days of purchase thereafter, including summer term.
Textbooks purchased during the last week of classes or during exams fall under last date for returns and/or the 2 day returns policy or may be sold back under the buyback policy. You must also have a receipt.
Computer software may be returned if it is unopened and still shrink-wrapped with a receipt.
Electronic devices may not be returned.
In addition, upon proof of drop/add, the Bookstore will accept textbook returns from students who have dropped a course with a receipt and the text/items in resalable condition.