Gateway to College
Your Connection to College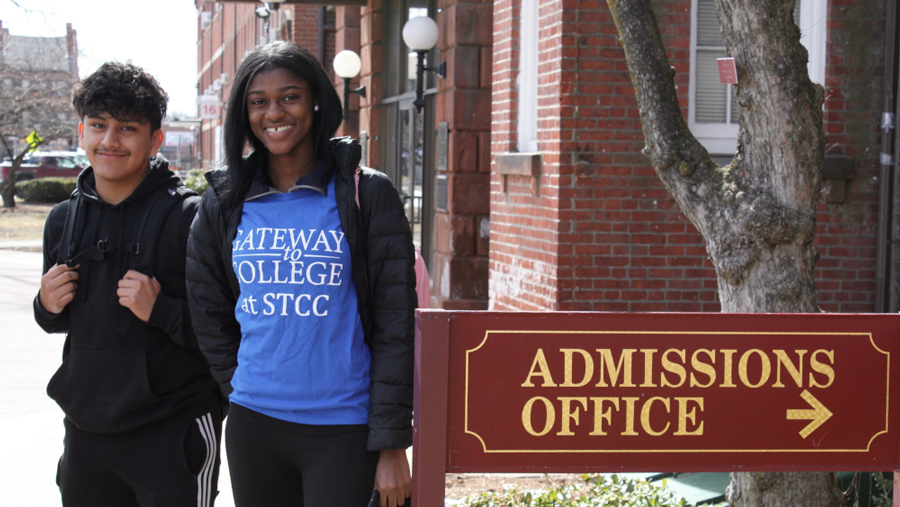 Are you looking for an alternative to traditional high school, and an opportunity to attend college? Well, the Gateway to College scholarship may be an option for you. The Gateway to College program at STCC helps students who have experienced challenges in high school. For example, students may have been challenged or set back by bullying, medical issues, or the negative consequences of high school social expectations. Students may have left school before finishing for various reasons and/or may be attending homeschool or a school other than public school. For whatever the reason, the Gateway to College program is an alternative option!
Through the Gateway to College scholarship, students have the opportunity to complete their high school graduation requirements at our college-based program while simultaneously earning college credits. Students earn their high school diploma and college credits at the same time. Some also continue on to finish certificate programs, associate degrees and transfer to four-year colleges.
Gateway to College is a scholarship program funded by Springfield and Agawam Public Schools. The costs of tuition, books, and fees are covered by the scholarship. In addition, students have an academic counselor dedicated to their success. The Academic counselor guides students through the college experience, helps them navigate academic challenges, teaches organization and time management techniques, and provides referrals for college and community resources to increase student success.
Benefits of Gateway
A chance to experience college courses with actual professors
A chance to accumulate college credits toward a college degree, or a certificate program. Credits are transferable
Access to on-campus resources (tutoring, library, computer labs, student clubs and activities, fitness center)
A smaller school population with individualized support
The course schedule is broken into semesters. Students take fewer courses per semester than in high school
Program Eligibility Requirements
This scholarship is designed for:
High school students ages 16 to 20 with any of the following conditions:

Students who experience challenges with the traditional high school setting for various reasons
Students who are behind in high school
Students who have left high school before obtaining their diploma
Students who attend school other than public school for various reasons, including homeschool

Students must read at an 8th grade level or higher
Students must live in Springfield or Agawam, MA (Agawam is by referral only)
How to Apply
We are no longer taking applications for the spring 2020 semester. However, we will be taking applications again in March for the fall 2020 semester. Students may complete an online information session in advance of their application.
The Gateway to College Program has an application process that requires the following steps:
Learn more about the expectations and benefits of the Gateway to College program
Have a chance to ask questions
Allow us a chance to meet you and learn why you are interested in the program
Receive an application and go over requirements
In-Person Information Sessions
Please revisit this webpage in late February for a list of in-person information sessions.
Can't Make It In Person? Try Our New Online Information Session!
To complete an online information session, watch the video below and complete the survey linked below.
Click on the following link and fill out the survey to complete your information session.
Eligible students who have attended an information session will be scheduled to take the college placement test.
The college placement test takes about 2 hours and will assess reading, writing, and math skills.
Students will need a picture ID and social security number.
This test is used to evaluate your readiness for the program, and to place you in the appropriate classes if you are accepted. Please visit to learn more about the college placement test, and how to prepare for it.
The application is lengthy. It requires a personal investment of time and effort. Applicants must include all requested information, including a transcript of their academic history from all high schools attended, MCAS scores (if applicable) and three formal essays. This information and the quality of the response provide additional insights for the selection committee.
Please note, application for the spring 2020 semester is closed. Application for the fall 2020 semester will open in March 2020.
Gateway to College Application
The completed application must be returned to the Gateway office located in Building 16, Room 285.
After you have taken the College Placement Test, your information will be sent to the school district for approval. The school district must approve each student in order to continue on to the next step in the application process.
You will be scheduled for an interview if you are eligible for the Gateway program.
Your interview will be with members of the Gateway staff. This gives us an opportunity to get to know you better and learn more about your strengths and motivations. You will have a chance to ask questions about the program. Interviews are generally about 30-60 minutes long.
The Selection Committee will review all applications for the Gateway to College program and contact applicants with their decision.
Special Education (IEP) Services
Gateway to College does not discriminate against students with disabilities. We request that students with an IEP or 504 plan submit copies of the plan with their application so that we may refer them to the STCC Office of Disabilities. Together with their families and doctors or other practitioners, students should consider whether the services and accommodations available on a college campus will best serve their needs.
Gateway to College Staff
Katara Robinson, Program Director
Phone: 413-755-4480
Email: knrobinson@stcc.edu
Anita Gallers, Academic Counselor
Phone: 413-755-4416
Email: ajgallers@stcc.edu
Staff Assistant
Phone: 413-755-4581
Email: gateway@stcc.edu
Contact
Garvey Hall (Building 16) Room 285
Phone: 413-755-4581
FAX: 413-755-6318
Email: gateway@stcc.edu
Monday - Friday 8 a.m. - 4 p.m.
Mailing Address
Gateway to College
Springfield Technical Community College
One Armory Square
Suite 1, P.O. Box 9000
Springfield, MA 01102-9000