President of Peerless Precision: 'I'm a big fan of hiring STCC students'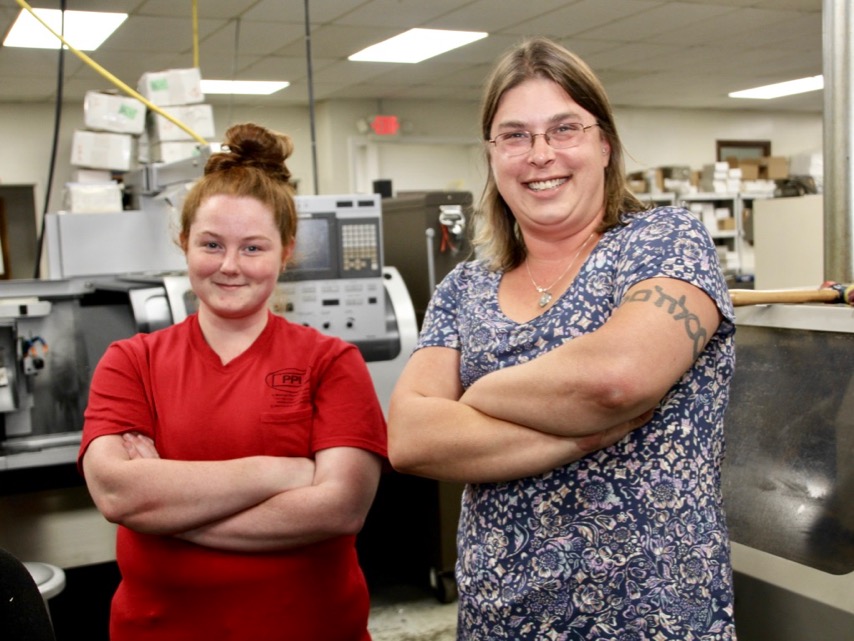 SPRINGFIELD, Mass. – Kristin Carlson says she likes to hire students – specifically, students who graduated from Springfield Technical Community College.
"I'm a big fan of hiring STCC students. They are passionate and want to grow," said Carlson, co-owner and president of Peerless Precision, Inc., in Westfield.
Her company, which employs 32 people, is a precision contractor that focuses on the manufacturing of small complex critical components for the aerospace, defense and medical devices industries.
She hired STCC student Kaitlyn Fricke of Ware as an intern in 2017. Impressed with her work ethic and know-how, Carlson offered Fricke a full-time position as a machinist three months after her internship began. Fricke accepted and worked at Peerless while pursuing her STCC degree in Mechanical Engineering Technology. Fricke graduated with an associate degree in May 2018.
"I can do a lot of different things in the field with my degree from STCC," Fricke said. "It teaches you a little bit of everything, and I like that. STCC was an awesome school, and I really liked being there. It helped me get to where I am today."
Carlson said one of Fricke's assets is her ability to be flexible within her department at Peerless and work on different machines. "That's extremely valuable these days. You used to be able to be good at one thing, but that's not the case anymore in manufacturing.," she said.
Fricke is assigned to the "finishing" side at Peerless, meaning she handles manufactured parts near the end of the process. Companies like Peerless focus on the concept of "tolerances," which refers to reducing the amount of variation that occurs during the manufacturing of a part.
"Our company produces parts that can be within five-millionths of an inch in tolerances, and that happens on the finishing side," Carlson explained. "Kaitlyn's working on closer tolerances. She does a lot of grinding, honing and manual turning."
I can do a lot of different things in the field with my degree from STCC. It teaches you a little bit of everything, and I like that. STCC was an awesome school, and I really liked being there. It helped me get to where I am today. Kaitlyn Fricke,

STCC graduate
These are concepts that would be familiar to any graduate of the STCC Mechanical Engineering Technology program. STCC students learn about tolerances and train on computer numerical control (CNC) machines in a state-of-the-art laboratory.
"We received funding from the state a few years ago and were able to refurbish our precision manufacturing classrooms and laboratories," said Barbara Washburn, interim dean of the School of Science, Technology, Engineering and Mathematics. "We bought CNC milling machines and lathes. Many manufacturing companies don't have some of the sophisticated equipment we use at STCC, such as 5-axis machines."
About a year ago, Carlson, in her role as president of the Board of Directors for the Western Massachusetts Chapter of the National Tooling and Machining Association, toured the MET lab at STCC and came away impressed.
"It's probably one of the top programs of its kind in the state," Carlson said. "They're using the same software programs that we're using. They're using everything that's current within our industry."
She said students who come out of STCC's Mechanical Engineering Technology program are not only prepared on day one of a job, but they are interested in learning more and growing.
"The benefit of hiring someone from STCC is most of the people going through the Mechanical Engineering Technology program made the decision to go through it themselves. They didn't do it because their parents or anyone else told them they had to do it. They're more apt to buy into it and grow into it. Kaitlyn is like that. She wants to learn more," Carlson said.
Fricke, 22, was nominated and selected to join the National Tooling Machine Association's "30 Under 30" class, a program that highlights and celebrates employees under 30 who show promise and are viewed as the future of the industry. She will be recognized during an awards ceremony in Austin, Texas, in October.
Fricke continues to get an education while working at Peerless. She is pursuing a bachelor's degree from a four-year university. As a perk, Carlson's company offers tuition reimbursement to any employee who wants to further their education.
"I encourage anyone who wants to go back to school to do it," Carlson said.
"I always knew I wanted to go back to school and get my bachelor's degree," Fricke said. "And the idea that I can work during the day and make money during the day is a win-win. I can go to school after work and complete the program at my own pace."
Interested in applying to STCC? Visit stcc.edu/apply or call Admissions at (413) 755-3333.
About Springfield Technical Community College
Founded in 1967 and located on 35 acres of the Springfield Armory National Historic Site, STCC is a major resource for the economic vitality of Western Massachusetts. As the only technical community college in Massachusetts, STCC, a designated Hispanic Serving Institution, offers a variety of career programs unequalled in the state. STCC's highly regarded transfer programs in business, engineering, liberal arts, science and technology continue to provide the most economical options for students pursuing a four-year degree. With an annual enrollment of about 7,000 day, evening, weekend and online students, STCC is a vibrant campus rich in diversity.
For more information about STCC, visit www.stcc.edu. Follow us on Facebook, Twitter (@S_T_C_C) and Instagram (@stccpics).
MEDIA CONTACT:
Jim Danko, (413) 755-4812, jdanko@stcc.edu