Baystate Springfield Educational Partnership connects with STCC to guide students dreaming of a career in health care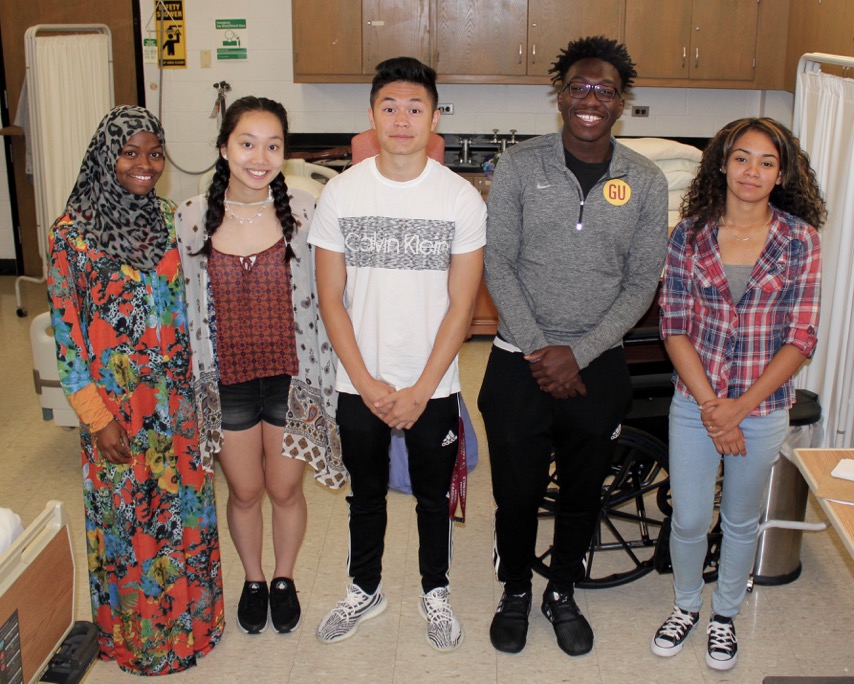 These five recent high school graduates from Springfield are enrolled in a CNA certificate program at STCC as part of their goal to pursue a career in health care. They are, from left, Rumbila Abdullahi, Julia Hong, Anderson Nguyen, Suraji Omoru and Genesis Medina.
SPRINGFIELD, Mass. – They just graduated from high school and will start college this fall, but these five teenagers are not kicking back and taking it easy this summer.
They are enrolled in an eight-week nurse's aide certification program at Springfield Technical Community College (STCC) that is tied to an internship program through Baystate Springfield Educational Partnership (BSEP).
Thanks to the STCC-BSEP partnership, Springfield residents Rumbila Abdullahi, Julia Hong and Genesis Medina, Anderson Nguyen and Suraji Omoru are gaining the kind of experience they say will make them stand out as they work toward careers in health care.
BSEP connects students from Springfield public schools to programs such as the Certified Nurse Aide and CPR Certificate Program, a workforce training course at STCC. BSEP pays for the STCC course, which includes class and lab work as well as hands-on clinical work at health care facilities. The BSEP program also offers students other hospital-based learning experiences, including a paid internship that builds off of their work in the CNA course.
"They're providing the opportunities I need to make connections and build a pathway into getting into the cardiothoracic surgery field," said Nguyen, 18, a graduate of the Springfield High School of Science and Technology who starts at Worcester State University this fall.
This whole program is a hidden gem in our community. So many people are going to be served by their commitment to providing care. Alyson Orgera-McNamara,

CNA course instructor
The five students, who come from diverse backgrounds, recently reflected on BSEP and the CNA course at STCC, which is taught by Alyson Orgera-McNamara.
"I think it's excellent," said student Suraji Omoru, 18, whose father comes from Ghana, West Africa, and whose mother is Jamaican. "It definitely taught me skills to care for people."
Like the other students in the BSEP program, Omoru described their STCC instructor as inspiring.
"She doesn't just teach us about how to be a CNA. She teaches us about how to care for a resident. She shows us that they're a person in your daily life – they're a friend, a family member," said Omoru, a Springfield High School of Science and Technology graduate who plans to double major in health science and psychology this fall at Springfield College.
Born in Kenya, Rumbila Abdullahi, 19, dreams of becoming a pediatrician and will attend Smith College this fall.
"I love it," the Springfield Central High School graduate said of the CNA course. "Our teacher shares her experiences. She's been a nurse for over 35 years."
Other BSEP students include Hong, 18, who graduated from Springfield Central High School, and Medina, 18, who graduated from Springfield High School of Science and Technology.
The instructor, Orgera-McNamara, said the CNA course typically attracts students who seek entry-level positions in nursing homes or assisted living facilities as certified nurse aides or home health aides. Many of her students enroll because they have a loved one who is ill and they discover how difficult it is to care for them.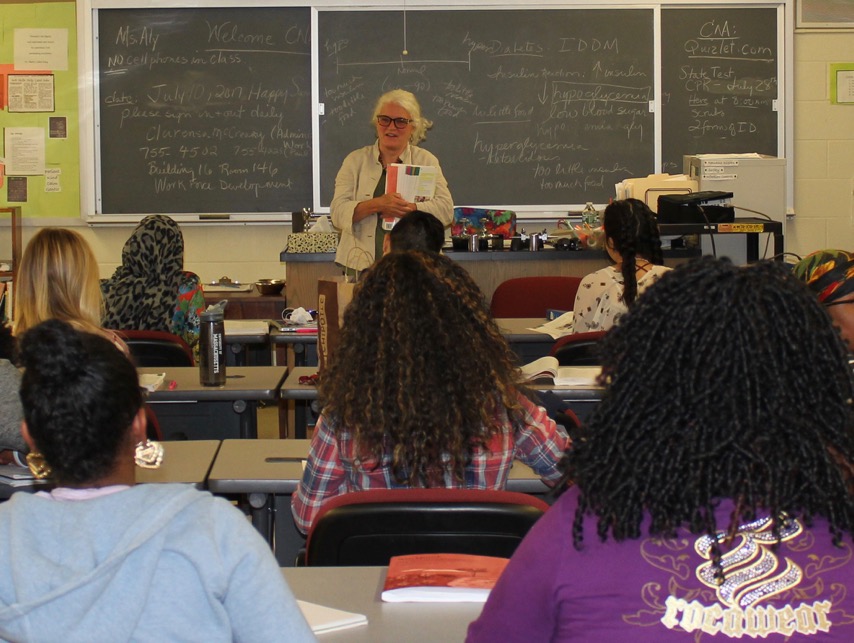 "They've just been through that with their loved one, and they're now wanting to help others," she said.
She said it's rare to have five students enrolled who aspire to become doctors or surgeons.
"The maturity level that these five have is incredible for their age," Orgera-McNamara said. "They're just so focused and wanting to go for it. That is so impressive to me. They're very intelligent."
Peter Blain, BSEP manager, said his organization has sent students to STCC for the past three or four years. The timing works well, he said, because students can start the CNA program in June after they graduate from high school. After they receive certification, they will work as CNAs as part of a 200-hour internship, Blain said.
"We have a number of students who work while going through college," Blain said.
Blain said he is impressed with the five students enrolled in the STCC course.
"It's a good group. They are all very motivated and interested," he said. "Our philosophy is we provide the opportunity and they make something of it. We emphasize for the student that if they're passive, they won't get much out of the program."
The CNA course at STCC provides an invaluable opportunity for students dreaming of a health care career to work around patients, Blain said.
"Any understanding of clinical or patient care is going to be a huge plus," he said.
Orgera-McNamara praised the Baystate program for helping to steer young people toward a health career – and opening their eyes to some of the tough jobs in the industry.
The STCC CNA course trains health care workers to take on difficult activities such as bathing and feeding residents of a facility.
"This whole program is a hidden gem in our community," she said. "So many people are going to be served by their commitment to providing care. A good aide is worth their weight in platinum.
"A good aide can make or break your entire facility," Orgera-McNamara added. "They're the front line. They're constantly interacting with the family. They're constantly interacting with the resident. It's important that their behavior and their skill level is excellent. That's what I ask for – excellence. I see their potential and I push them."
STCC will offer an evening version of the CNA course starting Aug 7. A day program will begin Oct. 10. For more information on these and other courses and to enroll online: visit www.stcc.edu/wt/, call (413) 755-4225 or email workforcetraining@stcc.edu.
To learn more about BSEP, contact BSEP Manager Peter Blain at (413) 794-1671 or by email: peter.blain@baystatehealth.org. Visit https://www.baystatehealth.org/about-us/community-programs/education-training/bsep for more information.
About Springfield Technical Community College
Founded in 1967 and located on 35 acres of the Springfield Armory National Historic Site, STCC is a major resource for the economic vitality of Western Massachusetts. As the only technical community college in Massachusetts, STCC, an Achieving the Dream Leader College, offers a variety of career programs unequalled in the state. STCC's highly regarded transfer programs in business, engineering, liberal arts, science and technology continue to provide the most economical options for students pursuing a four-year degree. With an annual enrollment of more than 8,500 day, evening, weekend and online students, STCC is a vibrant campus rich in diversity.
For more information about STCC, visit www.stcc.edu. Follow us on Facebook and Twitter (@S_T_C_C).
Media Contact:
Jim Danko, (413) 755-4812, jdanko@stcc.edu