Community Dental Care at STCC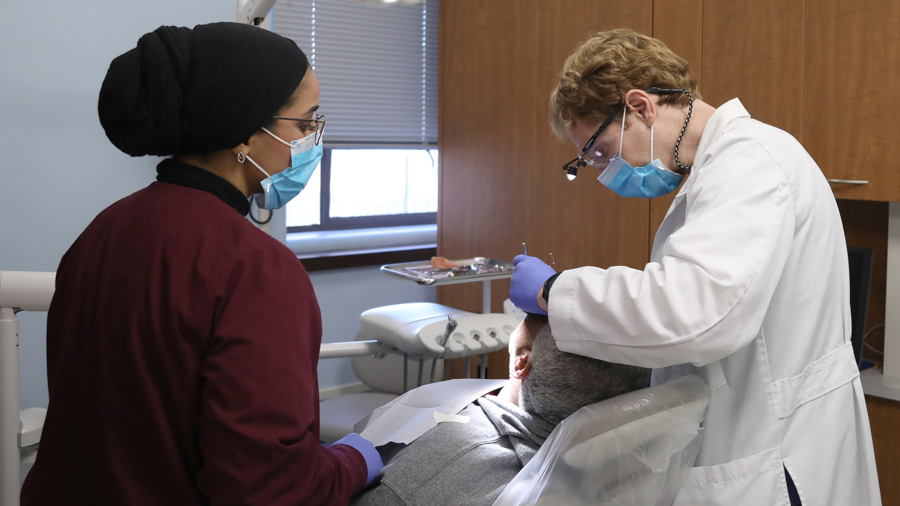 Need a dental cleaning but don't have insurance? Let our Dental Hygiene program students help!
STCC is dedicated to comprehensive oral health care. Our dental hygiene students, under the direction of licensed dental hygienists and dentists, provide all treatment.
To schedule an appointment, please call 413-755-4900.
Dental Clinic Hours
Monday - 8:30 - 11:30 a.m. and 1:00 - 4:00 p.m.
Tuesday - 8:30 - 11:30 a.m. and 1:00 - 4:00 p.m.
Thursday - 8:30 - 11:30 a.m. and 1:00 - 4:00 p.m.
Friday - 8:30 - 11:30 a.m. and 1:00 - 4:00 p.m.
Dental Clinic Location
Health Sciences Building (B20), Room 238
Services We Offer
Medical/Dental History
Vital Sign Assessment
Oral Examinations
Dental Hygiene Diagnosis
Dental Hygiene Treatment Care Plan
Tooth Whitening
Coronal Polishing
Fluoride Treatments
Pit and Fissure Sealants
X-rays/Radiographs
Mouthguard/Nightguard
Clean Removable Appliance and Prothesis
Oral Health Education
Root Planing/Debridement
Dietary Assessment/Nutritional Counseling
Tobacco Cessation Counseling
Fee Schedule
Patients are required to pay for services at the time of their appointment. Personal checks, cash, debit, and credit cards are accepted.
Dental Hygiene Diagnosis and Treatment - $35
If multiple appointments are necessary to complete treatment, you pay only once.
Other Services:
Full Mouth Radiographs - $30
Panoramic Radiograph - $30
Sealants (per tooth) - $10
Arestin - per dose cartridge - $15
Tooth Whitening Kit - $85
Touch-Up Whitening Kit - $15
Tooth Whitening Strips - $40
Mouthguard/Nightguard - $50
Dental Hygiene Program
Interested in enrolling in STCC's dental hygiene program? We educate men and women to become vital members of the dental health profession. Our two-year basic core curriculum – leading to an Associate in Science degree – follows the guidelines adopted by the American Dental Association's Commission on Dental Accreditation.