29 Who Shine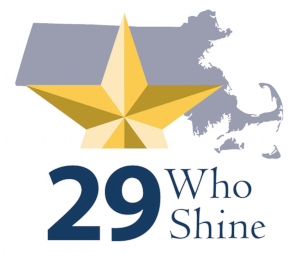 In 2011, the Massachusetts Department of Higher Education launched "29 Who Shine," a commencement season awards program to recognize 29 outstanding student graduates from the Commonwealth's public higher education system. Here are STCC's honorees.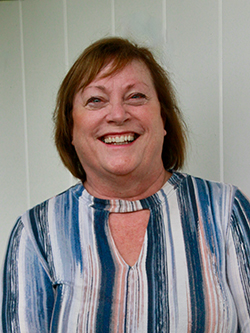 2021 - Heide Blackak '21
Liberal Arts/General Studies
Heide Blackak always wanted to get a college degree. She took classes when she was younger but never finished. Decades later, after raising children, she decided to enroll at STCC. She excelled, graduating with a 4.0 grade point average. Heide was warmly welcomed and supported by STCC faculty. They helped her overcome her fear of math and showed her that she was good at math. While studying at STCC, she worked two full-time jobs. Her family supported and encouraged her in her pursuit of a degree. She illustrates that it's never too late to get a college education and pursue your dreams.
Faculty/Staff Mentor: STCC Academic Counselor Elisabeth Cantor, who taught Blackak in an Introduction to Sociology course, nominated her for the 29 Who Shine award. "Elisabeth Cantor was my academic advisor, my support coach and my biggest fan. I could not have done what I did without her. She has become a dear and trusted friend. I cannot speak more highly of someone who teaches at STCC. She wants you to succeed. She will find anyone that can help you or encourage you. I can never thank her enough for the "belief" she had in me and her guidance to help me reach my goals."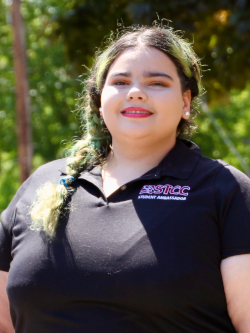 2020 - Delia Fuentes
Computer and IT Security
Delia, who was born in Springfield, viewed STCC as the most affordable option when she was considering colleges. She ended up loving the experience, saying she found the faculty supportive and encouraging.
"When I was growing up, not a lot of people believed in me except for my mom and my family," Delia said. "Then I came to STCC, and I met Andrea Tarpey and Brian Candido (chair of the Computer Information Technologies program) and they believed in me."
Delia studied Computer Information Technologies with the goal of transferring to the College of Our Lady of the Elms to pursue a bachelor's degree.
Faculty/Staff Mentor: Andrea Tarpey, coordinator of student activities at STCC, and Lidya Rivera-Early, director of community engagement, nominated Delia for the 29 Who Shine award. Andrea Tarpey said, "Her hard work, dedication and commitment to the community, STCC and her peers made her the perfect candidate for this recognition. I've been impressed with Delia since she came to STCC and became one of our student leaders. We're proud of her and wish her success in the future."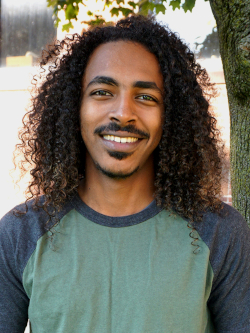 2019 - Mohamed Gabriel '19
Engineering Science Transfer
UMass Amherst - Industrial Engineering
Mohamed was born in Sudan in East Africa and moved to Springfield with his family in 2015. Attending STCC was a family affair; both parents and one of his brothers took courses at the college. Diving deeply into college life, Mohamed explored his passion for science, social justice, and community engagement. He served as a Supplemental Instruction (SI) Leader, responsible for providing weekly review and study sessions for fellow students. He was also elected Vice President and then President of the Student Government Association, representing the college at off campus events, partnering with the Foundation, the President's Office, and launching new initiatives to increase the diversity of the SGA. Much of his off-campus community activities have focused on working with middle and high school students. Visiting local schools, he has met with students to promote STEM courses and opportunities. He hopes to continue his studies in mechanical engineering at a UMass campus.
Faculty/Staff Mentor: Mohamed chose to recognize Jane Lerner, M.Ed, Director, Supplemental Instruction. "Jane has been crucial to my time at STCC. Through her mentorship I have learned many things that helped me navigate my way through higher education. She has been my academic, professional, and personal advisor. In her office I found a safe space where I can express myself. She has been a mentor, a friend, and even a therapist when I needed any of those."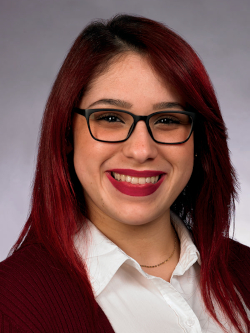 2018 - Lineisha Marie Rosario '18
Mechanical Engineering Technology
Northeastern University - Advanced Manufacturing Systems
Lineisha and her family came to the U.S. from Puerto Rico in 2015. As a child, Lineisha loved working with her father on cars. Fascinated with machines, she signed up for STCC's STEM Starter Academy summer program after high school. Her experience inspired her to enter STCC as a mechanical engineering technology major. She also joined STCC's chapter of the Society of Women Engineers (SWE), where she co-produced a series of video profiles of community college women in engineering. The first member of her family to attend college, Lineisha plans to pursue a bachelor's in advanced manufacturing systems on site at STCC through the college's new partnership with Northeastern University. She will continue to work as a junior post processor engineer at a local software company and will also stay involved with STCC's chapter of SWE to inspire elementary, middle and high school students to major in engineering.
Faculty/Staff Mentor: Lineisha chose to recognize Beth McGinnis-Cavanaugh, Professor, Physics. "Professor Beth McGinnis-Cavanaugh, my mentor since my first semester at STCC, helped me to grow as a female engineer. She began STCC's chapter of the Society of Women Engineers. The privilege of knowing Beth as an influential women, leader, friend, and professor has been a true blessing."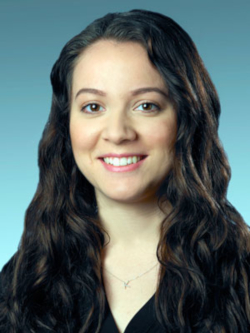 2017 - Kristiana A. Tadeo '17
Liberal Arts/General Studies
UMass Amherst - Public Health Sciences
Kristiana Tadeo followed a family tradition at Springfield Technical Community College; both her parents graduated with science degrees from STCC. As a Supplemental Instruction Leader, she helped classmates master their course material; as Campus Activities board chair, she planned events to strengthen student connections to the campus. As an honors student, this Biology major proudly represented the college at the Northeast Regional Honors Conference in Pittsburgh, presenting on her research topic, "Bridging the Divide on Transgenderism." Kristiana has been accepted to Simmons College, where she will study biochemistry and public health.
Faculty/Staff Mentor: Kristiana chose to recognize Richard D. Greco, Professor, Biological Sciences. "Professor Richard Greco has been an inspiration to me. I have taken five science classes with him and have had the opportunity to serve as a Supplemental Instruction Leader helping classmates with course material. He taught me that I can do whatever I put my mind to, including pursuing my education to become a doctor specializing in research."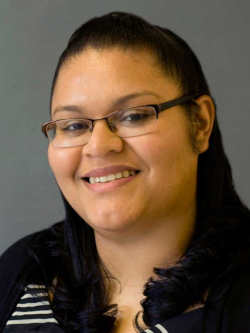 2016 - Yazmilie Gomez '16
Nursing
Elms College - Nursing
Yazmilie Gomez was born in Puerto Rico and first learned to speak English at her elementary school in Chicopee. Encouraged by her mother and grandmother to pursue an early interest in nursing, Yazmilie took all the science courses she could in high school, before entering the nursing program at STCC. Yazmilie serves as Vice President of the Diversity in Nursing Group, volunteering her time with organizations such as the Boys & Girls Club, Help Our Kids, and March of Dimes. Following graduation from STCC with an associate degree in nursing, she plans to continue her education at Elms College to earn a BSN and then plans to apply to Baystate Medical Center's Midwifery Education Program.
Faculty/Staff Mentor: Yazmilie chose to recognize Anne Mistivar, Professor of Nursing. "Anne Mistivar inspired me on my journey as a nursing student. As my clinical professor, class advisor, and faculty advisor to the Diversity in Nursing Group, she was there when I administered my first injection, and when planning community volunteer projects. She taught me the importance of culturally competent nursing and transformed my understanding of patient care."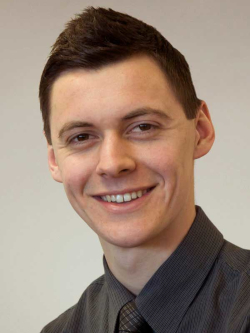 2015 - Ryan Lombardini '15
Electrical Engineering Technology
Central Connecticut State University - Mechatronics, Robotics, and Automation Engineering
Central Connecticut State University - Electronics Technology
Ryan is an accomplished student and entrepreneur who started his own home audio and security company now serving business clients in Massachusetts and Texas. Ryan's interest and expertise in electrical engineering technologies has companies waiting in line for him to finish his bachelor's degree so they can hire him. He was featured in a Boston Globe Magazine story on the transformative power of community colleges in Massachusetts, and as a participant in the Department of Higher Education's Go Public! event series helped inspire high school students in western Massachusetts to pursue science, technology, engineering and math careers.
Faculty/Staff Mentor: Ryan chose to recognize Julian "Skip" Tenczar, Senior Staff Assistant, Engineering Technologies. "Skip Tenczar has been instrumental in guiding me in pursuit of my undergraduate degree. He encouraged me to develop new skills, such as public speaking. His knowledge and teaching style made learning enjoyable. His commitment to my success helped me improve my skill set. His positive comments gave me confidence. Skip's dedication is an inspiration to me."

2014 - Trevor S. Eliason '20
Criminal Justice
Trevor S. Eliason is a dean's list student in STCC's Law Enforcement/Criminal Justice program. He is the Student Trustee on the College's Board of Trustees, and has also served as Vice President of the Student Government Association. He interned in Governor Deval Patrick's Western Massachusetts Office and also at the Massachusetts Commission for the Blind. Trevor's dedication to the STCC community includes his role as student liaison to the Facilities Department, where he helped review capital projects and assist in planning recycling outreach, Wi-Fi lounges and a new student gazebo. Trevor will re-enroll at STCC in the fall to finish a second degree in Liberal Arts Transfer before transferring to a four-year college. He then hopes to attend law school.
Faculty/Staff Mentor: Trevor chose to recognize Stephen G. Weisner, Professor, Social Sciences. "Professor Weisner's unconditional support of my aspirations gave me the optimism to get involved with the Student Government Association and that's made it a great two years here at Springfield Technical Community College."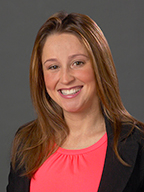 2013 - Edilena Florentino '13
Business Administration (Marketing)
Western New England University - Five Year Bachelor/MBA
At 23, Edilena left her native Brazil to complete an English language course in Florida. Moving to Massachusetts, she enrolled at Springfield Technical Community College (STCC), first in the ESL program and then in the Business Administration program with a concentration in Marketing. A successful entrepreneur, Edilena opened LS Cleaning Service, a residential and commercial cleaning service with 10 full-time employees and three part-time employees. She will soon hire 10 additional employees. While at STCC, Edilena founded a non-profit organization called "Brasileirinhos" to offer free classes, legal assistance, and counseling to Portuguese-speaking families. She plans to earn a bachelor's degree at Western New England University and continue on for an MBA. She is the recipient of a regional Grinspoon Spirit Award for entrepreneurship.
Faculty/Staff Mentor: Edilena recognizes Gail Olmsted, Professor/Tri-Chair, Business Administration. "Not only has Professor Olmsted guided my academic career, she was instrumental in helping me realize my dream of owning my own business. She's helped me reach my full potential as a student and businesswoman. I can't find the words to thank her for all of her guidance and help."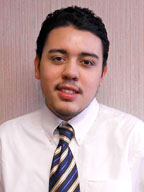 2012 - Alex Samuel Chaez '12
Computer Information Technology
Western New England University - Information Technology
Alex Samuel Chaez will proudly be the first in his family to graduate from college, earning a degree in computer & IT security. As president of the Phi Theta Kappa honor society, Alex served as an elementary school volunteer and coordinated a clothing drive for the Big Brothers Big Sisters organization. He also worked in the Dean of Students' office. He chose to go to college locally in order to remain close to his parents, assisting them both financially and physically. He serves as a personal care assistant to his father, who suffers from ALS (Lou Gehrig's disease). Alex plans to continue his IT studies at Western New England University. His eventual goal is to earn a doctorate.
Faculty/Staff Mentor: Alexz recognizes Rose A. Hill, Academic Counselor
2011 - Angelina Della Cavallini '11
Liberal Arts/General Studies
Angelina Della Cavallini is president of Springfield Technical Community College's (STCC) Student Government Association and an aspiring actress with a broad range of talents and interests. She has led her fellow students in raising funds for YouthBuild, collected holiday gifts for needy children, and taken part in rallies to press for more funding for public higher education. At the Springfield Science Museum, she is the Family Science Adventures Coordinator, researching and planning science activities for children. Angelina's passion is theatre; she created an Improv Club on campus and in the drama society is at work on her third production. Her drama professor calls Angelina "a force of nature… STCC is a better college for having her here."