Casino training school graduates are ready to get in the game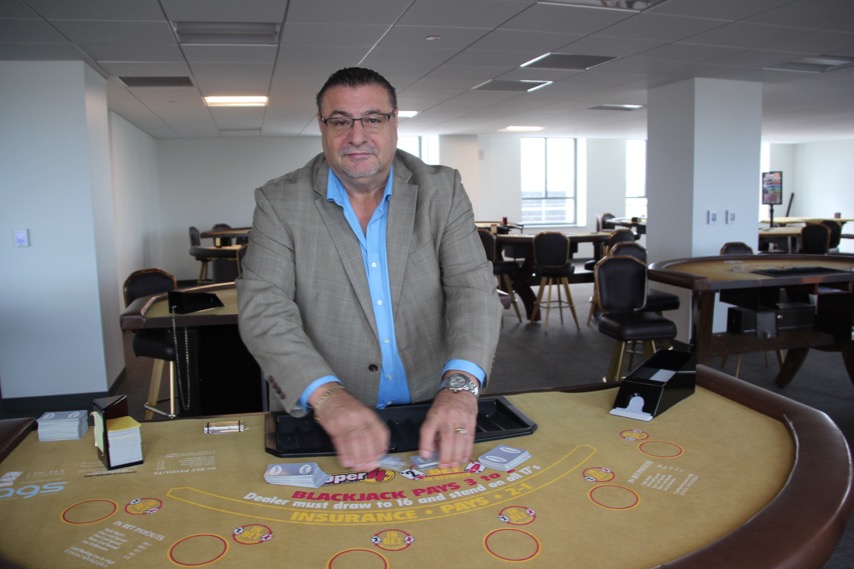 SPRINGFIELD, Mass. – Luigi Calabrese recalled the anxious feeling he had on the first day of classes at the Massachusetts Casino Career Training Institute, the gaming school that prepares area residents to work at MGM Springfield.
The Westfield resident had worked in the restaurant business for most of his life. He owned his own pizza shop. At 58, he was making a big move. Calabrese was going back to school to learn how to deal cards so he can start a new career at MGM Springfield.
When he walked through the doors of the school at 95 State St., he recalled, "I was very nervous. I didn't know how I was going to come across. But from the minute they met us downstairs, they made us very comfortable, and I really felt at home. The instructors were amazing. I started learning how to deal blackjack, and I fell in love with it right away."
After he completed training for blackjack and three other table game classes, Calabrese went through an audition with MGM. The company offered him a full-time job. He will deal blackjack between 4 a.m. and noon, the shift he requested.
"I'm excited at my age to find a new career," Calabrese said. "I'm proud that I got four different diplomas and did well in my classes. I really wanted this. I really like the business, and I'm looking forward to it."
Calabrese was among the first group of job-seekers to complete training at MCCTI in Springfield. Holyoke Community College and Springfield Technical Community College, in collaboration with MGM, created the training school to help people learn skills to work at MGM Springfield. The next round of classes will start Sept. 10. MGM, which officially opens Aug. 24, has hired 3,000 people, including several graduates from MCCTI.
MCCTI offers classes in blackjack, carnival games, roulette, mini baccarat, craps and poker. According to Michele Cabral, director of MCCTI, "Approximately 200 people started classes in the spring. Many took multiple classes. Over 80 percent received job offers while others decided to pursue different careers or are planning to continue classes in the fall."
"We're proud of the MCCTI graduates who are starting new jobs at MGM Springfield," STCC president John B. Cook said. "It wasn't luck that got them hired. It was hard work and determination. We're thrilled that the gaming school opened the door to a new career for so many people."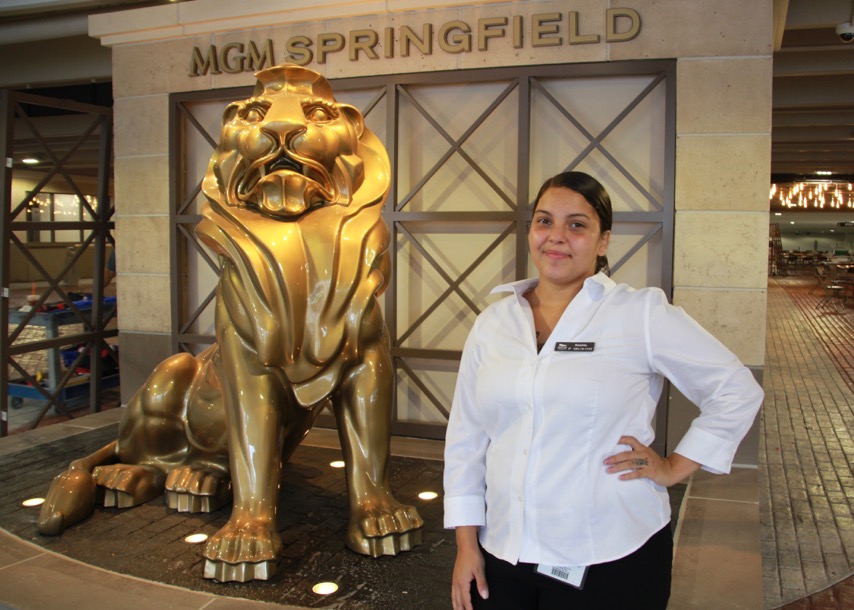 "One of our goals as community colleges is to provide a quality workforce for area employers," said HCC president Christina Royal. "HCC's collaborations with STCC make this a top priority and the MCCTI partnership with MGM Springfield aligns with our long history of helping people in the community find career pathways."
The trainees who earned certificates and were hired by MGM bring different experiences to the gaming floor. Some decided to change careers. Others are entering the job market for the first time. While they come from diverse backgrounds, they share a common purpose: to make sure customers have fun.
"It's all about customer service," Calabrese said. "You have to go above and beyond to make customers happy."
Other MCCTI graduates echoed Calabrese's comments.
"It's not a regular job. We're in the entertainment business," said Keishla Morales, 21, who is starting her first job after several years of hardship.
Morales left home at 15, got pregnant a year later and moved from shelter to shelter. In recent years, she was living on public assistance. But she wanted a better life for herself and her daughter. She sought help from the New England Farm Workers' Council, a service agency that helps low-income residents obtain employment skills training and education. Morales received her high school equivalency diploma (known as the HiSET) in December and then enrolled in MCCTI in February.
"Ever since I received my HiSET, everything has just skyrocketed," said Morales, of Springfield. "I was able to get a scholarship through the Corporation for Public Management (a program that helps people break the cycle of welfare dependency). That paid for my training. I was able to get my foot in the door at MGM. I went through 10 weeks of training. I passed my auditions. It was amazing going through the experience. I started at the bottom."
NEFCW is one of the organizations that pays for training for its participants. Others include Jump Start at Holyoke Community College. Related Companies, which owns the high-rise building Chestnut Towers, paid for residents to attend the school.
I'm proud that I got four different diplomas and did well in my classes. I really wanted this. I really like the business, and I'm looking forward to it. Luigi Calabrese,

MCCTI graduate and newly hired blackjack dealer
In addition, scholarships are still available from the STCC and HCC Foundations.
Luis Feliz, director of Strategic Partnerships & Workforce Development at the New England Farm Workers' Council, called MCCTI a launch pad into the middle class for many who have struggled to make ends meet in Western Massachusetts.
"At the NEFWC, we pride ourselves in our gumption to meet the needs of the people we serve, but our work would be incomplete without the opportunities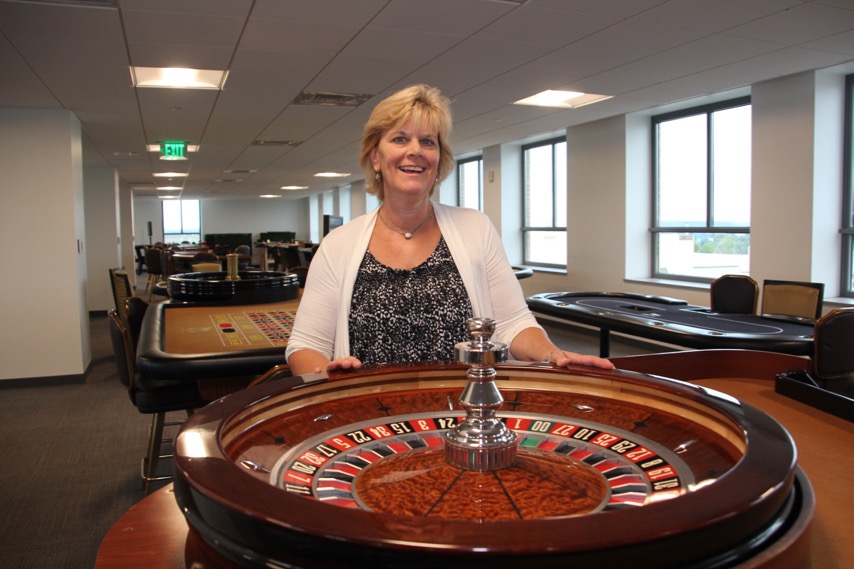 MCCTI provided Springfield residents. Through MCCTI, our participants, many of whom were living in emergency shelters and on public assistance, will build careers as members of a flourishing community where people want to work, live and raise families," Feliz said.
Now living with her aunt, Morales hopes to save money and find a two-bedroom apartment for her and her daughter. She wants to grow with MGM Springfield.
One of Morales' MCCTI classmates, Diane Garvey, of Wilbraham, also likes knowing that MGM is a big company with room for movement. Like Morales and Calabrese, Garvey will start as a blackjack dealer at the casino.
Garvey previously worked in sales, but decided to switch careers. She knew MGM was coming to Springfield, and saw the training school as a way to get a foot in the door.
"I was interested in trying to find a new way to get into one of the bigger companies around here," Garvey said. "I looked into MGM and saw the dealer classes were available through MCCTI."
She completed four of the classes and was offered a job at MGM after her audition.
"I really enjoyed (the classes). It was a lot of fun," she said. "It sounded like a good way to get hired by MGM. You need the experience and knowledge of dealing to get hired."
To register for gaming classes and find more information, visit www.mccti.org/school.html. Blackjack and roulette classes begin Sept. 10. Craps, mini baccarat and carnival game classes start in October. Scholarships are available.
ABOUT THE MASSACHUSETTS CASINO CAREER TRAINING INSTITUTE (MCCTI)
The MCCTI was formed as a collaborating workforce development organization by the state's fifteen community colleges. The MCCTI has developed a Memorandum of Understanding with the Massachusetts Gaming Commission to work collaboratively regarding workforce certification, training, licensure and other requirements. The Institute is collaborating with Workforce Investment Boards/Regional Employment Boards (WIB/REB), the Massachusetts community colleges, resort casino and slot facility developers and operators, educators, training providers, unions, and community based organizations to provide recruitment, screening, career counseling, training and job placement strategies and solutions.
ABOUT HOLYOKE COMMUNITY COLLEGE
The first two-year college in the Commonwealth, HCC is widely recognized for its high-quality, affordable pathways to transfer or immediate entry into the workforce. A designated Hispanic Serving Institution, HCC serves a diverse community with more than 80 degree and certificate programs, comprehensive academic support services, innovative instruction, vibrant arts and cultural activities, and flexible online, blended, day, evening, and Saturday classes. The largest community college feeder to UMass Amherst, HCC is noted for transfer to selective liberal arts institutions, including Amherst, Smith, Mount Holyoke, Cornell, Brown, Brandeis and other top colleges and universities.
ABOUT SPRINGFIELD TECHNICAL COMMUNITY COLLEGE
Founded in 1967 and located on 35 acres of the Springfield Armory National Historic Site, STCC is a major resource for the economic vitality of Western Massachusetts. As the only technical community college in Massachusetts, STCC, a designated Hispanic Serving Institution and an Achieving the Dream Leader College, offers a variety of career programs unequalled in the state. STCC's highly regarded transfer programs in business, engineering, liberal arts, science and technology continue to provide the most economical options for students pursuing a four-year degree. With an annual enrollment of more than 7,700 day, evening, weekend and online students, STCC is a vibrant campus rich in diversity.
ABOUT MGM SPRINGFIELD
MGM Springfield covers three city blocks in the heart of downtown Springfield, Mass. Igniting a cultural and economic renaissance in a historic New England city, the approximately 2 million square-foot development, which combines new construction with revived historic buildings, will offer more than 125,000 square feet of gaming space, a 250-room boutique hotel on Main Street and superior spa services, inspired dining and diverse retail. MGM Springfield also will feature a luxury cinema, high-energy bowling complex, a seasonal skating rink and outdoor marketplace displaying local art, events and talent.
MEDIA CONTACTS
Jim Danko
Coordinator of Media Relations
Springfield Technical Community College
(413) 755-4812
jdanko@stcc.edu
Chris Yurko
Media Relations Manager
Holyoke Community College
(413) 552-2259
cyurko@hcc.edu