Counselors who served their country now serve fellow vets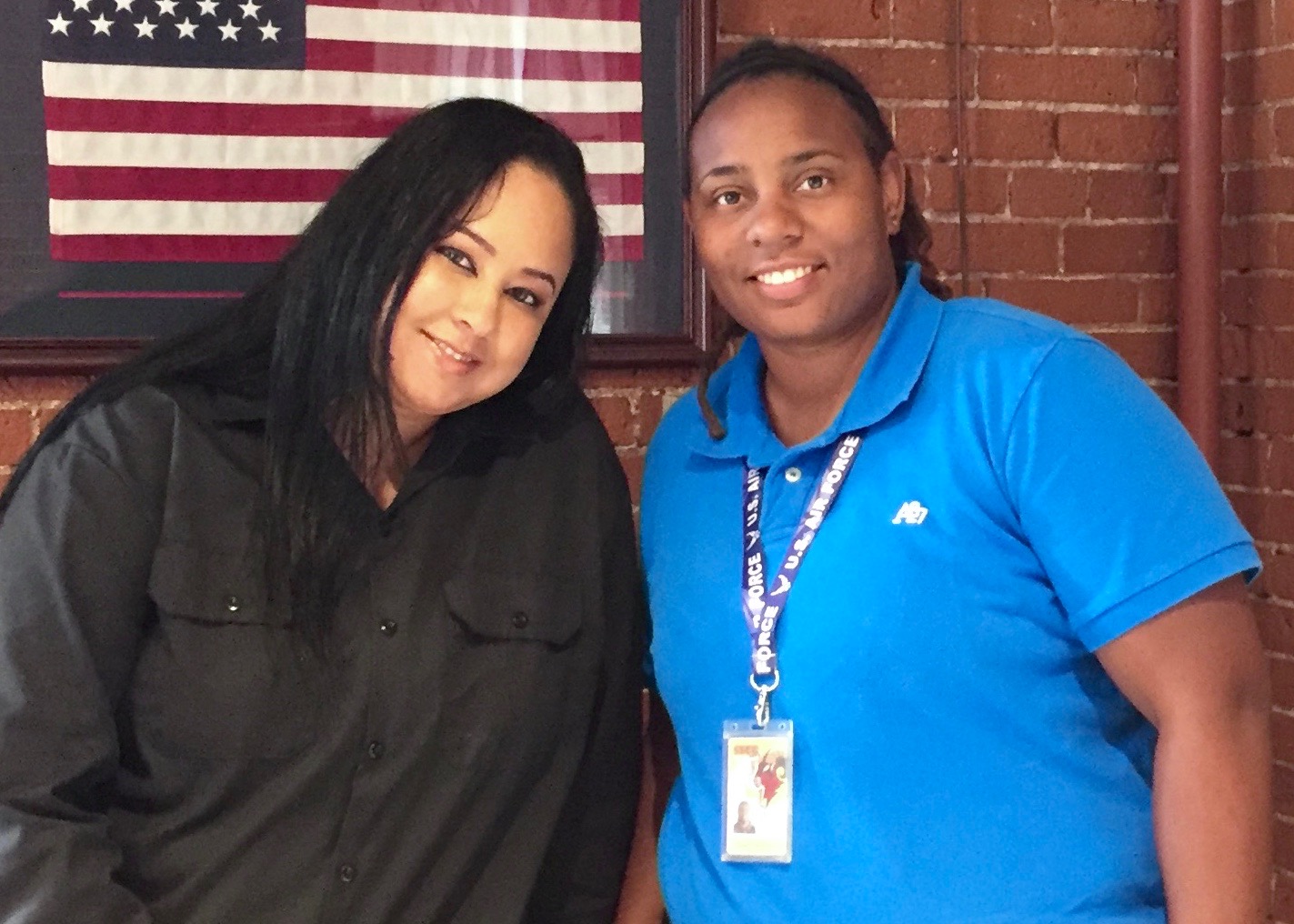 SPRINGFIELD, Mass.– If you're a veteran with an eye on a college degree, Akeilee Murchison is ready to give you her attention. From her office at Springfield Technical Community College, Murchison helps students who have served their country progress through their college careers.
And if you're a veteran struggling to find work in Western Massachusetts, there may be no better person to talk to than STCC alumna Cesia "Ses" Lopez at FutureWorks Career Center.
Both women started in their positions earlier this year. While they work for different organizations, they share a common goal to help their fellow veterans. Their work no doubt will help veterans throughout Western Massachusetts.
There are a lot of different resources out there, and a lot of people are unaware of them. Akeilee Murchison,

veteran academic counselor at STCC
An Air Force veteran, Murchison, 31, started working as the veteran academic counselor at STCC in June. Murchison certifies VA benefits for students who are eligible to receive them. She helps veterans nail down grants and scholarships that can help them advance in college. Murchison works with students to make sure the classes they take apply to their degree and that they follow the correct procedures to establish VA benefits.
Murchison explained that the Department of Veterans Affairs offers multiple programs to help veterans pay for school, including programs for those who experienced combat and programs for those with disabilities.
"There are a lot of different resources out there, and a lot of people are unaware of them," Murchison said.
"That's one of the great things about meeting Ses Lopez," Murchison said. "If I talk to someone who's looking for employment, I can send them her way."
Part of Lopez's mission is to refer veterans to other organizations, including veterans support groups in the region. And if a veteran needs to strengthen academic skills or obtain job training, she often sends them across the street, to STCC.
"I refer them to STCC all the time," Lopez said.
Lopez and Murchison say they keep their focus on veterans to make sure they get the support they need.
"It's not a competition. It's all about the veteran, and it's about what services we can provide to help them," Lopez said.
Like Lopez, Murchison can relate to the veterans who sit down with her at her office. She served in the Air Force for 11 years. While she did not see combat, Murchison was stationed in Iraq, where she worked in logistics. She was part of a team that ordered and supplied aircraft and vehicle parts.
During one dramatic moment while serving at Joint Base Balad, she and a team of airmen protected $52 million in aircraft parts from the ravages of an electrical fire that erupted in a warehouse. She was in charge and had to stay in the building while talking with the fire department.
"What these Airmen did is a great thing, and we need to make sure all our Airmen are prepared to take the initiative if a fire breaks out in their workcenters," said Sgt. James Ferrari, the 332nd Air Expeditionary Wing ground safety manager, according to an article posted on the U.S. Air Force's news page.
Murchison and the other airmen received commendations from the wing commander. "That's probably one of the highlights from my military career," she said.
It's an experience she might share with a veteran in her office. But she also enjoys hearing what they have to say about their service.
"I love working with veterans. I'll have students come here, start talking and telling me about their experiences," Murchison said. "I really like hearing everyone's stories. That's one of my favorite things. The military is like a brotherhood. Everyone understands each other, because they've all gone through it."
Cesia 'Ses' Lopez: A STCC alumna who connects veterans with jobs, resources
Before graduating from STCC in 2012 with an associate degree in liberal arts, Lopez served in the 101st Airborne Division (Air Assault) at Fort Campbell, Ky. She was part of a Quartermaster Company, responsible for making sure equipment, materials and systems are available and functioning for missions.
Today, Lopez spends her days serving her fellow veterans seeking employment.
"I've had a few of them say, 'You get where I'm coming from,'" Lopez said from her office at FutureWorks Career Center in Springfield Technology Park, which is across the street from the STCC campus. She has worked there as the veteran employment counselor since April.
Lopez's goal is to help veterans become economically independent, even when they face tough barriers. They may have a disability or a criminal conviction. Some of them have no permanent place to live.
Whatever challenge a veteran may face, Lopez strives to help them find a solution that works for them.
"The majority of them have multiple barriers. That makes it more challenging. It could be that they're homeless. It could be they have a disability," Lopez said. "Having a disability doesn't mean you can't work. You can sometimes find work that can accommodate your disability."
Born in Puerto Rico but raised in Springfield, Lopez, 37, offers a sympathetic ear to veterans who sit down in her cubicle. She went through difficult patches when she was a child. Her family was homeless for a time. Lopez stayed at different friends' homes, separated from her father.
She said the experience humbled her and strengthened her resolve to help others.
"I can relate to the feeling that you need help, you need direction … a voice, if you will," she said. "Even though that was years ago, you never forget that. I think ever since then, I've always been pretty much a servant or a volunteer. It was a no-brainer serving in the military, but it also was a no-brainer volunteering for the community college and being a part of the Student Ambassador Program (composed of volunteers at STCC who support other students and offices)."
Veteran describes how Lopez helped him
One veteran Lopez has been assisting is Larry Dewberry, a 62-year-old unemployed man who has faced a number of difficulties. He lacks transportation, struggles with computers and needs help applying for jobs online. He recently was taking care of his ailing brother, who died in July.
"When my brother passed away, she was so nice," Dewberry said of his experience with Lopez. "She said, 'I'll stop what I'm doing and get you to the funeral for your brother.' She gave me a ride to the funeral and stayed through the funeral, and even took me out to breakfast."
Dewberry, who served in the Army from 1974-1983, has worked as a laborer and has experience in sheet metal fabrication.
His goal now is to land a part-time job with Lopez's help. While he appreciates the hands-on job help he gets from Lopez, he also enjoys simply sitting down and chatting with her.
"She's probably the nicest person I ever met," Dewberry said. "I spend a lot of time just talking to her. … I can't call her a friend, but being a veteran, I know we all stick together, because we are all family."
Veterans who need help with finding employment should contact Lopez at (413) 858-2855 or email Cesia.Lopez@detma.org.
For more information about enrolling in college programs, veterans should contact Murchison at (413) 755-5343 or email agmurchison@stcc.edu.
Click here to watch a video featuring Murchison and Lopez.
About Springfield Technical Community College
Founded in 1967 and located on 35 acres of the Springfield Armory National Historic Site, STCC is a major resource for the economic vitality of western Massachusetts. As the only technical community college in Massachusetts, STCC, an Achieving the Dream Leader College, offers a variety of career programs unequalled in the state. STCC's highly regarded transfer programs in business, engineering, liberal arts, science and technology continue to provide the most economical option for students pursuing a four-year degree. With an annual enrollment of more than 8,700 day, evening, weekend and online students, STCC is a vibrant campus rich in diversity.