Dealer school open house set for Dec. 27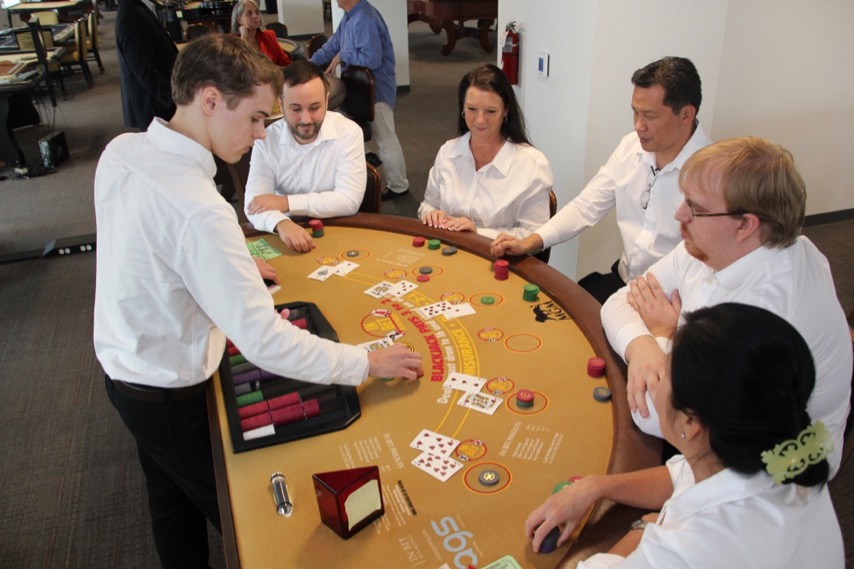 Newly trained dealers practice at a blackjack table at the Massachusetts Casino Career Training Institute in Springfield.
SPRINGFIELD, Mass. – The Massachusetts Casino Career Training Institute (MCCTI) and MGM Springfield will co-host two Open House Sessions on Dec. 27 for people considering enrolling in upcoming blackjack or poker dealer classes.
Both classes start Jan. 7 and are the gateway into a full- or part-time employment in the casino dealer industry.
A partnership between Holyoke Community and Springfield Technical Community Colleges, MCCTI is authorized by the state of Massachusetts to provide the training required to become a licensed dealer.
"We know that people are thinking about becoming a dealer in either a full- or part-time capacity," said Michele Cabral, MCCTI director. "However, prior to enrolling in training they may have questions and would like to see the school and perhaps view things from the other side of the table."
During the two Open House sessions, current MGM poker and blackjack dealers will be on hand and the chips and cards will be on the tables. Potential students can view the school, ask questions and possibly deal a few hands from the dealer's position.
To attend the Dec. 27 Open House, students must register at www.mccti.org/school.html and pick the noon or 6 pm event.
To get more information about the courses and to enroll directly in the class and apply for a scholarship, visit www.MCCTI.org. Class space is limited.
Open House guests can park in the MGM garage and meet at 95 State St. to be escorted into the secured classroom area.
Cabral said, "It's a beautiful facility and has proven to be a valuable training resource. Being a dealer can be a wonderful full or part time job but you need training. If you are thinking about it, come see the school and ask questions."
ABOUT THE MASSACHUSETTS CASINO CAREER TRAINING INSTITUTE (MCCTI)
The MCCTI was formed as a collaborating workforce development organization by the state's fifteen community colleges. The MCCTI has developed a Memorandum of Understanding with the Massachusetts Gaming Commission to work collaboratively regarding workforce certification, training, licensure and other requirements. The Institute is collaborating with Workforce Investment Boards/Regional Employment Boards (WIB/REB), the Massachusetts community colleges, resort casino and slot facility developers and operators, educators, training providers, unions, and community based organizations to provide recruitment, screening, career counseling, training and job placement strategies and solutions.
ABOUT MGM SPRINGFIELD
MGM Springfield covers three city blocks in the heart of downtown Springfield, Mass. Creating 3,000 permanent jobs and igniting a cultural and economic renaissance in a historic New England city, the resort, which combines new construction with revived historic buildings, offers more than 125,000 square feet of gaming space, a 250-room boutique hotel on Main Street, superior spa services, diverse retail and inspired dining headlined by award-winning Chef Michael Mina's Cal Mare. MGM Springfield also features the seven-screen Regal luxury cinema complex, bowling lanes, a seasonal skating rink and outdoor marketplace displaying local art, events and talent. MGM Springfield opened on August 24, 2018. For additional information, please visit mgmspringfield.com.
MEDIA CONTACT:
Jim Danko, jdanko@stcc.edu, (413) 755-4812