Facts about STCC's Laser Electro-Optics Technology program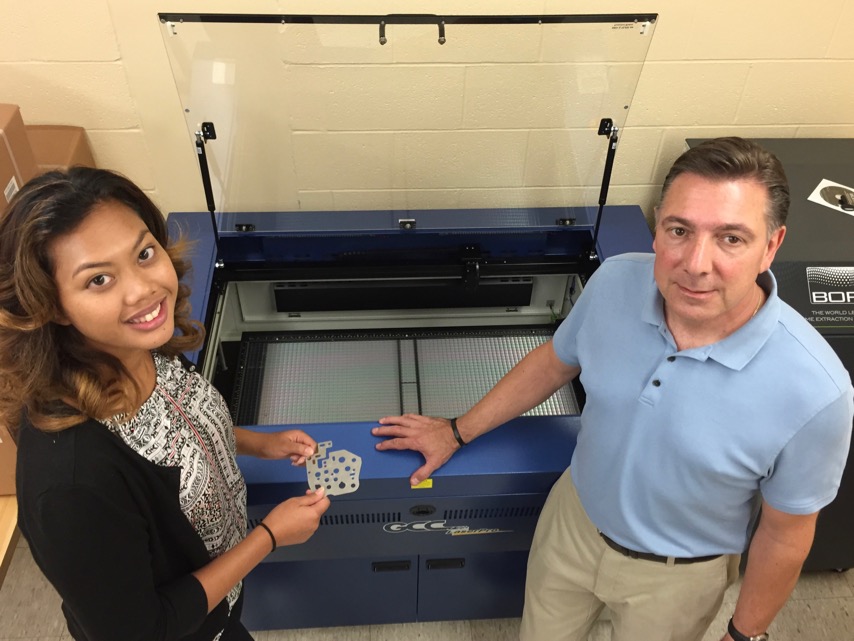 What is laser electro-optics technology?
Laser electro-optics technology or photonics involves the practical application of light, optics and electronics. You might not think about it when you're relaxing at home or out shopping, but this technology surrounds you, wherever you may be – from your cellphone to the dashboard on your car. Photonics makes products like your LCD television work. Without photonics, you would not be able to use DVDs or CDs. The cashier at the grocery store would not be able to scan the can of soup or box of cereal you want to buy.
Here's a short list of areas in which photonics typically would be applied:
Lasers
Fiber optics
Holograms
Satellite imagery
Environmental sensing
Infrared imaging
Nanotechnology
LASIK surgery to correct vision problems
Photodynamic cancer therapy
Homeland security
Which regional companies hire STCC laser program graduates?
STCC's Laser Electro-Optics program has relationships with several regional companies. The following employers hire laser technicians almost exclusively from STCC's program and sponsor internships and senior projects each year. They also provide equipment, tours and student mentoring to the laser technology program:
Nufern, Inc., of East Granby, Conn., which manufactures fiber lasers for industrial and medical applications.
IPG Photonics, of Oxford, Mass., the world's largest manufacturer or fiber lasers for industrial and medical applications.
Prima Electro, of Springfield, Mass., which manufactures large industrial CO2 lasers and fiber lasers for industrial and automotive applications.
The following company hires many laser technicians from the STCC program and provides tours and mentoring to the laser program each year:
Trumpf Laser, of Farmington, Conn., the world's largest manufacturer of large industrial CO2 lasers, Nd: YAG and fiber lasers for industrial and automotive applications.
Ebtec, Inc., of Agawam, Mass., a laser job shop.
Arcore Laser, of Suffield, Conn., a laser machining/laser system integrator.
Joining Technologies, of Suffield, Conn., a laser machining/laser system integrator
The following companies provide internships and mentoring to STCC laser program students:
What type of state-of-the-art equipment will be used?
The laboratory will include the following equipment purchased through the grant:
A large format fiber laser sheet metal cutting system
A large format CO2 laser sheet metal cutting system
A small format fiber laser marking/etching/cutting system
A small format CO2 laser marking/etching/cutting system
A precision laser welding system
Two industry quality video inspection microscopes
Two large sheet metal brakes
A large sheet metal shear
A complete suite of laser test and measurement equipment including: laser power meters, optical spectrum analyzers, miscellaneous optics and optical mounting hardware, linear motorized translation stages, low power gas and solid state lasers, and other related equipment
A MakerBot 3D printer
All equipment will be linked to computers for automated data acquisition and control using LabVIEW software, which is the industry standard.
Does STCC have partnerships with area schools?
STCC partners with West Springfield High School and Agawam High School through a Career Pathways program sponsored by the Hampden County Regional Employment Board in two program areas: Mechanical Engineering Technology (Advanced Manufacturing and Precision CNC Machining) and Laser Electro-Optics Technology. The two partnerships create a pipeline for students to enter the STCC technology programs and boost the number of graduates trained on the laser equipment. Additional partnerships are planned.
STCC partners with Worcester-based Quinsigamond Community College's Integrated Photonics Institute for Manufacturing Innovation and the NSF Regional Center for Next Generation Manufacturing. STCC will use the laser equipment purchased to support faculty and workforce development in the Northeast.
STCC also has worked closely with the New England Board of Higher Education for more than two decades on a number of NSF-funded curriculum design and faculty professional development initiatives in photonics technology, advanced manufacturing, problem-based learning and other STEM-related programs.
The laboratory at STCC will increase the number and scope of the Board of Higher Education's professional development offerings to secondary and postsecondary teachers and faculty throughout the Northeast.
About Springfield Technical Community College
Founded in 1967 and located on 35 acres of the Springfield Armory National Historic Site, STCC is a major resource for the economic vitality of western Massachusetts. As the only technical community college in Massachusetts, STCC, an Achieving the Dream Leader College, offers a variety of career programs unequalled in the state. STCC's highly regarded transfer programs in business, engineering, liberal arts, science and technology continue to provide the most economical option for students pursuing a four-year degree. With an annual enrollment of more than 8,500 day, evening, weekend and online students, STCC is a vibrant campus rich in diversity.
Media Contact: Jim Danko, Coordinator of Media Relations, (413) 755-4812, jdanko@stcc.edu