Have you heard the news? Student Learning Commons is now open!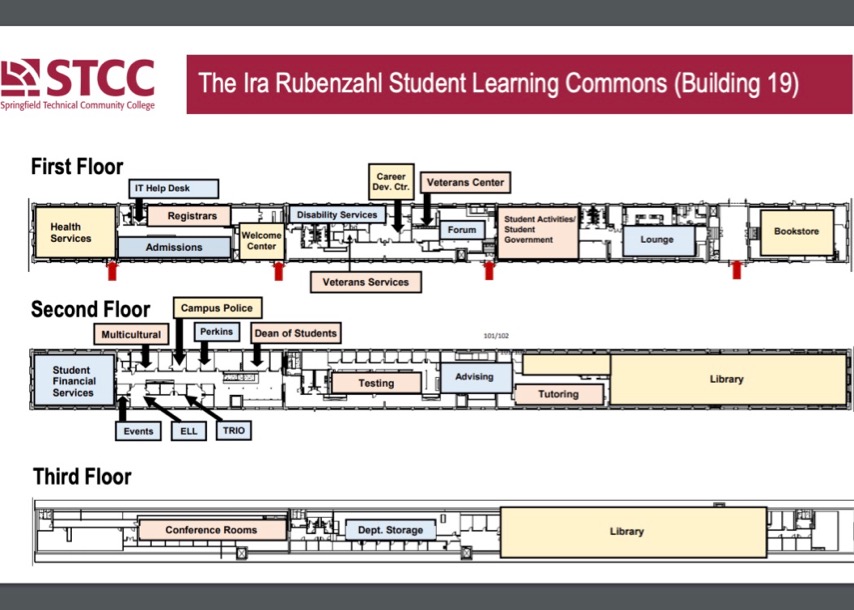 SPRINGFIELD, Mass. -- The Ira H. Rubenzahl Student Learning Commons at Springfield Technical Community College, a one-stop hub for student services and activities, is open.
If you're a student or someone interested in enrolling at STCC, you will need to visit the Learning Commons to take care of college-related business.
Many of the critical student service departments that were scattered throughout the campus have moved into the Learning Commons, also known as Building 19.
The following is a list of the departments now located in the Learning Commons*:
Academic Advising & Transfer Center, 2nd floor
Admissions, 1st floor
Bookstore, 1st floor
Career Development, 1st floor
Disability Services, 1st floor
English Language Learning,2nd floor
Health Services, 1st floor
IT Help Desk, 1st floor
Library, 2nd and 3rd floors (*OPENING JAN. 7 AT NOON)
Multicultural Affairs, 2nd floor
Parking, 2nd floor
Perkins, 2nd floor
Registrar, 1st floor
Student Activities & Development, 1st floor
Student Financial Services, 2nd floor
Student Success Center, 2nd floor
Testing & Assessment, 2nd floor
TRIO Student Support Services, 2nd floor
Tutoring, 2nd floor
Veteran's Center, 1st floor
Welcome Center, 1st floor
Several offices are open 7:30 a.m.-7 p.m., Monday-Thursday, and 7:30 a.m.-5 p.m. on Fridays. For more information, call (413) 781-7822.
To read about the ribbon cutting ceremony and learn more about the history of the historic building, check out our press release.