Olympic weightlifter gets a boost from STCC coach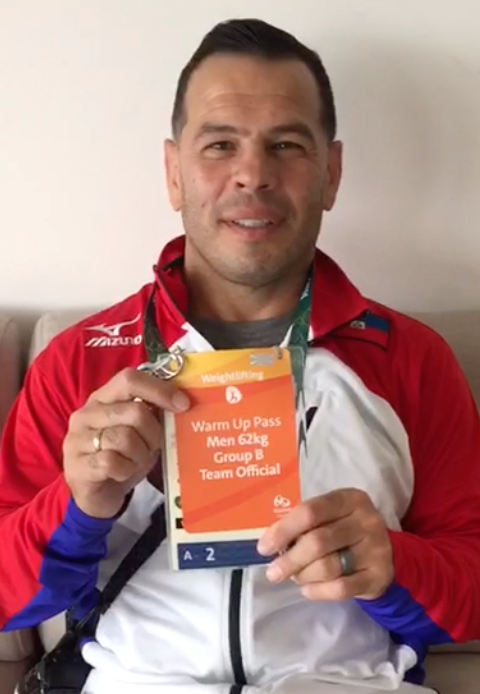 SPRINGFIELD, Mass. – Alberto Nieves intended to watch weightlifting in Rio De Janeiro from the sidelines as a fan.
But on Monday the wrestling coach from Springfield Technical Community College said he received an unexpected and "awesome" opportunity.
Olympic weightlifter Edouard Joseph of Haiti asked him to be his coach. Joseph was only an hour or so away from competing when he sought Nieves' help.
Nieves agreed, and suddenly found himself doing double-duty. He's been in Rio de Janeiro since Aug. 3 to coach Asnage Castelly, an STCC assistant coach who will wrestle for Haiti.
In a video sent to STCC from Rio, Nieves was in good spirits as he recounted his brief stint as head coach for weightlifter Joseph, who competed in the 62 kg weight class.
"It was a great experience," Nieves said in the video, responding to questions posed by Castelly. "I'm honored that he asked me to help him out. And I got the opportunity to experience the whole weightlifting competition. He did a good job lifting. He got a little hurt, so he got scratched (did not finish). But thanks for the experience, Edouard Joseph."
Nieves' brother, Anibal, who will travel to Rio on Aug. 12 to coach Castelly, said Tuesday he was not sure what happened to Joseph's original head coach.
"I'm not sure what was going on," Anibal Nieves said. "At the last minute, Edouard Joseph asked my brother to step in."
In the video, Castelly asked Alberto Nieves if he was nervous to coach someone at the Olympic level – in a sport that's outside of his expertise.
Nieves said he wasn't. He learned from watching – and also received some advice from the Dominican Republic weightlifting coach.
Speaking from the fitness center at STCC, Anibal Nieves said wrestlers lift weights as part of their training. While weightlifting and wrestling may be different disciplines, a good coach is there to encourage and support the athlete.
"It's mostly mental and a lot of encouragement: You can do this! Let's get going! Breathe!" Anibal Nieves said.
While weightlifting didn't work out for Haiti, the Nieves brothers and Castelly are looking ahead to Aug. 19, when Castelly is scheduled to compete for a medal in wrestling.
Castelly hopes to bring Olympic glory to Haiti, which has not won a medal in the games since 1928.
About Springfield Technical Community College
Founded in 1967 and located on 35 acres of the Springfield Armory National Historic Site, STCC is a major resource for the economic vitality of western Massachusetts. As the only technical community college in Massachusetts, STCC, an Achieving the Dream Leader College, offers a variety of career programs unequalled in the state. STCC's highly regarded transfer programs in business, engineering, liberal arts, science and technology continue to provide the most economical option for students pursuing a four-year degree. With an annual enrollment of more than 8,700 day, evening, weekend and online students, STCC is a vibrant campus rich in diversity.
###