Physical challenges won't stop STCC student from pursuing his goals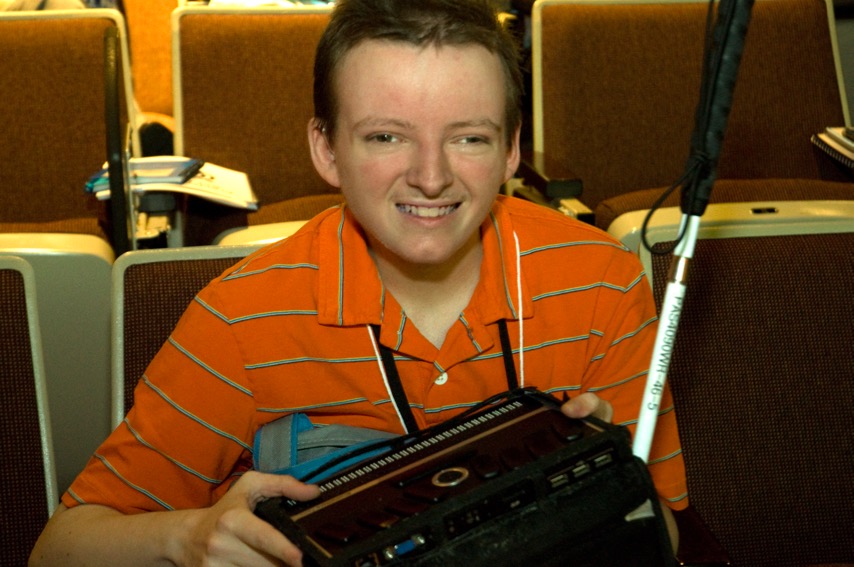 SPRINGFIELD, Mass. – Daniel Dintzner looks like any other student perched behind a computer, ready to dive in to a class project, check email or read a webpage.
But on closer inspection you'll notice there are no keys under his fingertips. Instead, his fingers skim across a strip of small raised pins. These are braille markings that rise and fall under his fingertips, allowing Dintzner, who is blind, to read text on the screen.
The Focus 40 braille display also has blue oval buttons that allow Dintzner to call up documents or surf the web. It's one of the helpful tools available at the adaptive lab in the Office of Disability Services at Springfield Technical Community College.
"It's kind of cool because I can go line by line and use these two rocker buttons to go up and down different lines or lists," Dintzner said while demonstrating the device. "It will read anything that's on the screen."
Dintzner, 24, of Feeding Hills, studies general business at STCC. He also happens to be one of nearly 500 students with disabilities at STCC out of an annual enrollment of more than 8,700 students, said Kris Kozuch, coordinator of disability services at STCC. She said 51 graduates in the class of 2016 identified as having a disability.
While some students have low vision, Dintzner is the only student who is blind at STCC, said Tara Sasser, his counselor and an accommodation specialist at STCC. Magnification of text won't help him read. He also has a hearing impairment and faces other physical challenges.
It's all about leveling the playing field for Daniel and for our students and making sure they have the same access as their peers. Tara Sasser,

accommodation specialist at STCC
Because of a rare genetic disorder called Alström syndrome, Dintzner has faced multiple health problems for most of his life. Dintzner started losing his ability to hear at age 6 and, a year later, his sight. Today, he uses a hearing aid, carries a machine to translate text to speech and uses a cane to guide him. The condition also is characterized by liver and heart conditions, diabetes, short stature and a form of heart disease that enlarges and weakens the heart muscle. Dintzner's mother, Heidi Dintzner, of Feeding Hills, said her son is only one of a few hundred people worldwide with the condition.
But don't think his disability gets in the way of his academic experience. With help from the Office of Disability Services at STCC and support from friends and family, Dintzner is on the pathway to receiving his associate degree.
"It's all about leveling the playing field for Daniel and for our students and making sure they have the same access as their peers," Sasser said, referring to the mission of the Office of Disability Services. "He's very independent."
Connie Hackett, assistive technology technician, also works with Dintzner and other students with disabilities. She trains students how to use the devices in the adaptive lab, which includes the following assistive technology:
Voice recognition software called Dragon
A computer screen reader program called JAWS (Job Access With Speech)
Magnification software called ZoomText
Read, write and study skills software called Kurzweil 3000
Over the past three years, since Dintzner arrived at STCC, Hackett has helped him through some challenges – some more difficult than others. Hackett described how she had to convert statistical symbols into words that Dintzner could read using braille. She said she had to spell out the "+" and "-" symbols. But those were the easier ones. Hackett also had to figure out a way of spelling out a symbol for "sample mean," which looks like an "x" with a bar floating above it.
Hackett and Sasser said Dintzner – bright and inquisitive – has helped them. "Daniel taught us more than we're doing for him," Sasser said.
He has an exceptional memory, they noted. "He doesn't tape-record the class," Sasser said. "He remembers the lectures."
His mother, Heidi Dintzner, recounted an early experience a professor had with her son. "They're like, 'you're not taking any notes.' He goes, 'Yeah, I'm all set,'" Heidi Dintzner said.
The professor stressed that "there's a lot of information."
"(Daniel) says, 'I have it,'" Heidi Dintzner said. "He took his first test and aced it."
With about two years left before he graduates, Dintzner is taking two to three courses each semester. That's about as much as he can handle, because Alström syndrome also affects his stamina. He requires 16 hours of sleep in a 24-hour period, and can't take back-to-back classes, said Heidi Dintzner.
"STCC has been excellent with accommodating Daniel and making a schedule that meets his needs," she said.
Daniel Dintzner excelled at academics enough this past spring to make the dean's list at STCC. Dintzner hopes to graduate with an associate degree in two years and transfer to Western New England University to pursue a bachelor's degree.
STCC: A family's choice for education
STCC has long been the college of choice for the Dintzner family. Alumni include Daniel Dintzner's mother, brother, father, and sister, who is in her last year of nursing.
"My mother went there 40-some-odd years ago," Heidi Dintzner said. "It's sort of like a family affair. We've all been there. It's a great school."
Heidi Dintzner said she not only appreciates the education she received (she studied nursing and accounting), but finds STCC provides a good environment for her son.
"They have stopped at nothing to accommodate him," Heidi Dintzner said of the Offices of Disability Services. "So it's absolutely been fantastic."
She said her son gets help from family, friends and classmates. "There's always someone willing to help him from building to building."
"The Office of Disability Services does a great job," Daniel Dintzner said. "They make sure I have my books. They make sure I have the equipment I need in the classroom. They put all the handouts I get into a format that I can read.
"Anything I need or ask from them they do," he continued. "I may not know the technology or tools that someone needs, but they can help."
Unlike most other students, Dintzner needs to receive his course information in an electronic format. Hackett will contact the publisher of Dintzner's textbooks to ask for a PDF format, which provides an electronic image of text that she converts into a readable document.
In addition to the technology available at the STCC lab, Dintzner uses a device called a BrailleNote Apex, which translates the text to speech and also allows him to read braille. The high-tech tool allows him to write papers or check email, among other daily tasks.
"I carry it all the time," he said.
A familiar face on the STCC campus
In addition to being blind and hearing impaired, Dintzner lives with other physical problems related to Alström syndrome. He has scoliosis, a condition that causes a curvature in the spine. Doctors inserted two titanium rods in his back, and he now can carry only up to five pounds.
While he may have some physical limitations, Dintzner is a familiar face at many STCC events. He uses a Pioneer Valley Transit Authority bus to commute to and from the campus. In June, he attended a Leadership Conference at STCC to hear what guest speakers had to say about becoming an effective leader.
His classmates treat him like any other student in the class. "Sometimes they get curious and ask about the technology I use," Daniel Dintzner said. "If they're interested in it, I'll explain it as best as I can."
When he's not hitting the books, Dintzner enjoys keeping up with Boston sports teams on the radio. He said he didn't think he'd make it to Fenway Park to catch a Red Sox game this year. He spent part of his summer interning for a Central Massachusetts financial business, where he was conducting demographic research. He did the work from his home.
As for his post-college plans, Dintzner said he's not entirely sure, but he wants to stay in Western Massachusetts, where he was born and raised.
"I want to work in finance or accounting at a local business," he said. "Hopefully I'll be able to do something in that area."
To watch a video of Daniel Dintzner using a braille display at the adaptive lab, visit STCC's YouTube channel.
About Springfield Technical Community College
Founded in 1967 and located on 35 acres of the Springfield Armory National Historic Site, STCC is a major resource for the economic vitality of western Massachusetts. As the only technical community college in Massachusetts, STCC, an Achieving the Dream Leader College, offers a variety of career programs unequalled in the state. STCC's highly regarded transfer programs in business, engineering, liberal arts, science and technology continue to provide the most economical option for students pursuing a four-year degree. With an annual enrollment of more than 8,500 day, evening, weekend and online students, STCC is a vibrant campus rich in diversity.
Media Contact: Jim Danko, Coordinator of Media Relations, (413) 755-4812, jdanko@stcc.edu