STCC assistant wrestling coach named Olympic flag bearer for Haiti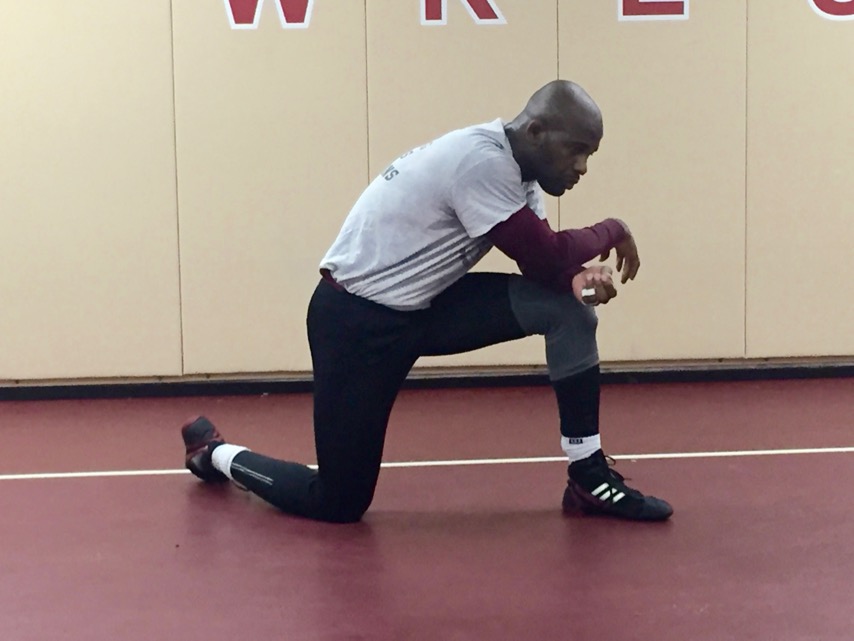 SPRINGFIELD, Mass. – An assistant wrestling coach at Springfield Technical Community College will lead the delegation of Haitian athletes during the opening ceremony for the Olympics in Rio de Janeiro on Aug. 5.
Wrestler Asnage Castelly said the Olympic Committee of Haiti chose him as the flag bearer from a pool of 11 athletes representing a variety of sports.
Born in Haiti and the nation's only wrestler, Castelly will carry the Caribbean country's National flag during the Parade of Nations in Maracanã Stadium.
A nation's flag bearer typically is an athlete who has won medals in the past, said Alberto Nieves, a wrestling coach at STCC. Castelly has never competed in the Olympics, and Haiti has never sent a wrestler to the games.
"I did not see it coming," Castelly said with a smile after a recent training session at STCC. "I didn't see it happening, but I'm honored and grateful."
While he lives in Agawam, Mass., Castelly has a home in Haiti where he frequently travels to see his wife and son, who live there full time. After the Olympics, he may return to the nation in the Caribbean and bring the sport to schools. Wrestling doesn't exist in Haiti, but Castelly wants to change that.
In fact, Castelly, 37, represents Haiti's entire wrestling team competing in the games. He hopes to help Haiti win its first medal in 88 years.
Regardless of what happens in Rio, it's clear that Castelly has come a long way since he left Haiti as a 9-year-old boy.
After moving to the United States, Castelly watched Olympic wrestling on television and was hooked. He went on to wrestle in high school in Irvington, N.J., and then in college in Western Massachusetts.
In 2002, he focused on creating a wrestling program in Haiti. Castelly said he had to convince the country to let him compete for them. He had trouble generating interest at first. He refused to give up, and they eventually agreed to let him compete for Haiti.
"We've been building it out from scratch," Castelly said, referring to the work he and his coaches, twin brothers Anibal and Alberto Nieves, have put into creating a wrestling program and getting a spot in the Olympics.
The Nieves brothers, both wrestling coaches at STCC, will join Castelly in Rio. Anibal Nieves is Castelly's head coach and Alberto Nieves is assisting.
Asked why Castelly was given the honor of being flag bearer, the brothers said the Haiti Olympic Committee recognized all the sacrifices Castelly made to get to Rio.
"He deserves it, and the country deserves to see what happens when someone sacrifices," Alberto Nieves said. "He worked hard to get there. It's an awesome opportunity."
As a young man, Castelly served in Iraq as a Muslim chaplain in the U.S. Army. After returning completing his service, Castelly set his mind to creating a wrestling program in Haiti.
Castelly contacted the government several times. After some initial resistance, they finally agreed. Mostly self-funded, Castelly competed for Haiti in freestyle wrestling with his goal toward making it to the Olympics. He's been to several Pan American Championships, among other international events.
Castelly was unable to qualify for the Olympics after competing in championships, but the international governing body, United World Wrestling, granted him a wild card spot.
Anibal Nieves, who twice represented Puerto Rico in Olympic wrestling, called the choice to let Castelly lead the delegation "a big deal."
"One of my dreams would have been not just representing my country, but walking for my country with the flag," Nieves said. "As for wrestling, it sends a big statement out to the whole world."
Nieves said only five wrestlers, including Castelly, will carry their nations' flags during the opening ceremony. More than 200 countries will participate in the parade.
Nieves said he hopes Castelly will inspire young people in a country that's had its share of struggles. "We're looking toward the future of Haiti wrestling," Nieves said. "We hope to inspire dreams for these up-and-coming athletes."
Asked why he was picked, Castelly said Haiti's Olympic Committee wanted someone with integrity and passion to carry their flag in Rio.
"They're looking for someone who is truly passionate. They said you're the perfect person – and it's an honor and privilege," Castelly said.
With only 11 athletes, Haiti brings a small delegation to the games. The United States has more athletes competing in basketball alone.
But Castelly said he and his fellow athletes will work hard to make their country proud. He hopes to inspire young people to follow his lead.
"We are 11 strong, and we're going to go out there and try to bring home a medal," Castelly said. "The last time was 1928, and hopefully we'll end that streak. It will start with me carrying the flag, and hopefully it will end with me carrying the medal."
About Springfield Technical Community College
Founded in 1967 and located on 35 acres of the Springfield Armory National Historic Site, STCC is a major resource for the economic vitality of western Massachusetts. As the only technical community college in Massachusetts, STCC, an Achieving the Dream Leader College, offers a variety of career programs unequalled in the state. STCC's highly regarded transfer programs in business, engineering, liberal arts, science and technology continue to provide the most economical option for students pursuing a four-year degree. With an annual enrollment of more than 8,500 day, evening, weekend and online students, STCC is a vibrant campus rich in diversity.
Media Contact: Jim Danko, Coordinator of Media Relations, (413) 755-4812, jdanko@stcc.edu