STCC Breaks Ground on Ira H. Rubenzahl Student Learning Commons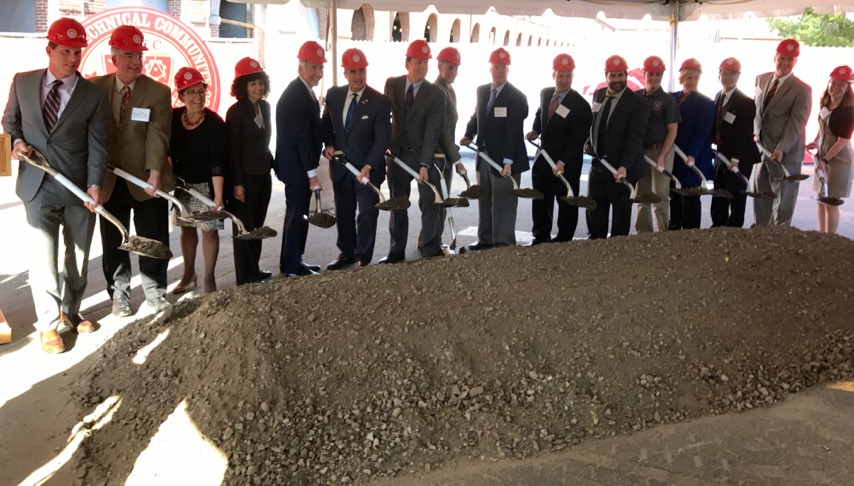 SPRINGFIELD, Mass. – Officials from Springfield Technical Community College (STCC), the Massachusetts Division of Capital Asset Management and Maintenance (DCAMM), Consigli Construction Co., Inc., and Ann Beha Architects broke ground today on construction of the Ira H. Rubenzahl Student Learning Commons.
The ambitious project marks a significant step forward for STCC, which is celebrating its 50th anniversary year. The renovated building will become the center of campus life on a site that was once a storehouse for supplies. Now called Building 19, the 100,000-square-foot structure will be known as the STCC Student Learning Commons.
The goal of the renovation is to combine the school's student administrative services, library and social spaces all under one roof in a newly restored space. With an anticipated opening date of fall 2018, the Student Learning Commons will honor the past while embracing new energy-efficient technology.
"We are thrilled with this project given that upwards of 17 student services and resources now land under this one roof. The Learning Commons should have a dramatic impact on the student experience here at the college," STCC President Dr. John B. Cook said.
Carol Gladstone, Commissioner of DCAMM, said, "The Building 19 project will provide a consolidation of student services eliminating the 'STCC shuffle,' as it is referred to by students. This project supports access to education and making it easier to find services that support student success and achievement. We at DCAMM are happy that the character of the building and its place on campus is preserved, while accommodating the necessary modern upgrades."
We are thrilled with this project given that upwards of 17 student services and resources now land under this one roof. The Learning Commons should have a dramatic impact on the student experience here at the college. Dr. John B. Cook

STCC President
Matthew Consigli, President of Consigli Construction, said, "We have a passion for restoration projects that revitalize historic places, turning them into modern spaces that have a lasting impact on the communities that they serve like Building 19 at STCC. This new facility will provide a crucial need for STCC so that it may continue to provide its students with the high-quality education that it has become known for."
Philip Chen AIA, LEED AP, Principal at Ann Beha Architects, said, "We are excited about the opportunity to transform this remarkable historic building and site into a vibrant and needed resource for STCC, and a new center for student services and student life on campus."
Retired STCC President Dr. Ira H. Rubenzahl said the campus functions "important to the life of the student outside of the classroom were tucked into available spaces without a comprehensive plan."
He noted that offices with related functions were widely dispersed, creating confusion and inefficiencies.
"This particular barrier for our students, who are very busy going to college while working and parenting, is now going to be removed," Rubenzahl said.
The renovations and modern additions to the expansive building will include the integration of all new systems into the historic fabric, masonry restoration and replacement of more than 200 historic windows.
The 700-foot-long building will house essential student resources and services, including advising, tutoring, career services, the library, a café and more. The Student Learning Commons will serve about 8,000 students.
The project will include the coordination of multiple historic agencies including the National Parks Service and the Massachusetts Historical Commission. Archaeologists will be required throughout the project.
STCC is targeting LEED Silver Certification for the building, and the project will engage STCC students and staff in internships and hands-on learning opportunities. Construction will last about 24 months and will cost about $50 million.
DCAMM is funding the project and overseeing construction. The Student Learning Commons was designed by Ann Beha Architects. Consigli Construction is the construction management firm in charge of the project.
About Springfield Technical Community College
Founded in 1967 and located on 35 acres of the Springfield Armory National Historic Site, STCC is a major resource for the economic vitality of Western Massachusetts. As the only technical community college in Massachusetts, STCC, an Achieving the Dream Leader College, offers a variety of career programs unequalled in the state. STCC's highly regarded transfer programs in business, engineering, liberal arts, science and technology continue to provide the most economical options for students pursuing a four-year degree. With an annual enrollment of more than 8,700 day, evening, weekend and online students, STCC is a vibrant campus rich in diversity.
About DCAMM
The Division of Capital Asset Management and Maintenance (DCAMM), an agency within the Executive Office for Administration and Finance (A&F,) is responsible for capital planning, major public building construction, facilities management, and real estate services for the Commonwealth of Massachusetts. The agency was created by the legislature in 1980 to promote quality and integrity in the management and construction of the Commonwealth's capital facilities and real estate assets.
DCAMM oversees the Commonwealth's capital assets, totaling over 75 million square feet. The agency manages over $2 billion in capital projects, working with state agencies on the full cycle of their strategic facility needs. DCAMM directly manages 5.5 million square feet of state buildings, and for those buildings not managed by DCAMM, we assist our client agencies using comprehensive and cost-effective maintenance and management strategies and standards. DCAMM is also responsible for all state real estate activities, including acquisition of property, disposition of surplus property and the leasing of space on behalf of state agencies, for offices and other facilities.
About Consigli Construction Co., Inc.
Consigli Construction Co., Inc. is a leading construction manager and general contractor with offices in Boston and Milford, Mass., Washington, D.C., Portland, Maine, Hartford, Conn., and New York State. Our extensive portfolio features a diverse range of projects of various scale and serving a wide range of clients in the life sciences, historical, academics, residential and cultural industries throughout the Northeast and Mid-Atlantic regions. A fourth-generation family-owned business, Consigli is recognized by the Boston Business Journal as the second-largest construction company in Massachusetts and by Engineering News-Record as one of the 100-largest in the country. It has received numerous awards and recognition for its work and employment practices company wide. Follow us on Twitter (@Consigli1905) or on Facebook.
About Ann Beha Architects
Ann Beha Architects is engaged in both contemporary design and in the preservation and adaptive re-use of landmark buildings. The firm's particular focus is on the role of architecture in sensitive and complex historic settings. Based in Boston and practicing nationally, ABA has 35 years of architectural and planning experience for educational, cultural and civic clients. For the seventh consecutive year, ABA has been named one of the Top 50 architectural practices in the United States by ARCHITECT Magazine, cited for its design leadership, stewardship, and collaborative practice.
MEDIA CONTACTS:
Springfield Technical Community College: James Danko, (413) 755-4812, Cell (413) 222-9311
Consigli Construction: Christopher Loh, (508) 458-0576
Ann Beha Architects: Kari Scullin, (617) 226-1621