STCC celebrates 2017 scholarship winners

(Photo credit: Dale Johnston)
SPRINGFIELD, Mass. – Springfield Technical Community College celebrated students who earned scholarships ranging from $250 to $10,000 and recognized donors who provided them with generous support.
The STCC Foundation organized a Donor Recognition Breakfast, which was followed by a Scholarship Presentation Ceremony held in the theater in Scibelli Hall on May 25.
In 2017, STCC students received a total of $700,000 in scholarships and services, which include on-campus events such as the Diversity Series, technology support and emergency funds for students facing difficult financial problems, said Rima Dael, Executive Director of Institutional Advancement and Foundation.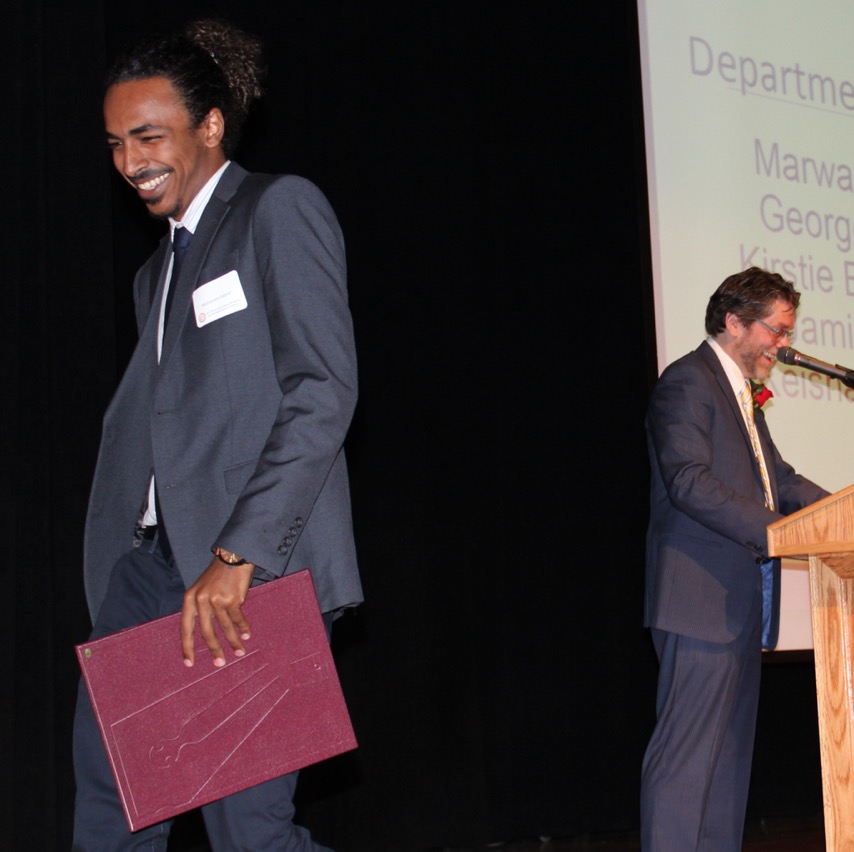 "Donor support provides vital resources to enable STCC to respond to the rapidly changing needs of our students and ensure a high performing, globally competitive workforce for the region," Dael said. "Scholarship funding is critical to our students' path toward success here at STCC and when many of them transfer to four-year institutions."
Dael said the breakfast connects many donors with their scholarship recipients and their families.
"It is a wonderful celebration where we get to honor the donor community that supports student success and commemorate student achievement by awarding the scholarships with the recipients' families present," she said.
The breakfast and awards ceremony drew hundreds of donors, STCC staff, friends and families of the honorees and the student scholarship recipients. The breakfast and awards ceremony drew hundreds of donors, STCC staff, friends and families of the honorees and the student scholarship recipients. Ninety-nine students received 141 scholarships. Some students received multiple awards.
Donors included individuals, families, corporations, the Department of Higher Education, STCC and its Foundation.
Mohamed Gabriel, 23, an engineering transfer student from West Springfield, won six scholarships.
"It feels great," he said. "It's definitely a great opportunity. I didn't expect to get one – never mind that many."
Gabriel recommended that students make the effort to apply for scholarships.
"When I talk to other students, I tell them to apply. You've got nothing to lose. I applied and now I have my next year covered through scholarships. I think students should definitely take advantage of scholarships. There are a lot of them," Gabriel said.
Offering "STCC Greetings" to the audience gathered in the theater, Dr. Arlene Rodriguez, Vice President of Academic Affairs, saluted the students for their efforts. She said she understands many students work extra jobs to fund their education while also supporting their families.
"Yet despite all of that, you have distinguished yourselves academically. You have demonstrated your intellectual gifts," Rodriguez said. "You have demonstrated what scholars call grit – and you have grit."
About Springfield Technical Community College
Founded in 1967 and located on 35 acres of the Springfield Armory National Historic Site, STCC is a major resource for the economic vitality of Western Massachusetts. As the only technical community college in Massachusetts, STCC, an Achieving the Dream Leader College, offers a variety of career programs unequalled in the state. STCC's highly regarded transfer programs in business, engineering, liberal arts, science and technology continue to provide the most economical options for students pursuing a four-year degree. With an annual enrollment of more than 8,500 day, evening, weekend and online students, STCC is a vibrant campus rich in diversity.
For more information about STCC, visit www.stcc.edu. Follow us on Facebook and Twitter (@S_T_C_C).
Media Contact:
Jim Danko, (413) 755-4812, jdanko@stcc.edu