STCC, Elms College forge partnerships in 4 academic programs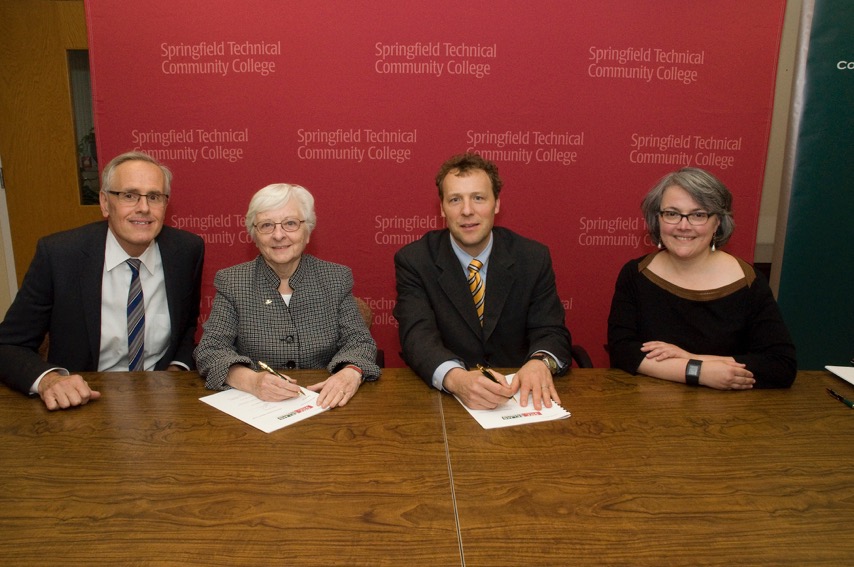 From left to right: Dr. Walter C. Breau, vice president of academic affairs at Elms College; Elms College President Mary Reap, IHM, Ph.D.; STCC President Dr. John B. Cook; and Dr. Arlene Rodriguez, STCC vice president of academic affairs.
Agreements apply to Health Information Technology, Computer and IT Security, Liberal Arts Transfer: Human Services/Social Work Option and Graphic Design programs at STCC
SPRINGFIELD, Mass. – The presidents of Springfield Technical Community College and Elms College in Chicopee today signed transfer agreements that will allow certain STCC graduates to seamlessly continue their educations at Elms to pursue bachelor's degrees in healthcare management, computer information technology, social work and graphic design.
The academic articulation agreements allow STCC graduates who meet requirements to transfer their credits and enter Elms as juniors. Under the agreements, they will start at Elms with at least 60 transfer credits and have two years from the date of enrollment to complete their baccalaureate programs.
STCC President John B. Cook said: "With a shared commitment to students, families, and our communities, we are very thankful for the opportunity to partner with Elms College on these pathways. These four programs continue key efforts to ensure strong workforce contributions, and we know the needs are great in the fields of human services, computer information technology, graphic design and health care."
Elms College President Mary Reap, IHM, Ph.D., said: "Healthcare management, computer information technology, graphic design and social work are important, growing fields with expanding job opportunities for our region. We are pleased to partner with Springfield Technical Community College to set students on the path to bachelor's degrees leading to rewarding careers, empowering them to change lives for the better in Western Massachusetts."
Vice President of Academic Affairs at STCC Dr. Arlene Rodríguez said: "My deepest thanks to the faculty from both institutions whose vision and hard work created these agreements. At the heart of this work is the commitment to serve our students, provide them a seamless route to a bachelor's degree, and access to a more viable future where they can capitalize on their skills and support their families. These collaborations with Elms College bolster the economic engine that advances our community. It's a win-win situation."
Leona Ittleman, dean of the School of Business and Information Technology, said: "By combining educational experiences at these two institutions, students are able to obtain a highly-valued education in a cost-effective manner. Students with loans won't graduate owing six figures. They'll be able to repay their loans and concentrate on their personal and professional lives."
Healthcare Management Agreement
Under one of the four agreements, STCC graduates with associate degrees from the Health Information Technology or Medical Coding and Billing Specialist programs can pursue a bachelor's degree in Healthcare Management from Elms.
Health Information Technology professionals manage a wide variety of healthcare information needs. They ensure medical records are complete and accurate and maintained in accordance with the law and government regulatory bodies.
STCC prepares students in the Medical Coding and Billing Specialist program for employment in hospitals, visiting nurse associations, insurance companies, doctor's offices and a range of other health organizations.
Transfer students with STCC degrees in these two areas can complete their bachelor's degrees at the Elms campus or online.
"It gives students with background in one aspect of healthcare management the opportunity to expand their knowledge and pursue a range of careers. The Elms represents a good option for selecting one of several disciplines to achieve their professional goals," Ittleman said.
Computer Information Technology Agreement
Under a separate articulation agreement, STCC students with associate degrees from the Computer and IT (Information Technology) Security or Programmer programs can transfer to Elms and pursue a bachelor's degree in Computer Information Technology.
Graduates with Computer IT Security degrees from STCC are prepared to work in jobs in which they assess a company's risk, document security procedures, implement those procedures and check for security breaches in the system. STCC is one of only a few two-year colleges with such a program.
"The Elms has a growing CIT Department where students can choose from IT alternatives such as computer security, programming or web development," Ittleman said.
Social Work Agreement
The third articulation agreement allows STCC students with associate degrees from the Liberal Arts Transfer: Human Services/Social Work Option program to transfer to Elms and pursue a bachelor's degree in Social Work.
Elms College and STCC also have jointly created a Human Services/Social Work Option. This versatile degree includes coursework that prepares the student for a career in the Human Services sector and for a seamless transition into a four-year Social Work program, according to Eric Brown, coordinator: liberal arts/general studies transfer at STCC.
"The student will benefit greatly be combining resources from the two campuses," Brown said. "The curriculum is especially designed to create cultural diversity which is critical for success in today's workforce. If the student chooses to articulate through Elms at the STCC campus, after graduating with an Associate of Arts degree, the tuition will be approximately 50 percent of what it would cost otherwise."
Graphic Design Agreement
The fourth articulation agreement allows students with associate degrees in Graphic Design from STCC to transfer to Elms to pursue a bachelor's degree in Graphic Design.
A graphic design degree prepares graduates for careers in printing, publishing, advertising and commercial photography.
According to Dr. Adrienne Smith, Dean of the School of Engineering and Math: "This agreement provides a great opportunity for our students to seamlessly transition to a Bachelor degree program at Elms College. Elms will accept the credit that our STCC students earn while attending our institution, allowing them to graduate with a baccalaureate degree in a minimal amount time, at an affordable cost and not have to travel to another part of the state."
The articulation agreements, which are in effect for five years, will be renewable for another five years by consent of STCC and Elms. Students must meet minimum grade point average standards, among other qualifications.
About Springfield Technical Community College
Founded in 1967 and located on 35 acres of the Springfield Armory National Historic Site, STCC is a major resource for the economic vitality of Western Massachusetts. As the only technical community college in Massachusetts, STCC, an Achieving the Dream Leader College, offers a variety of career programs unequalled in the state. STCC's highly regarded transfer programs in business, engineering, liberal arts, science and technology continue to provide the most economical options for students pursuing a four-year degree. With an annual enrollment of more than 8,500 day, evening, weekend and online students, STCC is a vibrant campus rich in diversity.
For more information about STCC, visit www.stcc.edu. Follow STCC on Facebook and Twitter (@S_T_C_C).
About Elms College
Elms College is a dynamic, Catholic, coeducational liberal arts institution, seeking to educate students who have distinguished themselves inside and outside the classroom.
Its mission is to provide rigorous academic challenges in preparation for careers and for life, enabling graduates to leave Elms College richer than they started — rooted in faith, educated in mind, compassionate in heart, responsive to civic and social obligations, and capable of adjusting to change without compromising principle.
For more information about Elms, visit www.elms.edu. Follow Elms on Facebook and Twitter (@ElmsCollege).
Media Contact: Jim Danko, Coordinator of Media Relations, (413) 755-4812, jdanko@stcc.edu