STCC librarian Kim Noel wins statewide award for outstanding service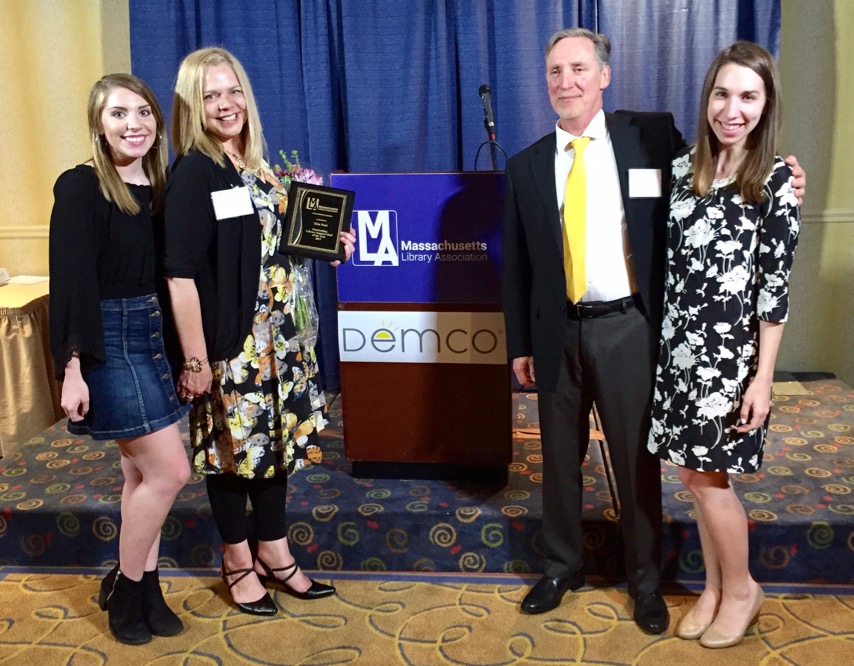 Kim Noel, her husband, Mark, and their daughters Carolyn, left, and Gloria, at the MLA's annual conference May 23.
SPRINGFIELD, Mass. – Kim Noel suspected something special might happen when her entire family joined her at the Massachusetts Library Association's annual conference in May.
Her husband, Mark, and two grown daughters, Carolyn and Gloria, went to the event in Hyannis because they did not want to miss seeing Noel receive the MLA Paralibrarian Section Award for Outstanding Library Support Staff. Noel, of Westfield, found out she was this year's recipient at the association's annual conference held on May 23.
Earlier that day, when her eldest daughter arrived on the Cape from New York, Noel said, "I had a suspicion something was up."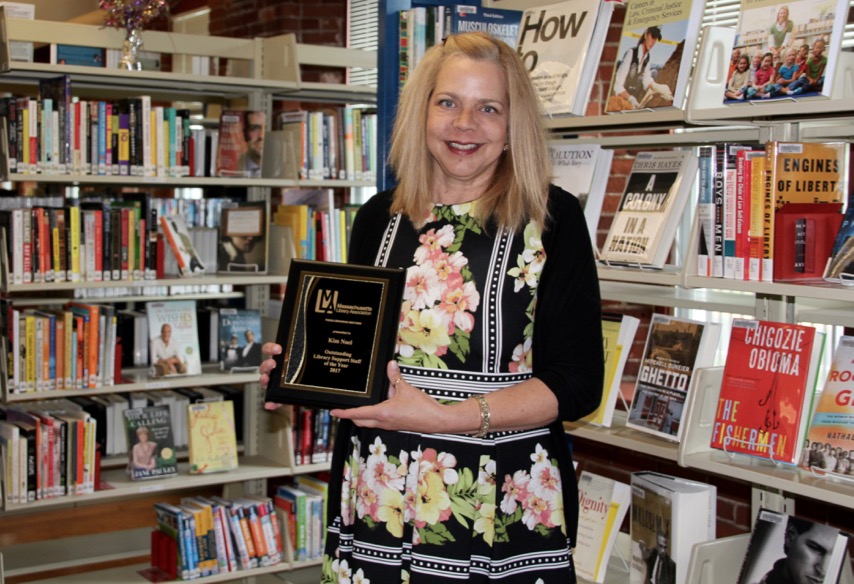 Eric Warren, interim dean of library services, praised Noel for her dedication to students over the past 13 years she has worked in the library at Springfield Technical Community College.
"Kim's professionalism, service ethic and commitment to student success are evident every day. She richly deserves to be recognized with this award," Warren said.
In her position as access services manager, Noel is responsible for all aspects of circulation and resource sharing. She helps students who are conducting research and faculty members who are working on a master's or doctorate degree.
Noel received a plaque and a year's membership in the American Library Association. The MLA presents the award to a "library worker who brings something extra to the table, and who carries their passion for library services out in to the community, both near and statewide," according to the MLA.
Kim's professionalism, service ethic and commitment to student success are evident every day. She richly deserves to be recognized with this award. Eric Warren,

interim dean of library services at STCC
In nominating Noel, Outreach/Technical Services Librarian Anna Bognolo wrote that Noel's service to STCC's library "goes far beyond her regular job duties."
"Ms. Noel demonstrates concern for our patrons through kindness, consideration and thoughtful commitment when working with our very diverse population," Bognolo wrote in a nomination form. "She does whatever she can to make our patrons' experiences in the library stress-free and enjoyable."
Noel started at the STCC library as circulation manager. About three years ago, she became access services manager. While she went to school for massage therapy, Noel has worked in libraries for 25 years.
"It's different every day," she said, when asked what she enjoys most about her job. "I love working with the students, and I really value the contributions we make in our students' lives. I like most knowing that I'm able to serve others."
About Springfield Technical Community College
Founded in 1967 and located on 35 acres of the Springfield Armory National Historic Site, STCC is a major resource for the economic vitality of Western Massachusetts. As the only technical community college in Massachusetts, STCC, an Achieving the Dream Leader College, offers a variety of career programs unequalled in the state. STCC's highly regarded transfer programs in business, engineering, liberal arts, science and technology continue to provide the most economical options for students pursuing a four-year degree. With an annual enrollment of more than 8,500 day, evening, weekend and online students, STCC is a vibrant campus rich in diversity.
For more information about STCC, visit www.stcc.edu. Follow us on Facebook and Twitter (@S_T_C_C).
Media Contact:
Jim Danko, (413) 755-4812, jdanko@stcc.edu