STCC professor's new book identifies traits of effective leaders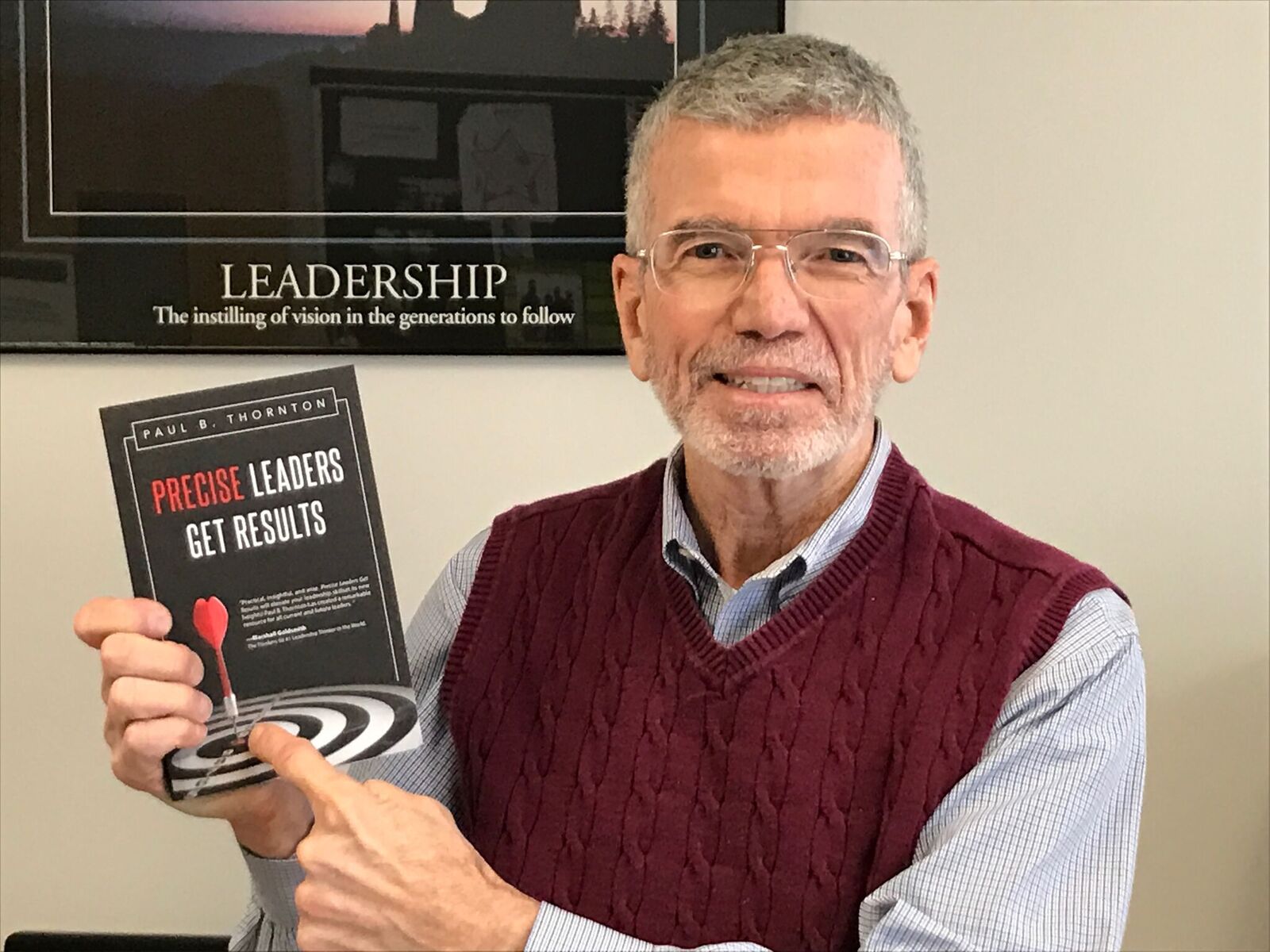 SPRINGFIELD, Mass. – In his latest book, "Precise Leaders Get Results," Professor Paul B. Thornton puts a spotlight on qualities that define great leaders.
A Chicopee resident, Thornton teaches three courses at STCC: management, leadership and organizational behavior. He hosts an annual leadership conference in which business leaders, consultants, entrepreneurs and college professionals present their topics in a TED-talk format. The 2017 Leadership Conference is scheduled for June 16.
Throughout his career, Thornton has observed, studied and interviewed many leaders, including CEOs, presidents, vice presidents, executives, consultants, coaches, managers and teachers. "Leaders come in all shapes and sizes," Thornton writes. "They don't all look and act the same. But three traits all leaders possess are confidence, courage and passion."
Top leaders know who they are and what they believe—what they stand for. They have specific priorities Paul B. Thornton,

professor at STCC
His research led him to a discovery that emerges as a theme in his new book: Effective leaders are precise. They avoid vague statements, confusing goals and unclear directions. The best leaders have a precise understanding of three things:
Their environment. "Great leaders fully understanding the situation—the problems and the opportunities."
Themselves. Thornton said, "Top leaders know who they are and what they believe—what they stand for. They have specific priorities."
How they interact with others. "The best leaders use effective methods to influence and inspire others," Thornton said. He believes there are four types of leaders—thought leaders, courageous leaders, inspiring leaders and servant leaders. Each leader uses a unique approach to connect with people and help them grow.
Thornton also highlights three leadership styles – which he calls "the three D's" – which leaders must develop to be effective:
Directing. Telling people precisely what changes are needed and when those changes have to be implemented.
Discussing. Asking provocative questions and framing questions in such a way that prompts people to face reality and see what's possible.
Delegating. Empowering others. Trusting others with responsibility and power to make the required changes.
Thornton writes in a conversational, engaging style that will appeal to people from all walks of life. He cites well-known, successful leaders such as the New England Patriots Coach Bill Belichick and Apple's late founder Steve Jobs, among others.
"All leaders need a philosophy. Bill Belichick has a very simple one: Do your job and put the team first. His philosophy is very simple, clear and precise. And it works," Thornton said.
Business students will benefit by reading his 190-page book. Professor Thornton believes "Precise Leaders Get Results" is really designed for a wide audience. He said, "We're all in the influence game to some extent. Coaches, managers, parents, teachers and team leaders will benefit from the principles in my book. The concepts have a broad application."
"Precise Leaders Get Results" will be available on Amazon and other online bookstores on Jan. 25. The book is now available for preorder.
About Paul B. Thornton
Paul B. Thornton is an author, trainer, speaker and professor of business administration at STCC. In 2015, he was the recipient of the Joseph J. Deliso, Sr., Endowed Chair.
He has conducted management and leadership programs for Palmer Foundry, UMass Medical School, Mercy Health Systems, Kuwait Oil Corp., Human Services Forum, Sunshine Village and United Technologies Corp. Through his coaching, seminars and courses, he has helped over 10,000 people become more effective managers and leaders.
Earlier in his career, he was the manager, human resources, for the Hamilton Standard division of United Technologies. He was also involved in training and developing managers, assessment centers and succession planning. He twice received a United Technologies Award for Extraordinary Management Effectiveness.
About Springfield Technical Community College
Founded in 1967 and located on 35 acres of the Springfield Armory National Historic Site, STCC is a major resource for the economic vitality of Western Massachusetts. As the only technical community college in Massachusetts, STCC, an Achieving the Dream Leader College, offers a variety of career programs unequalled in the state. STCC's highly regarded transfer programs in business, engineering, liberal arts, science and technology continue to provide the most economical options for students pursuing a four-year degree. With an annual enrollment of more than 8,500 day, evening, weekend and online students, STCC is a vibrant campus rich in diversity.
For more information about STCC, visit www.stcc.edu. Follow us on Facebook and Twitter (@S_T_C_C).
Media Contact:
Jim Danko, coordinator of media relations
(413) 755-4812, jdanko@stcc.edu