STCC serves as a model for visiting Pakistani school administrators
SPRINGFIELD, Mass. – Naeem Yaqoob could have been mistaken for a student as he leaned in and gingerly cleaned a foot wound on a patient simulator at the SIMS Medical Center at Springfield Technical Community College.
But Yaqoob is not enrolled at the college, nor does he live in Western Massachusetts. He was one of 19 visiting administrators from vocational and technical institutions in Pakistan who stopped by STCC on Sept. 16 as part of the Community College Administrators' Pakistan Project.
How did he feel about the "SIMS" experience?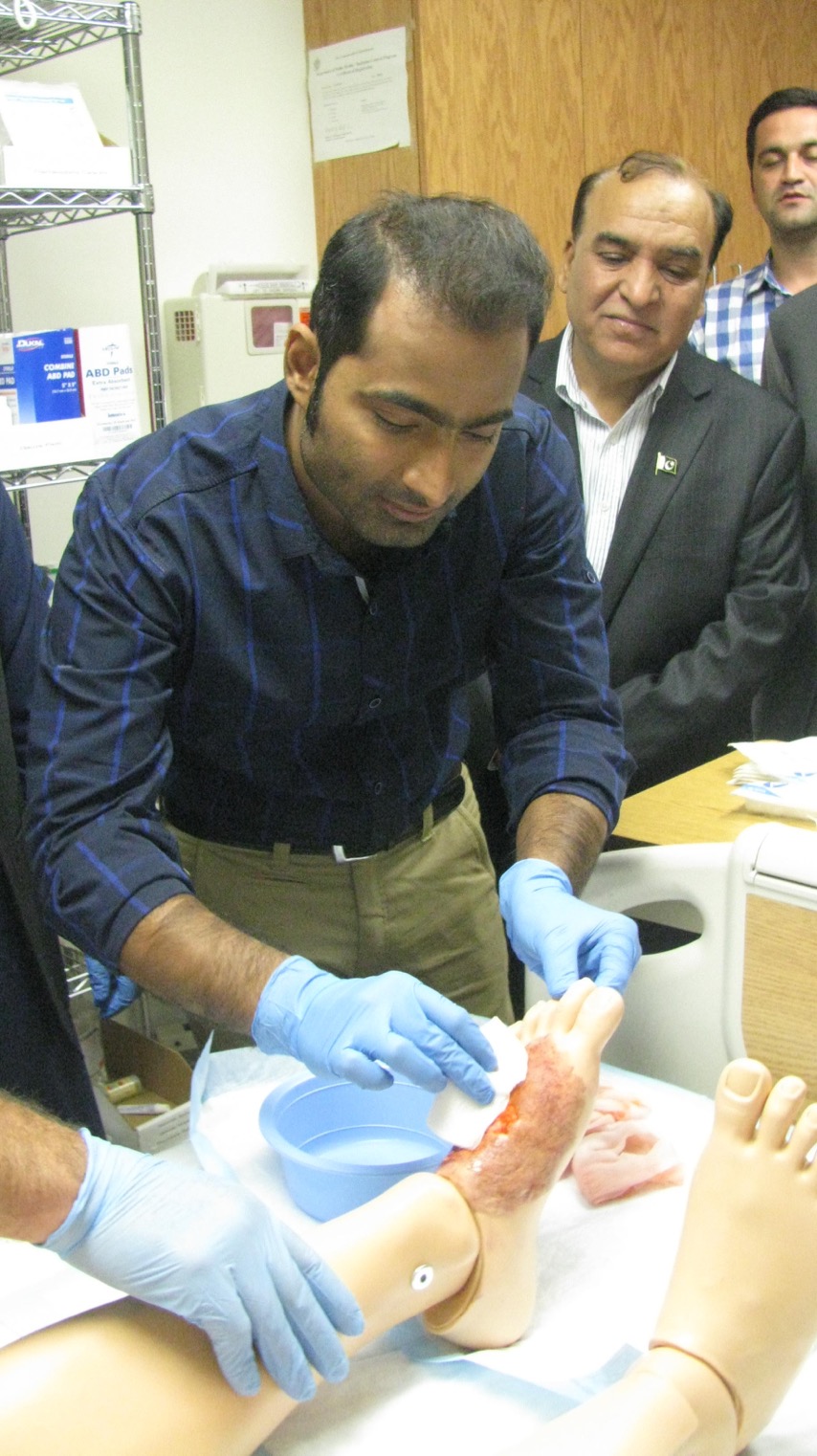 "It was awesome. It's just like it was real," Yaqoob said with a smile after "treating" a patient simulator that can talk about how he feels as well as produce fluids and emit odors.
The U.S. Department of State awarded a grant to create a program for community college administrators from Pakistan, according to Kermit Dunkelberg, assistant vice president of adult basic education and workforce development at Holyoke Community College. The grant was awarded to the Institute for Training and Development, Amherst, in partnership with HCC and the University of Massachusetts, Amherst, College of Education.
Dunkelberg said two six-week programs, including one involving the visit to STCC, will be conducted in the Pioneer Valley. Each program will serve 20 administrators from vocational and technical institutions in Pakistan. They are visiting community colleges both in Massachusetts and outside of the state. Dunkelberg said the community college model used in Massachusetts "would fit well with the gaps in their system."
"They come from technical training institutes," Dunkelberg said. "They're especially interested in STCC, being the only technical community college in the state."
He said they plan to return to STCC on another day.
The project goals are to educate the Pakistani visitors about the U.S. system of university administration and to promote higher education in Pakistan, Dunkelberg said. Additionally, the program is designed to foster sustained engagement among Pakistani and U.S. counterparts and institutions, he said.
The project will affect up to 40 of the almost 1,000 technical and vocational institutions of higher education in Pakistan, Dunkelberg said.
The visit could lead to stronger and additional programs in Pakistan for disadvantaged and minority students, new research in support of public projects, enhanced educational leadership and the development of community engagement activities and university and business partnerships.
Yaqoob, who treated the patient at SIMS Medical Center, works for the government of Pakistan and serves as an administrator for the National Vocational and Technical Training Commission. He volunteered to treat a patient simulator with a serious foot wound as his colleagues from Pakistan looked on.
In addition to the hands-on experience at the SIMS Medical Center, the region's preeminent patient simulation training facility, the group from Pakistan learned about the mission of community colleges like STCC.
During the half-day visit at STCC, they met with President John B. Cook, who offered an overview of STCC's programs and fielded questions about the approach STCC takes toward educating its students.
Cook described the relationship between community colleges and the state government. He said that perhaps provinces in Pakistan could offer financial support to an educational institution the way Massachusetts provides support for STCC.
"You don't necessarily need the federal government of Pakistan to underwrite this. It could be province by province, which seems similar to our state-to-state approach," Cook said.
Cook invited a former colleague from Manchester Community College (MCC) to speak with the group. Adnan Tahir was born in Pakistan but now lives in the United States. With experience working in Information Technology (IT) and also teaching part time at MCC, Tahir detailed some of his research on challenges to implementing higher education in his native country.
"You need to start literacy from the ground up," Tahir said, noting that millions of children do not attend school, and one key is engaging with families.
Before leaving campus, the visitors walked across the street to Springfield's Technology Park to see the state-of-the-art machines used by students in the Mechanical Engineering Technology program: the lathes, milling machines and 3-D printers, to name some of the program's high-tech equipment. They examined tools manufactured on machines by STCC students.
In addition to touring STCC, they were scheduled for activities on others days at Holyoke Community College.
The visitors generously offered gifts from their homeland. Cook received a traditional cap and a shawl, known as an ajrak.
One of the visitors, Engr. Noor Ul Qamar, principal of GCT Peshawar, said he hopes to bring some ideas from STCC and other community colleges back to Pakistan.
"When we return home, we will try to implement these ideas in our country," he said. "The United States is the developed country, and we are a developing country. We are in a transition period."
About Springfield Technical Community College
Founded in 1967 and located on 35 acres of the Springfield Armory National Historic Site, STCC is a major resource for the economic vitality of Western Massachusetts. As the only technical community college in Massachusetts, STCC, an Achieving the Dream Leader College, offers a variety of career programs unequalled in the state. STCC's highly regarded transfer programs in business, engineering, liberal arts, science and technology continue to provide the most economical options for students pursuing a four-year degree. With an annual enrollment of more than 8,500 day, evening, weekend and online students, STCC is a vibrant campus rich in diversity.
For more information about STCC, visit www.stcc.edu. Follow us on Facebook and Twitter (@S_T_C_C).
Media Contact:
Jim Danko, jdanko@stcc.edu, (413) 755-4812