STCC student Kristiana Tadeo honored with '29 Who Shine' award
SPRINGFIELD, Mass. – Kristiana Tadeo says her experience at Springfield Technical Community College shaped her into the person she is today – a well-rounded student leader who was honored May 5 at the State House as one of "29 Who Shine."
Launched by the state Department of Higher Education, "29 Who Shine" is an awards program that recognizes 29 outstanding student graduates from the Commonwealth's public higher education system. Gov. Charlie Baker honored Tadeo and 28 other outstanding students who are graduating this spring.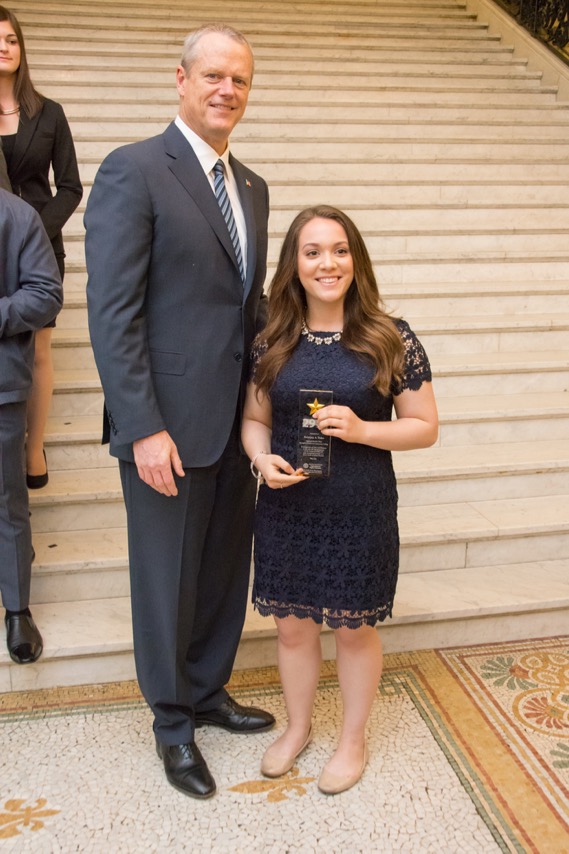 "It was a great honor, and it felt really good to be recognized for everything I had done here so far," Tadeo said.
Massachusetts Education Secretary James Peyser said the students are a credit to the colleges and universities they attend.
"The '29 Who Shine' honorees are exceptional student leaders who saw a way to improve something and acted on it, and for that we are grateful," Peyser said. "We are proud of their contributions to their communities and the Commonwealth."
Tadeo's mentor, STCC Biological Sciences Professor Richard Greco, accompanied her to the ceremony and also was honored.
"Professor Richard Greco has been an inspiration to me," Tadeo said. "I have taken five science classes with him and have had the opportunity to serve as a Supplemental Instruction Leader helping classmates with course material. He taught me that I can do whatever I put my mind to, including pursuing my education to become a doctor specializing in research."
Greco said, "Kristiana Tadeo is everything an institution desires in a student. Beyond being strong academically, she possesses a true intellectual curiosity. She is amazed by all facets of our world. Kristiana has focused her studies on biology, the study of life, but she does not let it end there. Her love of life makes her a humanitarian, and this is the drive that makes her an involved citizen of both STCC and the local community."
Tadeo, 21, of Chicopee, credits STCC with helping her not only to receive the "29 Who Shine" honor, but also with securing a scholarship to Simmons College in Boston. A biology major at STCC, Tadeo starts in the Honors Program at Simmons this fall and is considering majoring in either biochemistry or public health.
Kristiana Tadeo is everything an institution desires in a student. Beyond being strong academically, she possesses a true intellectual curiosity. She is amazed by all facets of our world. Richard Greco

STCC professor
"STCC truly transforms education in the lives of the students," she said. "If they have the opportunity, I think everyone should go to STCC. Everyone should experience the sense of community that is at this community college."
Tadeo followed a family tradition at STCC. Her parents graduated from the college with science degrees.
Over the past two years at STCC, Tadeo, by her own account, has experienced a transformation. She admits she was not someone to get involved when she enrolled in 2015, but the community at STCC inspired her to help others.
With encouragement from Andrea Tarpey, STCC's Coordinator of Student Activities, Tadeo took on the role as Campus Activities board chair. She planned events to strengthen student connections to the campus. She also became a paid teaching assistant as a Supplemental Instruction Leader.
She tutored at Chestnut Accelerated Middle School in Springfield, helping underprivileged students with mathematics, science and English.
A student with a 3.83 grade point average, she was elected president of Phi Theta Kappa, the honor society at STCC. Tadeo is also a student in STCC's Honors Certificate Program which offers a challenging academic experience for qualified students who wish to pursue unique study and research opportunities in their major fields of study. She represented the college at the Northeast Regional Honors Conference in Pittsburgh in April where she presented her research topic "Bridging the Divide on Transgenderism."
In one of her final achievements at STCC, Tadeo served as student speaker at the presidential inauguration of Dr. John B. Cook.
"Everything that I am today and everything that I have accomplished at STCC has definitely been because of the professors and because of the students here," she said. "It's definitely a place that has allowed me to grow. It's amazing how much it changes you as a person for the better."
About Springfield Technical Community College
Founded in 1967 and located on 35 acres of the Springfield Armory National Historic Site, STCC is a major resource for the economic vitality of Western Massachusetts. As the only technical community college in Massachusetts, STCC, an Achieving the Dream Leader College, offers a variety of career programs unequalled in the state. STCC's highly regarded transfer programs in business, engineering, liberal arts, science and technology continue to provide the most economical options for students pursuing a four-year degree. With an annual enrollment of more than 8,500 day, evening, weekend and online students, STCC is a vibrant campus rich in diversity.
For more information about STCC, visit www.stcc.edu. Follow us on Facebook and Twitter (@S_T_C_C).
Media Contact:
Jim Danko, (413) 755-4812, jdanko@stcc.edu