STCC Students Transform Lobby of Campus Building into Surgical Suite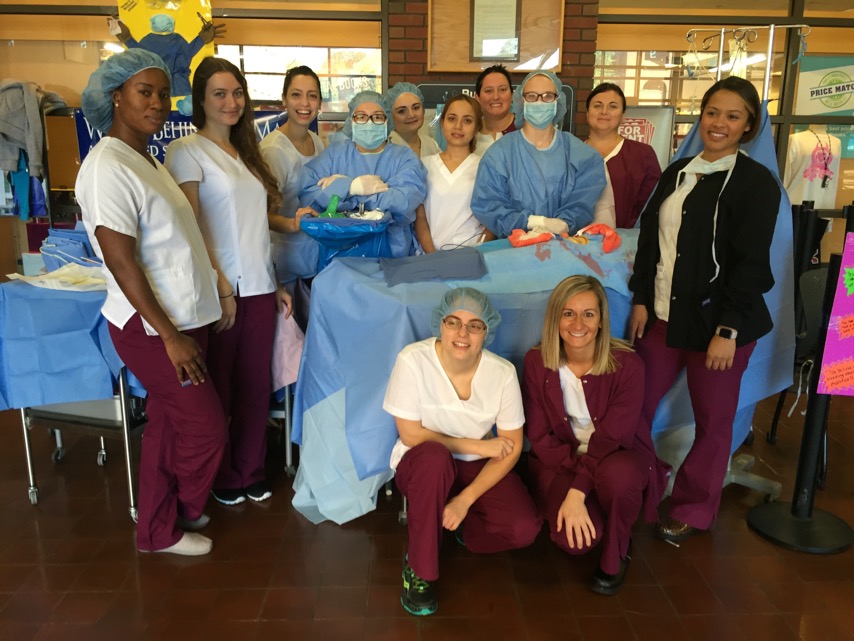 SPRINGFIELD, Mass. – Dressed in light blue scrubs and wearing gloves and a mask, Springfield Technical Community College student Jessie Rocha looked like she was prepared to perform any type of surgical procedure.
But on this warm day in September, Rocha, of Simsbury, Conn., and several classmates from STCC's Surgical Technology program were not working in an operating room. They were marking National Surgical Technologist Week, Sept. 18-24.
The students and faculty set up a display of medical instruments in the lobby of the Health Sciences Building (Building 20) at STCC: forceps, clamps, scissors, retractors, sponges and more. A patient simulator lay on the operating table surrounded by the props: a few sponges stained with "blood" and a Mayo stand, a movable tray used to hold the instruments.
The week is an opportunity to promote the profession and educate others about the important role played by surgical technologists. Working under the supervision of a surgeon, a surgical technologist assists in operations. They prepare operating rooms, make sure there is adequate equipment and supplies are sterile. They also help surgeons by handing them medical tools and other supplies, among other responsibilities.
Rocha once was enrolled in nursing school, but decided to change majors and pursue a degree in surgical technology. She said the field is more to her liking.
"It's more technical. It's more hands-on (than nursing)," she said. "You're more involved in surgery than a nurse would be. You're kind of the backbone of O.R. You're the first one in the room, setting everything up. And you know what needs to happen next."
To watch a video demonstration of the display, visit STCC's YouTube channel.
Visit STCC's website for more information about surgical technology and how to apply to the program. You also can call the admissions office at 755-3333 or stop by Building 16, Room 121.
About Springfield Technical Community College
Founded in 1967 and located on 35 acres of the Springfield Armory National Historic Site, STCC is a major resource for the economic vitality of western Massachusetts. As the only technical community college in Massachusetts, STCC, an Achieving the Dream Leader College, offers a variety of career programs unequalled in the state. STCC's highly regarded transfer programs in business, engineering, liberal arts, science and technology continue to provide the most economical option for students pursuing a four-year degree. With an annual enrollment of more than 8,700 day, evening, weekend and online students, STCC is a vibrant campus rich in diversity.
Media contact: Jim Danko, coordinator of media relations, (413) 755-4812, jdanko@stcc.edu