STCC to expand Basic EMT training program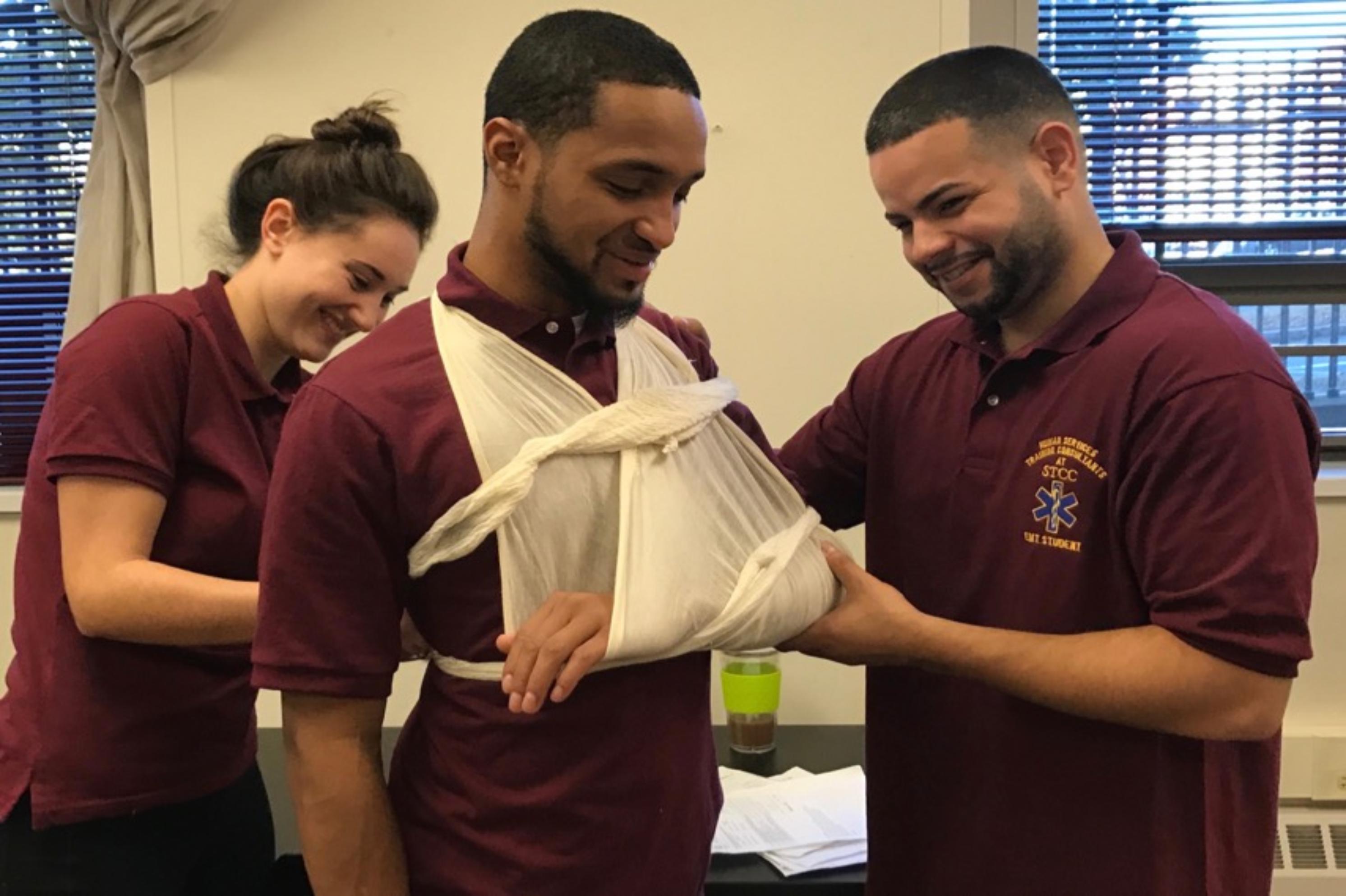 Left to right: Rebecca Warren, of Northampton, Joan Osorio, of Springfield, and Joshua Jimenez, of Holyoke - all students in the Basic Emergency Medical Training Course at STCC - practice how to treat someone with an upper arm fracture.

SPRINGFIELD, Mass. – Asked why he came to Springfield Technical Community College (STCC) to study to become an emergency medical technician, Daniel Rivera said without hesitation: "I want to save people's lives."
One of 30 students enrolled in the Basic Emergency Medical Training course at STCC this fall, Rivera on a recent morning was practicing life-saving skills with other students in a classroom at STCC.
Early in the session, Rivera stabilized the spine of a "patient" strapped to a long board. One of Rivera's classmates played the part of the patient, while another student was Rivera's EMT partner.
Rivera, 30, of Holyoke, has been working in the construction field. Having saved up some money, he said he decided to register for the EMT course.
I love it. It's hands-on. I like doing that. I want to become a firefighter, and this is a good way to start developing my expertise. Joan Osorio,

student in the Basic EMT course at STCC
"This was the perfect time," he said.
With the help of STCC, he is pursuing his dream of becoming an EMT. Once he earns his certificate, he feels confident he will be able to land a good job.
STCC is in the midst of expanding the Basic EMT program. The course has been offered as a non-credit certificate program for decades at STCC, which means the course could not be applied toward an associate degree. But next fall for the first time it will be offered as a credit course for students who are seeking a degree.
Students will be able to receive seven credits, or they can choose the non-credit option, according to Christopher Scott, interim dean of the School of Health and Patient Simulation.
The credit course would apply toward an associate degree in Fire Protection and Safety Technology.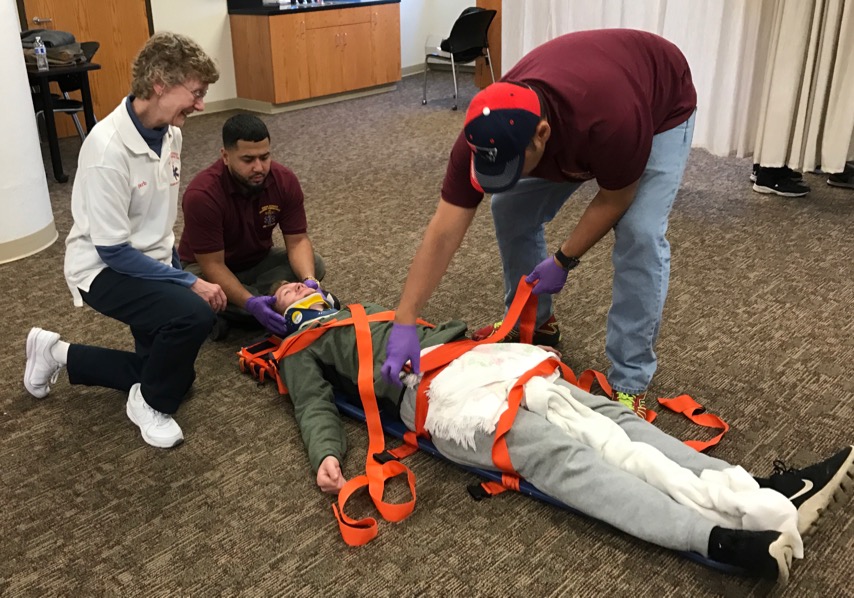 Barbara Pummell, of Human Services Training Consultants, Inc. of West Springfield, has been teaching the course for more than 30 years at STCC. During a recent morning session, Pummell gave a brief overview of the program.
"All EMTs have to start here before they go to advanced level classes," Pummell said. To keep the program flexible, students can take either day or night courses, or switch back and forth during the semester.
Students learn theories or "didactic" information, but also hands-on skills like how to assess a patient or immobilize a patient on a long board, Pummell explained. They learn how to treat patients in car accidents, or with arm injuries or leg fractures, among other medical emergencies.
She said students learn how to tackle real life problems that any veteran EMT might face. For example, they discover how to deal with accidents involving hazardous materials.
"There's a wide range of skills for trauma that they have to learn," Pummell said.
They learn all areas of EMT training, including legal aspects, in a course that runs more than 170 hours. "We have lifts and moves. How are we going to move this patient from the chair to the stretcher? We have medical emergencies, trauma emergencies. We'll be going into auto extrication over the next couple of classes," Pummell said.
Students are taught how to help with child birth, pediatric emergencies, problems facing the elderly, which can be markedly different from health issues facing younger adults.
Once they pass the program at STCC, they become eligible to take state and national exams, Pummell said. They also will need to apply to the state for licensure in the Commonwealth of Massachusetts, she said. Every two years they need a refresher program in continuing education.
"Their education doesn't stop here," she said.
Students also can continue their education at other institutions to become advanced EMTs or paramedics.
Student Rebecca Warren, of Northampton, hopes to receive her Basic EMT certificate and then continue her education. She wants to become a physician's assistant.
"This would be a very good way to get into the profession and make sure I like it first," said Warren, 25.
Another student, Joan Osorio, of Springfield, now works in a warehouse, but hopes to become a firefighter. "I want to have this head start so when I get to the field I know exactly what to do," he said.
Asked how he felt about the Basic EMT course at STCC, Osorio, 25, smiled broadly.
"I love it," he said. "It's hands-on. I like doing that. I want to become a firefighter, and this is a good way to start developing my expertise."
To apply online or find out more about the program, visit www.stcc.edu/wt. Anyone interested can also call (413) 755-4225 or go to STCC Building 16, Room 146 to register for the course. To watch a video of students in action, visit the college's YouTube channel: Youtube.com/SpringfieldTechCC
About Springfield Technical Community College
Founded in 1967 and located on 35 acres of the Springfield Armory National Historic Site, STCC is a major resource for the economic vitality of Western Massachusetts. As the only technical community college in Massachusetts, STCC, an Achieving the Dream Leader College, offers a variety of career programs unequalled in the state. STCC's highly regarded transfer programs in business, engineering, liberal arts, science and technology continue to provide the most economical options for students pursuing a four-year degree. With an annual enrollment of more than 8,500 day, evening, weekend and online students, STCC is a vibrant campus rich in diversity.
For more information about STCC, visit www.stcc.edu. Follow us on Facebook and Twitter (@S_T_C_C).
Media Contact:
Jim Danko, coordinator of media relations
(413) 755-4812, jdanko@stcc.edu