STCC's teaching transfer programs offer flexible path to a classroom career
SPRINGFIELD, Mass. – Nataya Connolly dreamed of becoming a teacher, but the single mother of three young children needed to find an academic program that was flexible and affordable.
Connolly found just what she was looking for at Springfield Technical Community College (STCC), where two teaching transfer programs are offered: elementary and secondary.
Interested in teaching younger children, the 27-year-old Wilbraham resident who is originally from the Bahamas applied for the elementary education transfer program and started classes in January 2015. The secondary program trains teachers to work in middle and high school classrooms.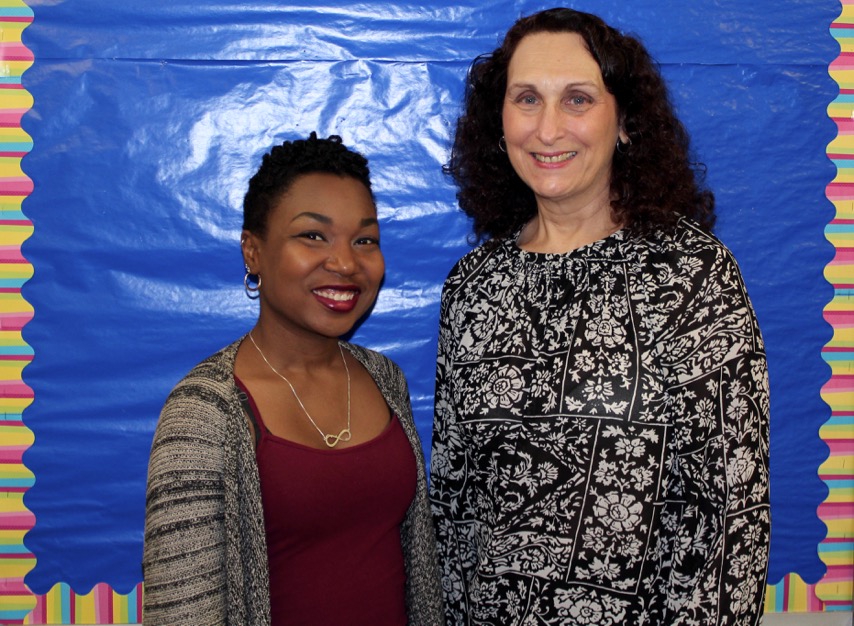 More than two years into her program, Connolly today is a successful Dean's List student on track to graduate next January and then continue with her education.
"It was a little tricky at first," Connolly said of balancing her responsibilities at home with her school work.
The mother of a 6-year-old girl, a 2-year-old boy and a foster daughter who is 9, Connolly arranges her classes so she is at STCC while her children attend school or day care. Connolly completes her homework early in the afternoon on campus.
"I like STCC because you're able to make your own schedule. You can go at your own pace," she said.
Professor Linda Prystupa, chair of the Education Department at STCC, said the teaching programs attract many recent high school graduates, but they also appeal to people who may be changing careers or who are a few years out of high school and raising a family like Connolly.
There is the tangible joy of reaching students and teaching them not only the subject matter but also how to learn and the sheer pleasure of learning. This makes a difference that will last well into the future. You cannot put a price on it. Linda Prystupa,

Chair, Education Department at STCC
"We have students who come here because we're smaller. They like us, they know us and the price is right," Prystupa said.
Students who enroll at STCC must decide between the two transfer programs, elementary and secondary. Each transfer program includes courses that are geared toward the age group. For example, students in the elementary teacher education program would take child psychology, while those in the secondary education transfer program would take adolescent psychology.
To become professional teachers, graduates of the teaching programs at STCC go on to four-year schools to earn their bachelor's. STCC has an agreement with Westfield State University's School of Education that allows students to enter as juniors. But students also have gone on to other regional institutions such as Mount Holyoke College, American International College, Bay Path University, the University of Massachusetts and colleges outside of the area, Prystupa said.
Massachusetts requires teachers to have a bachelor's degree at a minimum and to successfully pass the Massachusetts Tests for Educator Licensure (MTEL) Communication and Literacy Skills test. Teachers also need to pass a second MTEL test focusing in their area of specialty. The STCC program prepares students for both license exams.
Prystupa said school principals will hire certified teachers with bachelor's degrees on the condition that they obtain their master's degrees within five years. Jobs in Western Massachusetts start around $40,000 a year. Starting teachers in Boston average around $90,000 a year, Prystupa said.
Whether teachers work in a big city or a small town, they discover their career offers a reward that goes beyond merely collecting a paycheck.
"There is the tangible joy of reaching students and teaching them not only the subject matter but also how to learn and the sheer pleasure of learning," Prystupa said. "This makes a difference that will last well into the future. You cannot put a price on it."
While many STCC students eventually become teachers, there are many more career paths in education today – teacher leaders, counselors, consultants and administrators, to name a few, Prystupa said.
The job outlook appears healthy, with many educators from the baby boomer generation starting to retire, Prystupa said.
"There are jobs in Springfield and elsewhere, particularly in certain areas like special needs, math, and science," she said.
That comes as good news to people like Connolly, who hopes to enter the local job market in about two years.
"I always wanted to teach when I was younger," Connolly said. "Before I had my son, I was in the medical assistance field, but the hours were not working for me as a single parent. On their days off I was at work and had to find someone to watch them. So I said, 'Why don't I do something that I like that also gives me the schedule to be with them?'"
Once enrolled in the program, Connolly quickly grew to love the academic routine and cited Professor Prystupa as an inspiring teacher.
"She's one of the best professors I ever had," Connolly said. "She wants you to achieve; she doesn't want you to fail. She's going to help you each step of the way. She's not going to leave you in the dust."
Prystupa also enjoyed teaching Connolly, calling her an exemplary student with a bright future.
"She's a lovely young woman – enthusiastic," Prystupa said. "She's able to hold it together: raising a family, taking in a foster child, getting straight A's. She's warm and caring. She's going to make a wonderful teacher."
Interested in a teaching career? Get started by applying to STCC. Contact STCC Admissions at (413) 755-3333 or visit stcc.edu/apply. Financial aid is available.
About Springfield Technical Community College
Founded in 1967 and located on 35 acres of the Springfield Armory National Historic Site, STCC is a major resource for the economic vitality of Western Massachusetts. As the only technical community college in Massachusetts, STCC, an Achieving the Dream Leader College, offers a variety of career programs unequalled in the state. STCC's highly regarded transfer programs in business, engineering, liberal arts, science and technology continue to provide the most economical options for students pursuing a four-year degree. With an annual enrollment of more than 8,500 day, evening, weekend and online students, STCC is a vibrant campus rich in diversity.
For more information about STCC, visit www.stcc.edu. Follow us on Facebook and Twitter (@S_T_C_C).
Media Contact:
Jim Danko, (413) 755-4812, jdanko@stcc.edu