Amy H. Carberry Fine Arts Gallery
The Amy H. Carberry Fine Arts Gallery presents approximately six exhibits each academic year featuring works by artists of local and national repute, as well as STCC student work. All exhibits are supported in part by funding from the School of Arts, Humanities and Social Sciences. The gallery is free, open to the public, and handicapped accessible.
The Amy H. Carberry Fine Arts Gallery, Fine Arts Building (B28), is open Tuesday through Friday 12:30 p.m. to 4:30 p.m., and Saturday 10 a.m. to 2 p.m.
---
Exhibitions
The Amy H. Carberry Fine Arts Gallery presents new collages by Keith Hollingworth entitled "40 Black Writers." The series started in 2012 and features Sonia Sanchez, Alain Locke, Edwidge Danticat, Ntozake Shange, and James Baldwin, among many other Black writers whose wide range of thought, ideas, and feelings are illustrated with portraits, stamps, and book art. This exhibition will be on view through December 7, 2021. A virtual tour with no audio is available on YouTube.
Carberry Conversations, presented by Springfield Technical Community College's Amy H. Carberry Fine Arts Gallery, continues Friday, October 29th from 12 p.m. to 12:45 p.m. with a virtual conversation between associate professor and gallery coordinator Sondra Peron and retired professor and visual artist Keith Hollingworth. Hollingworth exhibited "54 African Americans" and "Homage to Art" at the Amy H. Carberry Fine Arts Gallery in October 2017, and his collage work, "40 Black Writers," is currently on view at the STCC campus gallery.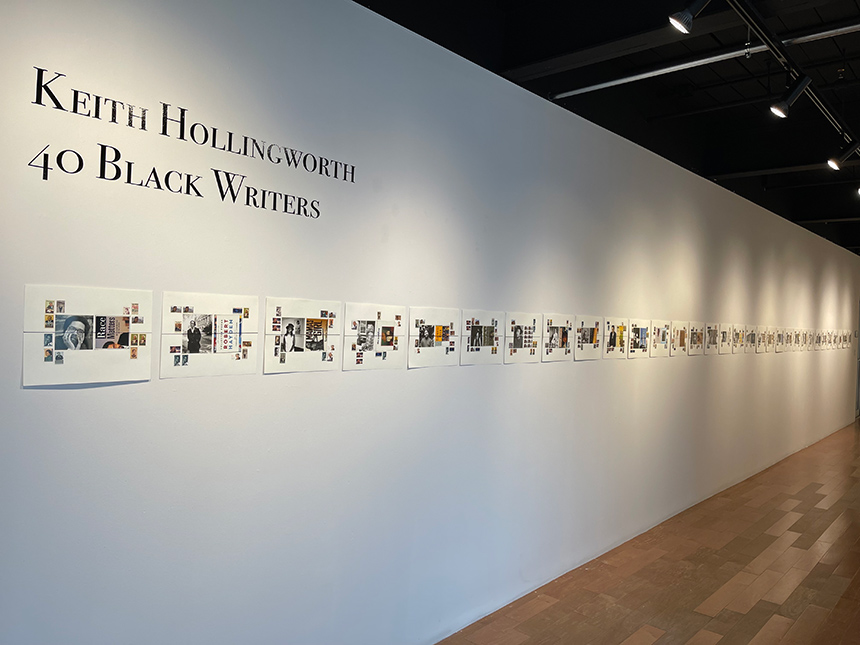 Keith Hollingworth graduated from the Rhode Island School of Design (RISD) in 1959. After serving in the U.S. Army for 2 years, he attended Mills College in Oakland, California, receiving his M.F.A. in 1964. He taught for a year in Ohio and then became a member of the Art Department at UMass in Amherst. In 1967 he moved to New York to establish himself as an artist. He exhibited in the Paula Cooper Gallery. In 1974 he moved from the city to Western Massachusetts and began teaching as an Adjunct at HCC, GCC, Mount Wachusett Community College and Westfield State University (WSU). He eventually became tenured at WSU and retired in 2019. He was a founding member of Gallery A3, a cooperative gallery located in Amherst.
Due to the ongoing concerns about Covid, the gallery will be open by appointment only at this time. Face masks are required. Please email the gallery coordinator directly at speron@stcc.edu to schedule a timed-entry visit.
You can view an archive of all exhibitions on the Past Gallery Exhibitions page.
---
The Camera Obscura Room
2018-2019 Academic Year: The Camera Obscura Room, an annex to the Amy H. Carberry Fine Arts Gallery on the campus of STCC is free and open to the public between September and May when the gallery is open and exhibitions are on view.
In this camera obscura, you can see Pearl Street, in full color and motion. This should sound familiar since the same is true, in a basic way, to how your eyes work to see or how a camera works. Five minutes is recommended to allow your eyes some time to adjust and you can enjoy the full effect of this educational and entertaining experience.
What is a Camera Obscura? In Latin, the term, "camera obscura" means literally "dark room." The laws of optics dictate that light travels in straight lines and when rays of light reflect off objects outside a darkened room, some of those rays traveling through a small hole or aperture in a window, reform on the opposite wall; upside down & backwards!
---
Carberry Conversations
Carberry Conversations is a series of virtual talks throughout the academic year between associate professor and gallery coordinator Sondra Peron and several past exhibiting artists whose work has been on view at the Amy H. Carberry Fine Arts Gallery since 2013 and STCC's very own art faculty. Conceived in response to the ongoing pandemic, these conversations function as a space to connect working artists and photographers to STCC and the Greater Springfield community covering a wide variety of topics including origin stories, the impact of current events on the artistic process, and the function of art and photography during times of crisis.
For a list of upcoming and past conversations, please see the Carberry Conversations page.
Call for Exhibition Proposals
The college invites all area artists, photographers, video and installation artists to an open call for exhibition proposals to present and/or produce an exhibition in collaboration with the fine arts gallery.
Location
Fine Arts Building (B28), first floor, on the Pearl Street side of the STCC campus.
Hours
Tuesday through Friday 12:30 p.m. to 4:30 p.m.
Saturday 10:00 a.m. to 2:00 p.m.
Or by appointment
Contact Information
Sondra Peron
Coordinator of Amy H. Carberry Fine Arts Gallery and Cultural Programming
Associate Professor, Fine Arts Department
Darkroom/Office: Putnam Hall (B17), Room 508
http://www.sondraperon.com
speron@stcc.edu
Gallery phone: 413-755-5258
Gallery email:gallery@stcc.edu
Mailing Address
Amy H. Carberry Fine Arts Gallery
Springfield Technical Community College,
One Armory Square Suite 1
P.O. Box 9000, Springfield, MA 01102-9000