Amy H. Carberry Fine Arts Gallery
The Amy H. Carberry Fine Arts Gallery presents approximately six exhibits each academic year featuring works by artists of local and national repute, as well as STCC student work. All exhibits are supported in part by funding from the School of Arts, Humanities and Social Sciences. The gallery is free, open to the public, and handicapped accessible.
The Amy H. Carberry Fine Arts Gallery is open Tuesday through Friday 12:30 p.m. to 4:30 p.m., and Saturday 10 a.m. to 2 p.m.
---
Exhibitions
Tentative Fall 2019 Exhibition Schedule
THEM: Images of Separation from the Jim Crow Museum of Racist Memorabilia: Using objects of intolerance to teach tolerance and promote social justice.
Wednesday, September 11, 2019 - Saturday, October 5, 2019
Special Lecture by Dr. David Pilgrim, Monday, Sept 23, 11:15 a.m., Scibelli Hall
Meet and Greet Reception with Dr. David Pilgrim: Monday, Sept 23, 5 p.m. to 7 p.m.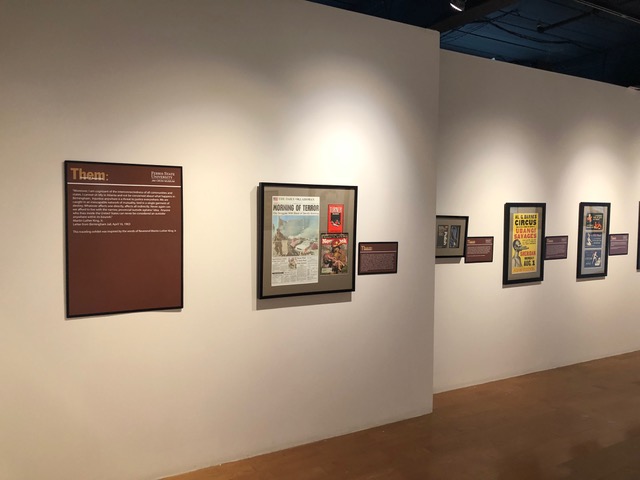 "THEM: Images of Separation," a traveling exhibition of six three-dimensional and 32 framed pieces from the Jim Crow Museum of Racist Memorabilia, showcases negative imagery found on postcards, license plates, games, souvenirs, and costumes has promoted stereotyping against such groups as African-Americans, Asian-Americans, Hispanics, Jews, and poor whites, as well as those who are "other" in terms of body type or sexual orientation. These items from popular culture have been used to stereotype groups of people and tackle some of the most contentious, hot-button cultural issues: anti-Arab sentiment, Holocaust denial, "don't ask, don't tell" and immigration.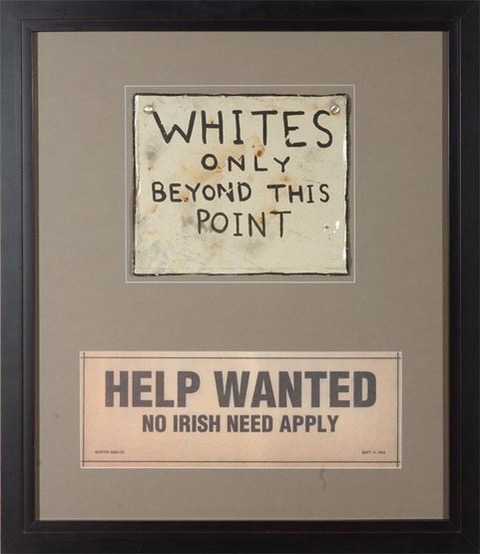 More information about "THEM: Images of Separation" can be found at the Jim Crow Museum of Racist Memorabilia website.
---
Eric Pelka: 90s NYC to Rural Western Massachusetts
Tuesday, October 15, 2019 through Saturday, November 9, 2019
Eric Pelka's career as a painter spans a twenty-five-year period of artwork showcasing two and a half decades living in New York City followed by three years in rural isolation located in the foothills of the Berkshires and Pioneer Valley. Combining an exposition of paintings, large works on craft paper and illustrative drawings, Pelka exposes the viewer into a unique and immersive experience showcasing the juxtapositions between urban life and nature; the discord and harmony they both engender. Representation of these dichotomies is exaggerated by the artwork that appears to be "hung out to dry," a facetious allusion to betrayal—especially by someone who expects assistance and protection. The art shows natural wear through time; the wisdom from the natural world versus the manufactured, the man-made.
To see more of Eric's work visit the Eric Pelka website.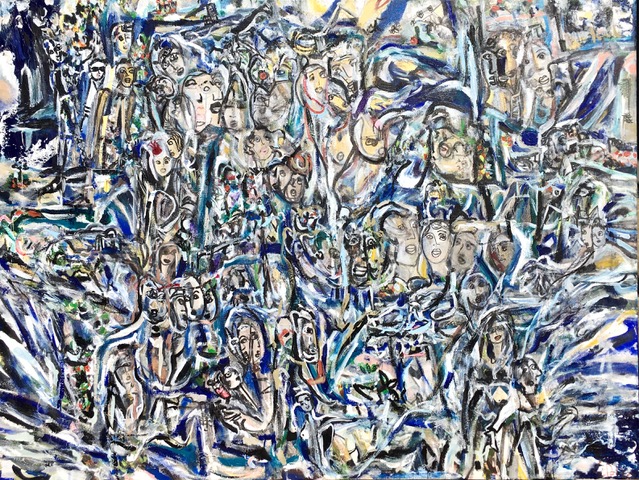 "The Well Wishers Day Off"
2008
30 x 40 inches
acrylic and oil on canvas
---
STCC Student Art Work: Fall Showcase
Tuesday, November 26, 2019-Saturday, December 7, 2019

Student Reception: Tuesday, December 3, 2019, 10-11:30 a.m.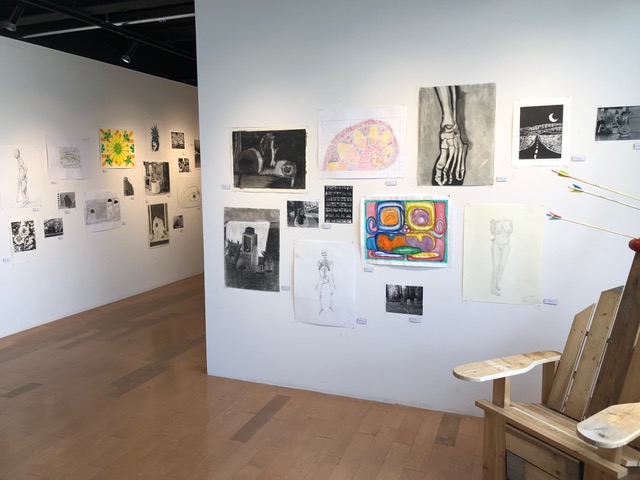 Each year, the Annual Student Fall Exhibition invites the Fine Arts faculty to select work to showcase their students' finest portfolios. From colorful paintings to intricate prints, charcoal drawings to tradition gelatin silver photographs, and many other outstanding design projects, all artwork represents the culmination of a semester's work in the Fine Arts Department at STCC.
You can view an archive of all exhibitions on the Past Gallery Exhibitions page.
---
The Camera Obscura Room
2018-2019 Academic Year: The Camera Obscura Room, an annex to the Amy H. Carberry Fine Arts Gallery on the campus of STCC is free and open to the public between September and May when the gallery is open and exhibitions are on view.
In this camera obscura, you can see Pearl Street, in full color and motion. This should sound familiar since the same is true, in a basic way, to how your eyes work to see or how a camera works. Five minutes is recommended to allow your eyes some time to adjust and you can enjoy the full effect of this educational and entertaining experience.
What is a Camera Obscura? In Latin, the term, "camera obscura" means literally "dark room." The laws of optics dictate that light travels in straight lines and when rays of light reflect off objects outside a darkened room, some of those rays traveling through a small hole or aperture in a window, reform on the opposite wall; upside down & backwards!
---
Call for Exhibition Proposals
The college invites all area artists, photographers, video and installation artists to an open call for exhibition proposals to present and/or produce an exhibition in collaboration with the fine arts gallery.
Location:
Building 28, first floor, on the Pearl Street side of the STCC campus.
Hours:
Tuesday through Friday 12:30 p.m. to 4:30 p.m.
Saturday 10:00 a.m. to 2:00 p.m.
Or by appointment
Contact Information:
Sondra Peron
Coordinator of Amy H. Carberry Fine Arts Gallery and Cultural Programming
Assistant Professor, Fine Arts Department
Darkroom/Office: Building 17, Room 508
http://www.sondraperon.com
speron@stcc.edu
Gallery phone: 413-755-5258
Gallery email:gallery@stcc.edu
Mailing Address:
Amy H. Carberry Fine Arts Gallery
Springfield Technical Community College,
One Armory Square Suite 1
P.O. Box 9000, Springfield, MA 01102-9000