Amy H. Carberry Fine Arts Gallery
The Amy H. Carberry Fine Arts Gallery presents approximately six exhibits each academic year featuring works by artists of local and national repute, as well as STCC student work. All exhibits are supported in part by funding from the School of Arts, Humanities and Social Sciences. The gallery is free, open to the public, and handicapped accessible.
The Amy H. Carberry Fine Arts Gallery, Fine Arts Building (B28), is open Tuesday through Friday 12:30 p.m. to 4:30 p.m., and Saturday 10 a.m. to 2 p.m.
---
Exhibitions
Spring 2020 Exhibition Events
Kiayani Douglas—Fallacies of a Black Identity Enthusiast
Exhibition on view from Tuesday, February 4 through Saturday, February 29, 2020
Saturday, February 8: Evening Celebration for Artist, 6 p.m. - 8 p.m.
Wednesday, February 12: Wearable Art Workshop with Kiayani Douglas, 10 a.m. - 1:30 p.m.
Thursday, February 27, Special Artist Talk held at The Forum, B19, 10 a.m. - 12 p.m.
Co-sponsored by Multicultural Affairs and Vonetta Lightfoot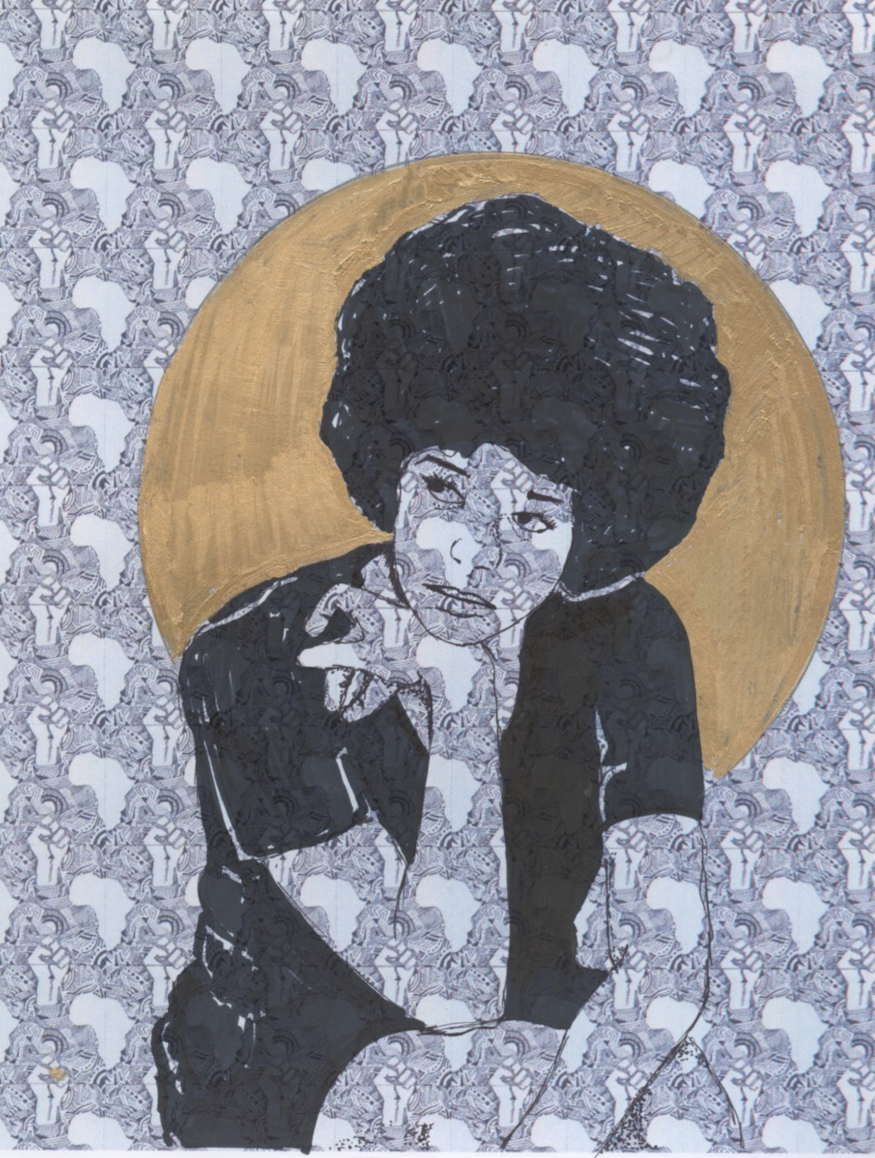 Artist Statement
I am a Black Identity Enthusiast. I use multiple disciplines to express my idea as about Afro-futurism through buried narratives of the African Diaspora in America. I create call to actions and immersive pieces to force people to have conversations rooted in race, history, and privilege. I make paintings, sculptures, and videos as calls to action about African-American Diaspora narratives.
I make art as a way to cope with the social injustices that are happening in America. I have always been a maker of many things, but my love for portraits and the body have always shown through in all the mediums I manage. My interest in non-traditional drawing has allowed me to think about how we interact with two-dimensional pieces. My love for sculpture has allowed me the ability to expand my two-dimensional works and create forms to further express my conceptual thinking.
I am a maker of many things, including the creation of a 10-part mini-series called "Black Identity Enthusiast." This body of work is heavily influenced by Huey P. Newton's 10-point program and his advocacy for the community. I use this information to challenge the dominant cultural narratives that are seen on social media, news, and public outlets. I challenge people's perceptions of what it means to be black. I make work to use as educational tools that allow individuals to gain a different perspective of blackness within a brave place.
Official Kiayani Douglas website
Bio
Kiayani Douglas has spent the last three years developing an interdisciplinary body of work called Black Identity Enthusiast. B.I.E. is a body of work geared towards curating conversations rooted in race history and privilege. She uses the Black Panthers Party for Self-defense 10-point program to critique and make visual connections to social injustices that have plagued African Americans during the Diaspora. Her talents as an educator and an artist come together effortlessly to build much needed conversations in brave places. She creates workshops where students of all disciplines can learn about American Black History, while making connections to Math, Science, History, and literature. Her desire to make these spaces stems from her not having them herself. Born and raised in Hartford, CT, Douglas has a deep passion for advancing her community, culturally, economically and intellectually. She is a recent graduate of the University of Hartford in 2018 with her MFA in Interdisciplinary Art. She also holds her BFA in ceramics with a double minor in painting and psychology, also from the University of Hartford.
---
Donnabelle Casis--inkling

Artist Donnabelle Casis gave us a "virtual tour" of her Spring exhibit, "inkling," for us all to enjoy while the campus is engaged in remote learning.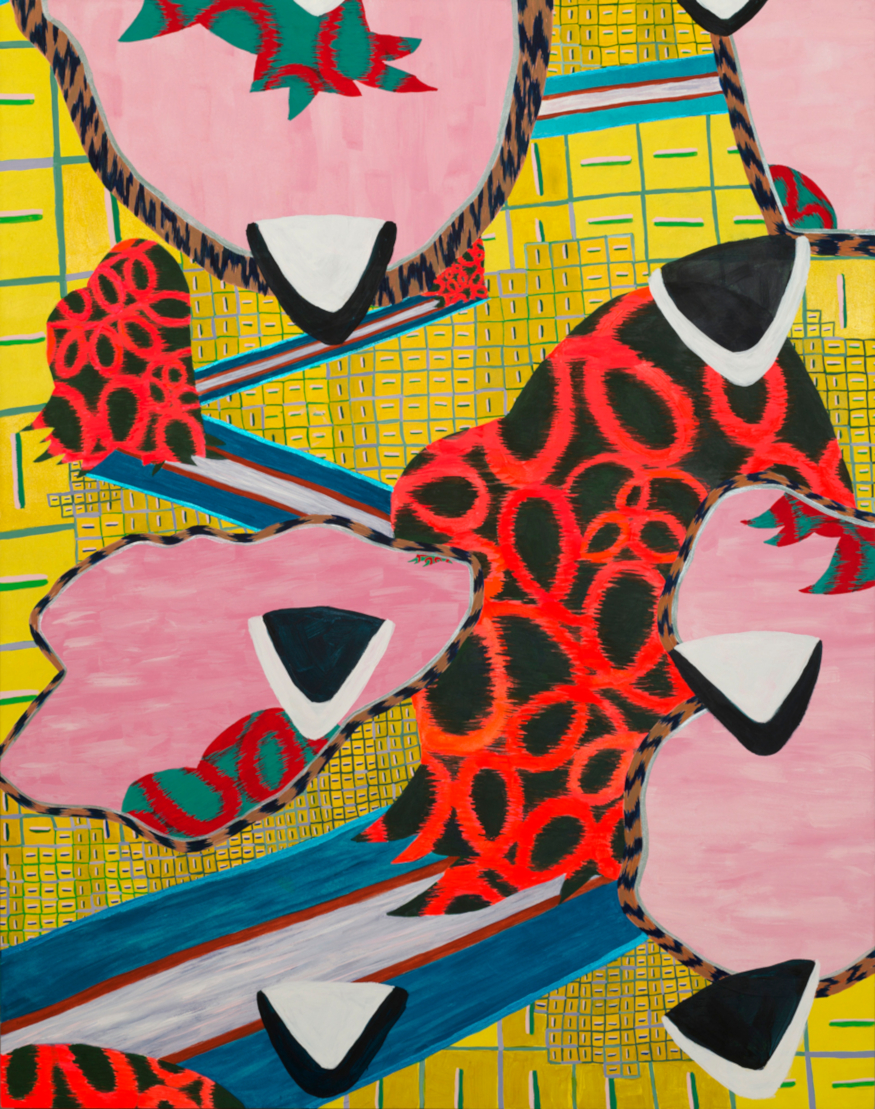 Artist Statement
My paintings explore the relationship of personal identity and ritual to visual systems of signification in both ancient and modern cultures. Through the use of patterns and geometry, I reassemble disparate and discrete iconographic sources into unified compositions as an analog of cultural hybridity. Large and small, intimate and vast, they are part of an expansive framework of disperse elements. Filipino tribal tattoos and textiles, trajes de luces (suits of light) or bullfighting costumes, and facial recognition software, inform my aesthetic decisions. Filipino tribal imagery is tied to storytelling, marks of accomplishment, and societal roles. Spanish bullfighting costume colors and embellishments have deep ties to familial history and status. Facial recognition software maps physical characteristics which determine one's visual identity. I filter these and other images to create my own configurations rich in a variety of interpretations.
Official Donnabelle Casis website
Bio
Donnabelle Casis is a Filipina-American artist living and working in Florence, MA. She earned a BFA in Painting from the University of Connecticut and an MFA in Painting at the University of Washington. Her work has been included in group and solo exhibitions at Platform Gallery, ChaShaMa Chelsea, LABspace, Readywipe, Geoffrey Young Gallery, Carroll and Sons Gallery, Andrew Edlin Gallery, Howard House Contemporary Art, Elizabeth Leach Gallery, Historic Northampton Museum, Hampden Gallery at the University of Massachusetts, Wing Luke Asian Museum, Tacoma Art Museum, Bellevue Art Museum and Center for Contemporary Art (CoCA), among others. She received numerous awards and grants including the Neddy Artist Fellowship for painting granted by the Behnke Foundation, a New Works Laboratory residency from 911 Media Arts Center in Seattle, an Artist Trust Gap Grant, and Northampton Arts Council Grants, Massachusetts Cultural Council grants. Her work is included in several public and private collections.
---
STCC Student Art Work: Spring Showcase
Each year, the Annual Student Spring Exhibition invites the Fine Arts faculty to select work to showcase their students' finest portfolios. From colorful paintings to intricate prints, charcoal drawings to traditional gelatin silver photographs, and many other outstanding design projects, all artwork represents the culmination of a semester's work in the Fine Arts Department at STCC.
You can view an archive of all exhibitions on the Past Gallery Exhibitions page.
---
The Camera Obscura Room
2018-2019 Academic Year: The Camera Obscura Room, an annex to the Amy H. Carberry Fine Arts Gallery on the campus of STCC is free and open to the public between September and May when the gallery is open and exhibitions are on view.
In this camera obscura, you can see Pearl Street, in full color and motion. This should sound familiar since the same is true, in a basic way, to how your eyes work to see or how a camera works. Five minutes is recommended to allow your eyes some time to adjust and you can enjoy the full effect of this educational and entertaining experience.
What is a Camera Obscura? In Latin, the term, "camera obscura" means literally "dark room." The laws of optics dictate that light travels in straight lines and when rays of light reflect off objects outside a darkened room, some of those rays traveling through a small hole or aperture in a window, reform on the opposite wall; upside down & backwards!
---
Call for Exhibition Proposals
The college invites all area artists, photographers, video and installation artists to an open call for exhibition proposals to present and/or produce an exhibition in collaboration with the fine arts gallery.
Location
Building 28, first floor, on the Pearl Street side of the STCC campus.
Hours
Tuesday through Friday 12:30 p.m. to 4:30 p.m.
Saturday 10:00 a.m. to 2:00 p.m.
Or by appointment
Contact Information
Sondra Peron
Coordinator of Amy H. Carberry Fine Arts Gallery and Cultural Programming
Assistant Professor, Fine Arts Department
Darkroom/Office: Putnam Hall (B17), Room 508
http://www.sondraperon.com
speron@stcc.edu
Gallery phone: 413-755-5258
Gallery email:gallery@stcc.edu
Mailing Address
Amy H. Carberry Fine Arts Gallery
Springfield Technical Community College,
One Armory Square Suite 1
P.O. Box 9000, Springfield, MA 01102-9000