Call for Exhibition Proposals
Submission are on a rolling deadline
The Amy H. Carberry Fine Arts Gallery invites all area artists, photographers, video, and installation artists to an open call for exhibition proposals to present and/or produce an exhibition in collaboration with the fine arts gallery.
Submission Guidelines
Submissions must include an exhibition narrative, 500 words maximum, describing a clear and concise project concept.
Submissions must include a short (1 paragraph) bio for EACH artist and/or curator, including urls (links) to past exhibition documentation.
Submissions should include no more than 10 supporting images.
Types of Artwork Accepted
All two and three-dimensional media in any style (abstract, conceptual, representational, etc.) as well as film/video will be considered. All work samples must be Mac-ready. File types may include: jpg, mp3, pdf, doc, mov, wmv.
This call for exhibition proposals prioritizes work of the highest artistic merit. Proposals will be evaluated on feasibility, relevance, artistic excellence, extent that the project is new or takes risks, and artistic merit.
The Gallery will provide Artists with:

Access to premises as necessary to complete installation
Installation and de-installation assistance
Gallery staffing during regular gallery hours
Exhibition documentation in the gallery
Institutional marketing in support of the exhibition
Design and production of exhibition postcards for distribution
Gallery management and compliance oversight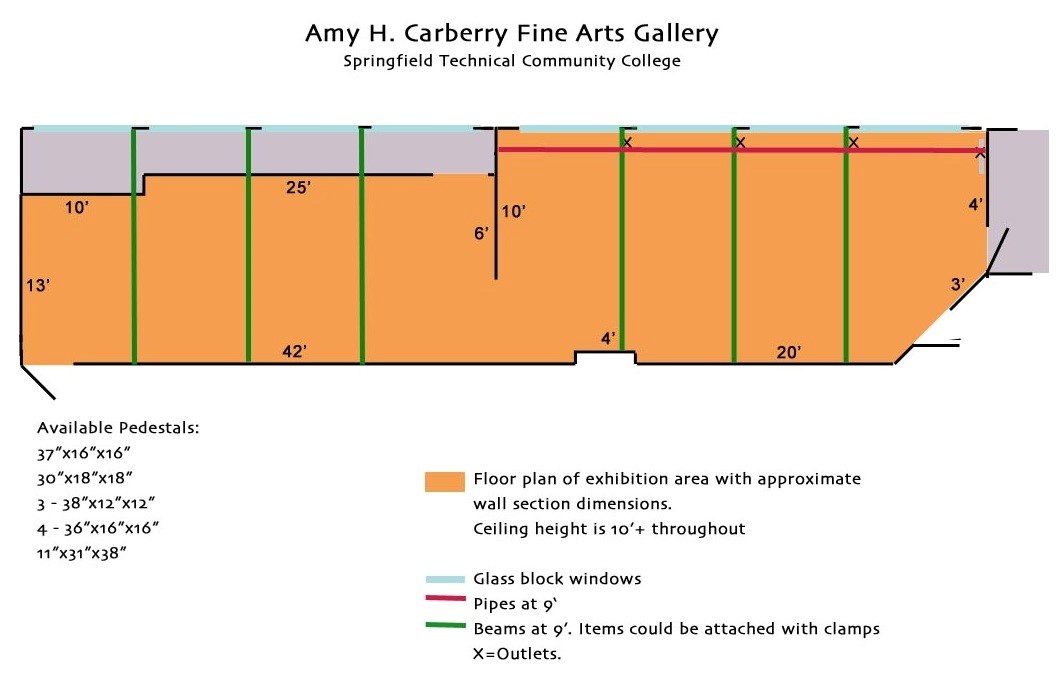 Contact
Please send all supporting documents and images to:
Sondra Peron
Coordinator of Amy H. Carberry Fine Arts Gallery and Cultural Programming
Assistant Professor, Fine Arts Department
Darkroom/Office: Building 17, Room 508
http://www.sondraperon.com
speron@stcc.edu
Gallery phone: 413-755-5258
Gallery email: gallery@stcc.edu