Amy H. Carberry Fine Arts Gallery features large-scale printmaking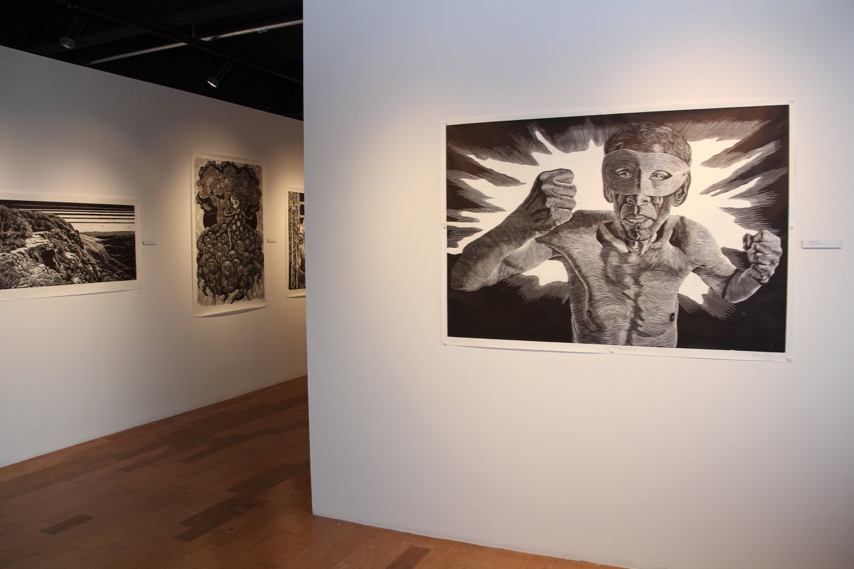 SPRINGFIELD, Mass. – Large-scale printmaking is featured through Nov. 9 at the Amy H. Carberry Fine Arts Gallery at Springfield Technical Community College.
Curated by Sondra Peron, gallery coordinator and assistant professor of art and cultural programming at STCC, the exhibition includes large-scale woodblock prints from 21 artists who participated in BIG INK printmaking workshops held across the country over the past several years.
BIG INK, based in New Hampshire and led by directors Lyell Castonguay and Carand Burnet, is an organized network of creative thinkers focused on promoting the art of large-scale woodblock printing. The program was started in 2012 as a way to spread their passion for the medium with other artists and the general public.
Peron said BIG INK works by establishing a temporary print shop on site at partnership organizations, most often at museums, universities, art centers, studios and galleries. Artists are selected, either by personal invitation or through a call-for-entry process, to attend these events and print original woodblocks at least 24 inches by 36 inches in dimension. Participants spend two months preparing their woodblock on their own before arriving on print day to create their large-scale print with the help of Castonguay and Burnet and their large-scale press called "The Big Tuna."
In addition to the 21 large-scale woodblock prints, two short videos demonstrating the techniques involved in making a woodblock is on view.
Peron expressed gratitude to Lyell Castonguay, Carand Burnet, Dean of Science & Engineering Transfer Robert Dickerman, Interim Dean of Arts, Humanities & Social Sciences Rick Greco, Fine Arts Department Chair Francie Riddle, and work-study students Janvi Patel, Victoria Takorian-Griffin, Alena Conrad and Margaryta Mkrtchian for helping make the exhibition possible.
The exhibition is supported in part by the School of Arts, Humanities, and Social Sciences.
The Gallery hours are Tuesday through Friday, 12:30 p.m. to 4:30 p.m., Saturday 10 a.m. to 2 p.m. or by appointment. The gallery is open to the public and there is no charge to view the exhibitions.
About the Gallery
The Amy H. Carberry Fine Arts Gallery at Springfield Technical Community College presents six exhibits each academic year, featuring works by artists of local and national repute as well as STCC student work. The gallery is located in Building 28, first floor, on the Pearl Street side of the STCC campus. The gallery is supported in part by funding from the School of Arts, Humanities, and Social Sciences. Find the Amy H. Carberry Fine Arts Gallery on Facebook or follow on Twitter @STCCArtGallery.
About Springfield Technical Community College
Founded in 1967 and located on 35 acres of the Springfield Armory National Historic Site, STCC is a major resource for the economic vitality of Western Massachusetts. As the only technical community college in Massachusetts, STCC, a designated Hispanic Serving Institution and an Achieving the Dream Leader College, offers a variety of career programs unequalled in the state. STCC's highly regarded transfer programs in business, engineering, liberal arts, science and technology continue to provide the most economical options for students pursuing a four-year degree. With an annual enrollment of more than 7,700 day, evening, weekend and online students, STCC is a vibrant campus rich in diversity.
For more information about STCC, visit www.stcc.edu. Follow us on Facebook and Twitter (@S_T_C_C).
MEDIA CONTACT:
Jim Danko, (413) 755-4812, jdanko@stcc.edu