Assistant professor of biology picks up mantle of popular afflictions and maladies course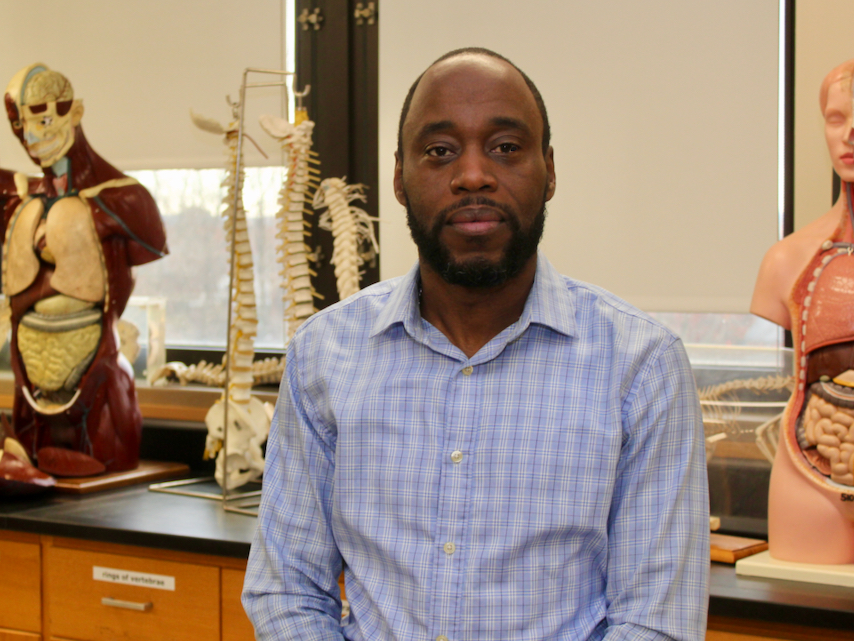 By LAURIE LOISEL
SPRINGFIELD, Mass. – Let's face it, people tend to be more interested in what goes awry than what works properly.
Assistant Professor of Biology Kelson Ettienne-Modeste understands that as well as anyone. He believes that natural fascination with what goes haywire will help students better grasp normal human functioning.
Ettienne-Modeste, who teaches in the School of STEM at STCC, will harness that curiosity come spring when he teaches the honors biology course afflictions and maladies. The class was created and launched more than five years ago by Dean of Liberal and Professional Studies Richard Greco when he was a member of the faculty. Today, the course may be even more relevant and engaging than ever with COVID-19 capturing headlines every day and leaving its mark on nearly all aspects of life.
"When they look at the illness they have to come back to what normalcy is," Ettienne-Modeste said. "There's no way to appreciate a diseased heart if you don't understand the normal heart."
As a doctor who graduated from Howard University with a medical degree in 1995, Ettienne-Modeste will draw from his experience practicing medicine in Washington, D.C., and South Africa when he teaches the course.
After teaching as an adjunct at STCC since 2014, Ettienne-Modeste accepted a full-time assistant professorship this year, and this fall has been eagerly preparing to teach the Afflictions and Maladies course.
As for his MD degree, he cheerfully reports that he informed his parents at the age of 9 that he intended to become a doctor – but then, "teaching took the better of me." He came to realize that guiding students in pursuit of knowledge was his true calling, so he earned a teaching certificate in 2001 from Southern Connecticut State University. He has been teaching at the college level for 24 years.
He has taught at community colleges and other institutions of higher education all over the region: at Greenfield Community College, Capital Community College in Hartford and Goodwin University in East Hartford and at STCC, including one whirlwind year when he was teaching courses at all four institutions.
When (STCC students) are given the opportunity to learn in a non-threatening environment they jump loops. Kelson Ettienne-Modeste,

Assistant professor of biology at STCC
This year, he decided to settle in more fully at STCC. "I've had my best experience teaching through the value I feel and the folks I work with here at STCC," he said.
At STCC, he said he finds students who are eager to work hard at the college level but who might not otherwise have had a chance to do so.
Many are working full time. Many are supporting families, rather than being supported by a family, he noted.
"When they are given the opportunity to learn in a non-threatening environment they jump loops," he said. "They move much faster than the students I knew, including myself, at places like Trinity, Amherst or UMass Amherst."
He believes STCC has the ability to nurture their talents in a way that other institutions may not. "The rigor has not been taken away but the support they get here is more than at other institutions," he said.
Ettienne-Modeste sees his goals in teaching afflictions and maladies as multi-faceted: helping students become medically literate so they can be confident drivers of their own health care; developing a better understanding of the distinction between the signs (irrefutable and measurable elements) and symptoms (more subjective, feelings) of the disease process; even gaining an appreciation of the limits of medicine.
The class is available through the STCC Honors program, which offers a challenging academic experience for qualified students who wish to pursue unique study and research opportunities in their major fields of study. As a Commonwealth Honors Program, the STCC program offers students who complete it exclusive transfer opportunities and recognition as Honor students throughout the Commonwealth.
Greco developed the course when as a member of the faculty he was looking for a new honors science course to offer. It was when he was teaching an honors course on the science of sex and sexuality that he noticed that students seemed especially interested in HIV and the AIDS pandemic.
"Based on that, I thought a class about the disease process would draw students," he said. "My students always wanted to know, if that is how it works normally, what is this disease about, what is that disease about?"
And so he set about developing a course that would, essentially, explore the human body by looking at what happens when it malfunctions.
For example, teaching how cells breathe and why they need oxygen by looking at the process in the context of a heart attack. Or exploring how cells divide, a normal bodily process, but viewing that through the lens of cancer.
"All of the standard biological concepts, but in a way that might be more interesting to them," he said. "This group is honors students, so you can push them a bit more."
With the coronavirus pandemic in our midst, Greco says if he were still instructing the course that would become an intense focus for his teaching. "It's a hotbed to really explore these topics," Greco said.
And that is precisely what Ettienne-Modeste intends to do. He believes understanding the concepts of afflictions and maladies is more important than ever in the context of a worldwide pandemic that quickly turned normal life upside down -- and in so many ways still is.
"We're searching, we're still searching" for answers, he noted. He intends to guide STCC students in that search.
Interested in applying to STCC? Visit stcc.edu/apply or call Admissions at (413) 755-3333.
About Springfield Technical Community College
STCC, the Commonwealth's only technical community college, continues the pioneering legacy of the Springfield Armory with comprehensive and technical education in manufacturing, STEM, healthcare, business, social services, and the liberal arts. STCC's highly regarded workforce, certificate, degree, and transfer programs are the most affordable in Springfield and provide unequalled opportunity for the vitality of Western Massachusetts. Founded in 1967, the college – a designated Hispanic Serving Institution – seeks to close achievement gaps among students who traditionally face societal barriers. STCC supports students as they transform their lives through intellectual, cultural, and economic engagement while becoming thoughtful, committed and socially responsible graduates.
MEDIA CONTACT:
Jim Danko, (413) 755-4812, jdanko@stcc.edu