STEM at STCC
As the only technical community college in Massachusetts, STCC partners with local and national technology leaders to ensure that our programs continue to deliver the skills that future employers demand. Strong relationships and transfer agreements with local colleges and universities help ensure that STCC STEM graduates who wish to pursue their education beyond an Associate degree have well-defined and affordable options for doing so.
STEM Week
Massachusetts STEM Week is a statewide effort to boost the interest, awareness, and ability for all learners in STEM education.
Past Events
The Little Robot that Can
Current STCC students worked with the National Guard to program robots to navigate an obstacle course. Sponsored by STEM Starter Academy.
---
STEM Day at STCC
A student expo that showcased posters and student research. Guests learned about careers in STEM fields and how STCC training helps students prepare for exciting careers. STCC faculty and recruiters from local STEM businesses were on hand to answer questions. Sponsored by the Perkins and HSI STEM grants, the STCC Career Services, STEM Starter Academy, and the STCC School of STEM.
---
STEM Without Borders
A group of STCC students participated in an international webinar on climate change. Sponsored by STEM Starter Academy.
---
Level Up: Women in STEM Networking Event
Mount Holyoke College professor Becky Wai-Ling Packard lead a conversation on the power of mentoring to advance women's academic and career outcomes. All identifying women in industry, research, STEM non-profits, civic organizations, STEM societies, K-12 (including girls clubs and programs) and higher-ed were welcome! Sponsored in part by the STCC chapter of the Society of Women Engineers. If you would like to attend please RSVP here.
STEM Starter Academy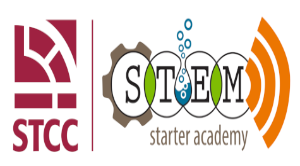 The STEM Starter Academy provides incoming first-year students a jumpstart to their first semester on campus. Participants receive a funded academic experience, launching them into their first year with integrative experiences such as classes, tutoring and coaching, field trips, guest speakers, and hands-on experiences. During the academic year, students will also have access to coaching and tutoring support and participate in STEM Starter Academy events and activities. Students who are interested in participating must apply. Students of color and female students are strongly encouraged to apply.
School of Science, Technologies, Engineering, and Mathematics
The School of Science, Technology, Engineering and Mathematics (STEM) offers a diverse range of programs for students who seek an education in areas such as the physical and natural sciences, engineering, advanced manufacturing, digital media and photography, computer science, cybersecurity, or mathematics.
Many of our students find secure, well-paying jobs immediately upon graduation while others choose to continue their interest in STEM disciplines at four-year colleges and universities. Our labs are state-of-the-art as STCC is the only technical community college in Massachusetts.
STEM Points of Pride 2018-2019
STEM Center
Located in Putnam Hall (B17), the STCC STEM Center serves students, faculty, and staff through its activities and resources. This dedicated space provides a computer lab featuring software STEM majors need to complete projects and research in addition to a study lounge. The center features a wall-mounted touchscreen panel for faculty lectures, talks by invited speakers, documentary screenings and discussions, or even student club or faculty meetings.
Society of Women Engineers (SWE)
Chartered in 2014, the STCC chapter of SWE is one of only 11 community college affiliates nationwide. We welcome students in engineering, engineering technology, and other STEM majors.