Beth McGinnis-Cavanaugh named Outstanding Faculty Member of 2017-2018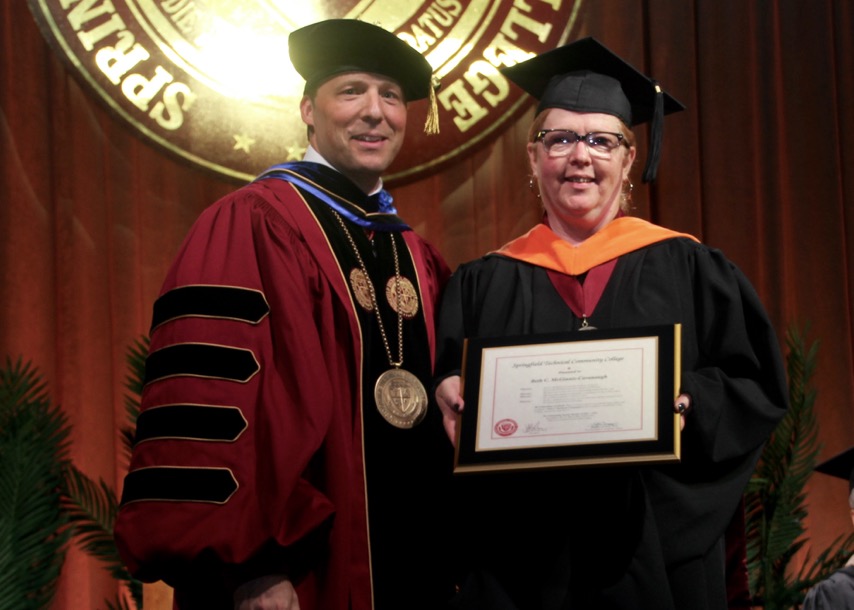 SPRINGFIELD, Mass. – Beth McGinnis-Cavanaugh didn't plan on a teaching career when she was seeking her master's degree in civil engineering.
But while she was still enrolled at the University of Massachusetts Amherst, she received a call from an engineering professor at Springfield Technical Community College. STCC needed someone to teach a course, and the professor thought McGinnis-Cavanaugh would be the right fit.
"It was my favorite engineering course," said McGinnis-Cavanaugh, a lifelong Springfield resident. "I said, 'I'll give it a try,' and just fell in love with it."
Fast-forward 15 years to May 2018.
Dressed in formal academic attire at the STCC commencement, McGinnis-Cavanaugh, now a full-time physics and engineering professor, heard President John B. Cook call her name and ask her to join him on the stage at the MassMutual Center.
"I am honored to recognize Professor McGinnis-Cavanaugh as our Outstanding Faculty of the Year," Cook said before congratulating her.
"It was shocking," McGinnis-Cavanaugh said. "We have a lot of great faculty here who are more than deserving. So I was very honored and surprised."
Each year, STCC honors one faculty member who has made significant and distinct contributions to the college and academic programs.
Cook cited McGinnis-Cavanaugh's numerous accomplishments, including establishing the college's chapter of the Society of Women Engineers as part of her commitment to increase the number of young women pursuing degrees in the fields of science, technology, engineering and math (STEM).
Cook noted that Gov. Charlie Baker honored McGinnis-Cavanaugh this past spring at the Department of Higher Education's 29 Who Shine Ceremony as an outstanding faculty mentor.
Recent STCC graduate Lineisha Rosario, recognized as an outstanding graduating student at the 29 Who Shine ceremony, accompanied McGinnis-Cavanaugh to the State House in Boston where they both were honored.
"Professor Beth McGinnis-Cavanaugh, my mentor since my first semester at STCC, helped me grow as a female engineer. The privilege of knowing Beth as an influential woman, leader, friend and professor has been a true blessing," Rosario said.
McGinnis-Cavanaugh remains passionate about boosting the number of women in STEM fields. She has sought grants to help steer middle and high school students toward engineering.
My focus is to get underrepresented groups interested in engineering, especially women. Beth McGinnis-Cavanaugh,

physics and engineering professor at STCC
In August, McGinnis-Cavanaugh stood with U.S. Rep. Richard E. Neal to announce a $1.1 million National Science Foundation grant STCC received to enhance STEM education in Springfield Public Schools.
McGinnis-Cavanaugh will oversee the grant, in partnership with Smith College. The grant will support a project to design and develop multimedia story-based engineering curriculum for middle school-aged children that aligns with Next Generation Science Standards (NGSS) and Massachusetts Curriculum Frameworks.
During the press conference with Neal, McGinnis-Cavanaugh said she hopes to spark interest in engineering through storytelling. "Think 'Harry Potter,'" she said. "We want to be the 'Harry Potter' of middle school STEM curriculum."
The work on the grant is part of a larger effort by McGinnis-Cavanaugh.
"My focus is to get underrepresented groups interested in engineering, especially women," she said outside of the press conference.
McGinnis-Cavanaugh graduated from STCC's Engineering Transfer program and then earned her bachelor's and master's degree in civil engineering from UMass.
"I typically was the only woman in the class as a student," she said. "I've taught several engineering classes where it was common for me to be the only woman in the class. But it's changing, and we're doing what we can to create an environment where women feel welcome and engaged."
McGinnis-Cavanaugh said she's proud to work at STCC, which has hired several female faculty to teach engineering and science courses.
"We have a lot of STEM role models here, especially women teaching math, science and engineering courses," she said. "That's very unusual, and that's a big plus for us."
McGinnis-Cavanaugh remains excited about the future of engineering, which provides many different career pathways for graduating students. Engineers can pursue fascinating areas, including artificial intelligence, new medicines, infrastructure and biomedical engineering, among other fields.
"Engineering is a very creative field. It's also a field that impacts virtually every aspect of human life and a field in which you can make great contributions to the world in hundreds of areas," she said.
McGinnis-Cavanaugh started as an adjunct professor at STCC in 2003 and was hired full time in 2006. She plans to continue teaching and inspiring students to pursue their dreams in the STEM field.
One of her greatest joys is to see students succeed and achieve their goals.
"To see them come into their own, regardless of where they're starting – that's the big reward," she said. "There's nothing better than to have a student swing by my office and say, 'I got into a certain program, was accepted into a certain school or landed a great internship or job.' That's what makes my job so rewarding."
Interested in applying to STCC's Engineering and Science Transfer program? Visit stcc.edu/apply. Call Admissions at (413) 755-3333 for more information.
About Springfield Technical Community College
Founded in 1967 and located on 35 acres of the Springfield Armory National Historic Site, STCC is a major resource for the economic vitality of Western Massachusetts. As the only technical community college in Massachusetts, STCC, a designated Hispanic Serving Institution and an Achieving the Dream Leader College, offers a variety of career programs unequalled in the state. STCC's highly regarded transfer programs in business, engineering, liberal arts, science and technology continue to provide the most economical options for students pursuing a four-year degree. With an annual enrollment of more than 7,700 day, evening, weekend and online students, STCC is a vibrant campus rich in diversity.
For more information about STCC, visit www.stcc.edu. Follow us on Facebook and Twitter (@S_T_C_C).
MEDIA CONTACT:
Jim Danko, (413) 755-4812, jdanko@stcc.edu