'Dementia experience' offers empathy lesson for STCC students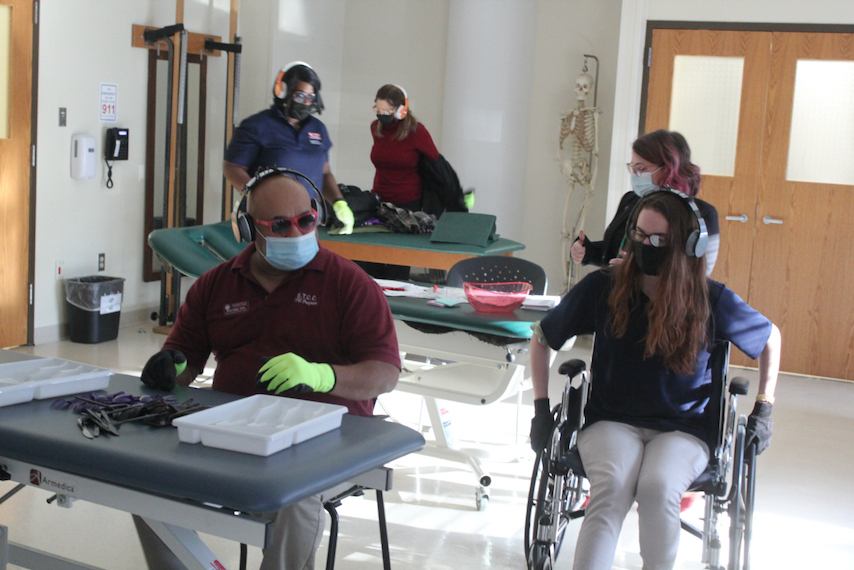 SPRINGFIELD, Mass. – Springfield Technical Community College students in two health science programs used a wheelchair, wore gloves, donned eyeglasses with obscured lenses, put on headphones and used other tools to get a sense of what it's like to live with dementia.
Students in the Occupational Therapy Assistant (OTA) and Physical Therapist Assistant (PTA) programs on Nov. 17 took part in the "dementia experience" under the direction of Stephanie Schellenger. She is the dementia program director for Memory Support of Heritage Hall, a Genesis HealthCare facility in Agawam.
Laurie Cecchi, assistant professor in the Occupational Therapy Assistant (OTA) program, invited Schellenger to a morning session in a STCC classroom. November is Alzheimer's Disease Awareness Month.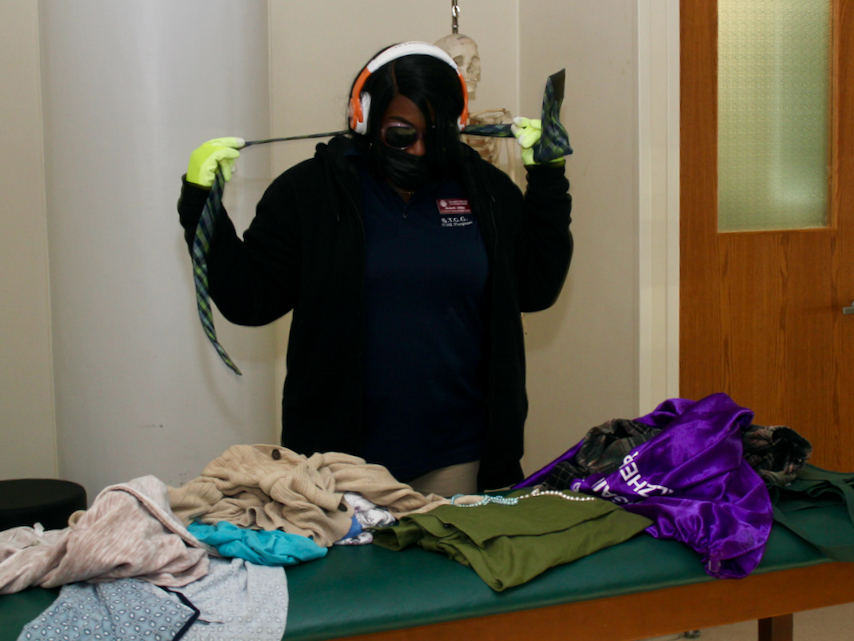 "I believe it's important for them to experience this because a lot of times we really don't know what they're going through. That's the thing with dementia. Everyone's a little different," Schellenger said.
She explained that some dementia patients have tactile problems such as pain in their feet. She asked students to try walking with beads or bags of rice in their shoes. She also asked them to wear gloves while trying to write checks with a pen. Some students attempted writing with two fingers taped together.
Others diagnosed with dementia have problems seeing in addition to experiencing memory deficits. She asked students to wear eyeglasses with white lines painted on the lenses.
Wearing gloves and other gear to simulate the experience, students attempted to complete routine everyday tasks. Schellenger played distracting sounds through a speaker that blared traffic noise and indistinct chatter. Students shifted from different stations in a dark room. At one, they had to get dressed for the day. At a second station, they had to write out checks to be mailed. A third station was set up for them to organize utensils by color. Lastly, they had to use a wheelchair to maneuver around the stations.
"It made you think about what it might be like for someone with dementia," said Rebecca Widmer of East Longmeadow, an OTA student. "It was very hard to concentrate when I was in there. There was a lot of excess noise I wasn't used to. It was hard to see. There were a lot of factors I don't deal with every day."
PTA student Steven Bajek, of Enfield, Conn., said it was an eye-opening experience. He loves the hands-on learning that is part of many STCC programs, including physical therapy assistant.
It made you think about what it might be like for someone with dementia. Rebecca Widmer,

STCC occupational therapy assistant student
"We're going to have to treat and care for a lot of people who do have dementia in the future," Bajek said. "It is a good practice to give us empathy. You can feel a little more of what they're going through and hopefully be more patient, be more understanding with how they're feeling."
OTA student Nicole Bryan of Chicopee said she is excited to be studying occupational therapy, which described as a great and creative field. She said the STCC professors support students and offer their personal experiences.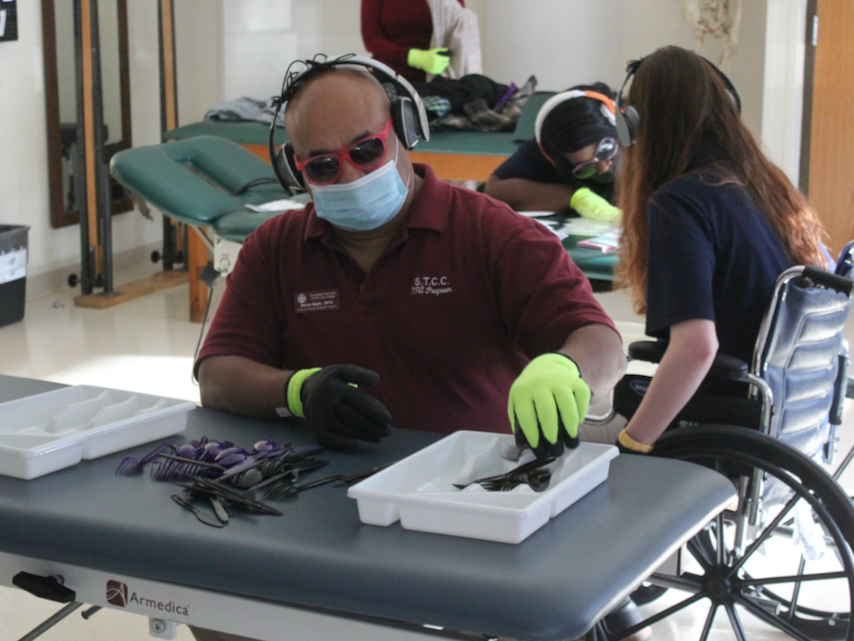 "This was a really good experience for us," Bryan said. "We are going to be dealing with a lot of elderly patients, and a lot of them have visual challenges, physical disabilities and dementia. This gives us the opportunity to see it from their perspective. That way, we can kind of cater our interventions and adjust them based on the clients' abilities. By seeing it, now we know. We have the empathy. How can we tailor our interventions to make sure they can still do their activities?"
The OTA and PTA programs prepare students to work in healthcare facilities, including nursing homes where professional occupational and physical therapists help residents, including those with dementia. Students are all in demand for well paying positions after earning an associate degree, said PTA professor Renae Gorman.
OTA professor Laurie Cecchi said the hands-on experience will help the students who start clinical field work in January. They may be working with dementia patients.
"The prevalence of dementia is just staggering," she said.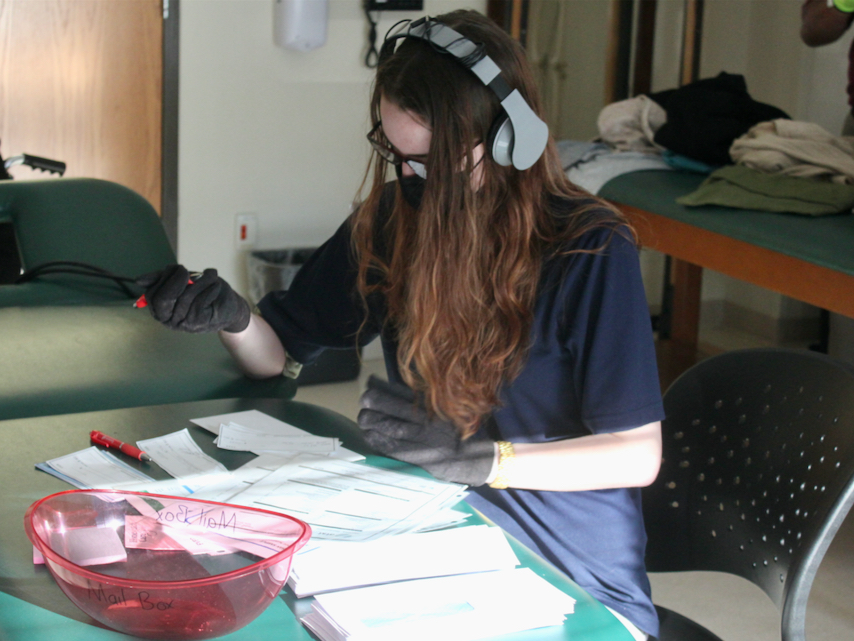 Worldwide, around 55 million people have dementia, according to the World Health Organization. The number is expected to rise to 139 million by 2050 as the proportion of older people in the population continues to increase in nearly every country.
Gorman said the training at STCC will help students not only work with dementia patients but with people who are facing age-related conditions.
"Everybody is aging," Gorman said. "Some of the simulated impairments are things that folks without dementia would have. With the aging process, you're going to develop less sensory awareness. Hearing is going to become impaired. So with this experience today, the students are developing empathetic skills they will need when working with patients."
Physical therapy and occupational therapy are among the health science programs that will be featured during Allied Health Careers Exploration Night on Nov. 30.
The free event in Building 20, scheduled 4:30 p.m. to 7:30 p.m. and open to the public, is an opportunity for anyone interested in becoming a health care professional to learn more about STCC's programs.
For more information, contact the School of Health & Patient Simulation. Call (413) 755-7477 or email SHPS@stcc.edu.
About Springfield Technical Community College
STCC, the Commonwealth's only technical community college, continues the pioneering legacy of the Springfield Armory with comprehensive and technical education in manufacturing, STEM, healthcare, business, social services, and the liberal arts. STCC's highly regarded workforce, certificate, degree, and transfer programs are the most affordable in Springfield and provide unequalled opportunity for the vitality of Western Massachusetts. Founded in 1967, the college – a designated Hispanic Serving Institution – seeks to close achievement gaps among students who traditionally face societal barriers. STCC supports students as they transform their lives through intellectual, cultural, and economic engagement while becoming thoughtful, committed and socially responsible graduates.
MEDIA CONTACT:
Jim Danko, (413) 755-4812, jdanko@stcc.edu