Enfield, Conn., students get hands-on experience at STCC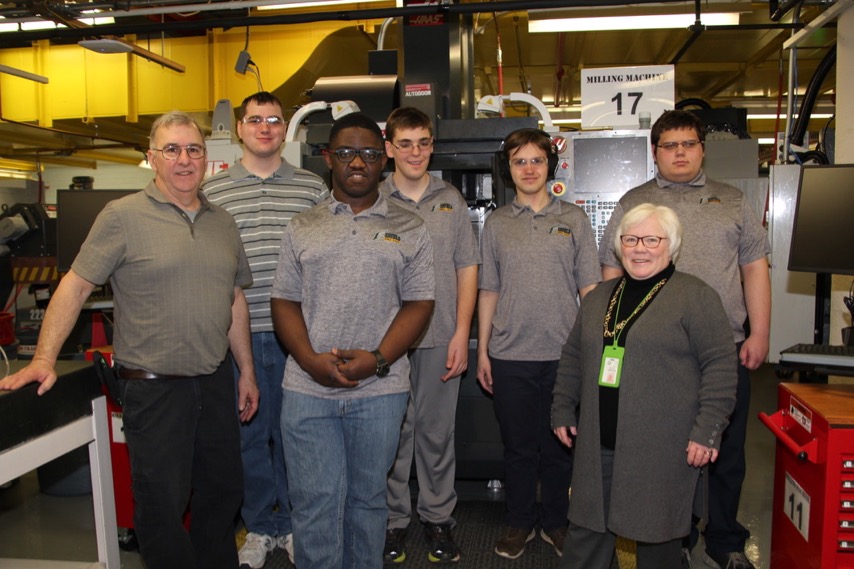 John LaFrancis, left, a professor of mechanical engineering technology at STCC, introduced a class from Enfield Transitional Learning Academy to the basics of machining parts using mills and lathes. At right is Maureen LaFrancis, a teacher who heads the ETLA program. The students are, from left, Alex Schillinger, Joe Brown, James Mark, Stephen Conklin and Sean Kirkbride.

SPRINGFIELD, Mass. – Students from Enfield Transitional Learning Academy got a chance to explore Springfield Technical Community College's Mechanical Engineering Technology laboratory and use the state-of-the-art machines to create fidget spinners.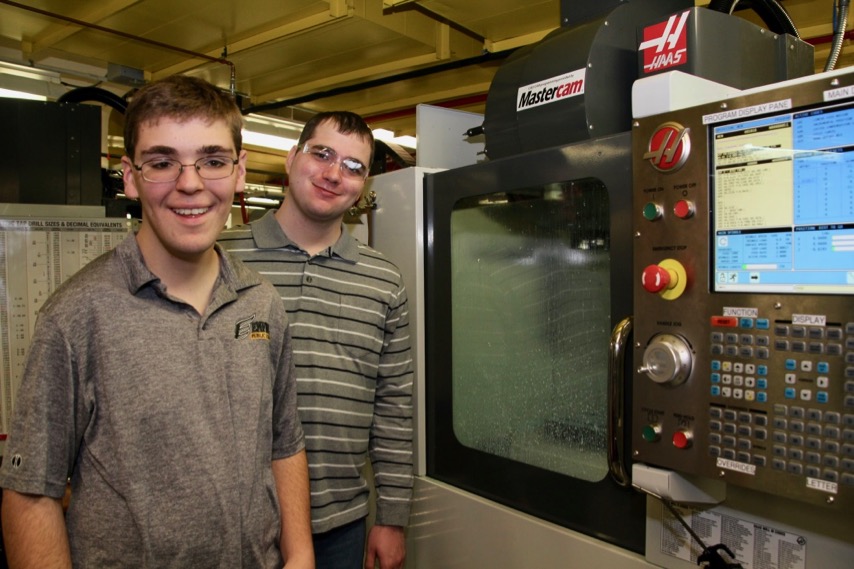 ETLA, an Enfield Public Schools program, serves the needs of students with developmental challenges between the ages of 18 and 21. Special education teacher Maureen LaFrancis, who heads the program, thought it would be a good idea to expose the young men to computer numerical control (CNC) machining.
Accompanied by two job coaches who work with the students, LaFrancis often takes her class to area businesses to get hands-on experience in a variety of different types of jobs. They have bagged groceries, cleaned balls at a bowling alley, made pizza boxes for a pizzeria and tagged clothing at retail businesses, to name a few of their jobs.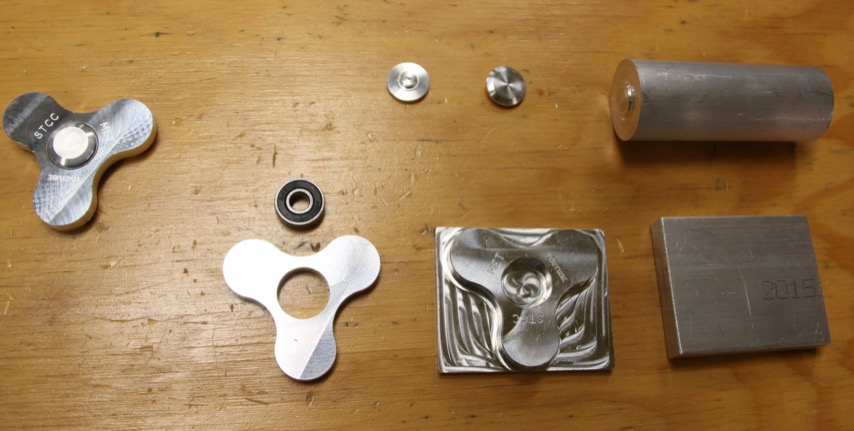 In a March 11 visit to STCC's MET lab, the students met LaFrancis' husband, John LaFrancis, a professor of mechanical engineering technology. He offered a lesson on how the machines can cut aluminum blocks and cylinders into the parts that comprise toy fidget spinners.
While they didn't delve into the programming of the machines, which is taught at STCC, the students had fun with the basics of setting up the aluminum material and operating the mills and lathes. They went home with the fidget spinners they made at STCC.
"They can possibly do something like this for work," Maureen LaFrancis said. "We want to push them out of their comfort zones. It's good to expose them to different career options."
Interested in applying to STCC? Visit stcc.edu/apply or call Admissions at (413) 755-3333.
About Springfield Technical Community College
Founded in 1967 and located on 35 acres of the Springfield Armory National Historic Site, STCC is a major resource for the economic vitality of Western Massachusetts. As the only technical community college in Massachusetts, STCC, a designated Hispanic Serving Institution and an Achieving the Dream Leader College, offers a variety of career programs unequalled in the state. STCC's highly regarded transfer programs in business, engineering, liberal arts, science and technology continue to provide the most economical options for students pursuing a four-year degree. With an annual enrollment of more than 5,000 day, evening, weekend and online students, STCC is a vibrant campus rich in diversity.
For more information about STCC, visit www.stcc.edu. Follow us on Facebook, Twitter (@S_T_C_C) and Instagram (@stccpics).
MEDIA CONTACT:
Jim Danko, (413) 755-4812, jdanko@stcc.edu