Farmers Market at STCC open Wednesdays through Nov. 13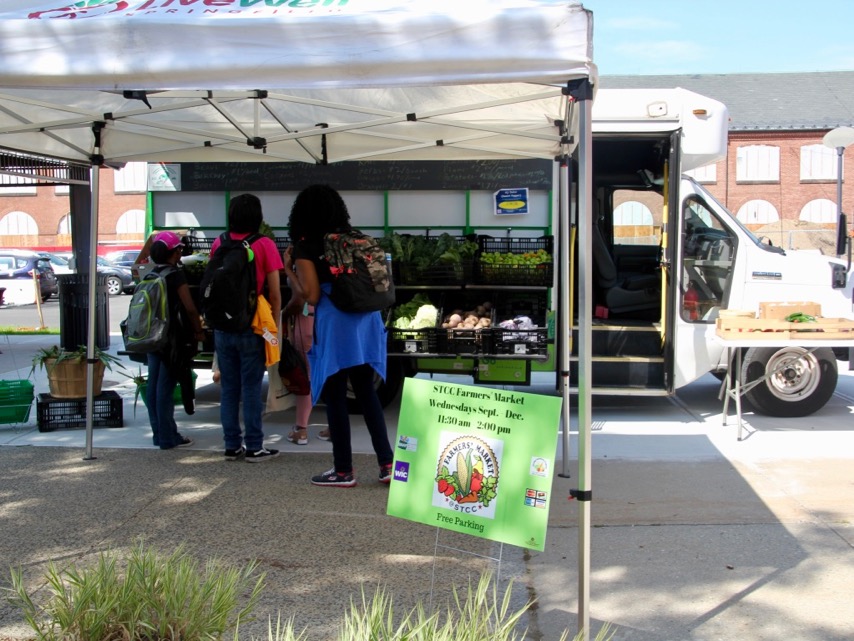 SPRINGFIELD, Mass. – Looking for fresh fruits and vegetables grown at locally owned farms? Find what you need at the Farmers Market at Springfield Technical Community College, which will be on campus each Wednesday, Sept. 4- Nov. 13.
The market, a collaboration between the college and community organizations, features fresh produce, prepared foods, crafts and live music.
Visit the market Wednesdays from 11:30 a.m. and 2 p.m. Vendors are set up between Scibelli Hall (Building 2) and Deliso Hall (Building 13). Free parking is available in marked 15-minute spots outside the market in Parking Lot D.
Vendors accept cash, credit and debit cards in addition to SNAP, WIC and Elder benefits.
The Massachusetts Healthy Incentives Program (HIP) gives SNAP recipients a dollar-for-dollar match credited to their EBT cards on purchases of fresh produce from a farmers market.
STCC and Partners for a Healthier Community established the farmers market in 2015 to bring fresh produce to a community without easy access to a supermarket. For students who qualify, STCC's Center for Access Services provides a weekly $10 voucher. This voucher program awarded $2,420 in 2016.
The following vendors will be selling their goods at the market each Wednesday:
Wicked Good Treats- chocolates and confections
Farmer and the Cheese- vegetables, herbs, fruit, meat and dairy, community supported agriculture (CSA)
South View Farm- flowers, plants, fruit and vegetables
Fat Boyz BBQ – barbecue food truck
Granny's Place - vegetables, fruit, flowers, herbs, honey, jam
Pitchfork Farm - eggs, honey, baskets, bones, meat
Mark's Clay Creations- polymer clay jewelry and bowls, vegetables
TruLee Scrumptious - bakery with gluten and dairy free options
Gardening The Community - value added products, fruit, vegetables
Farmers market manager Tammy T. Ryan said visitors to the market should expect to find a wide variety of produce in a festive atmosphere.
"Fun, fresh beats will be provided by WTCC, 90.7 FM, for opening week but we are inviting our customers to DJ the market this year," she said. "Send us your favorite playlist and we will have customers vote on whose they want to see played each week."
Email playlists to farmersmarket@stcc.edu.
About Springfield Technical Community College
Founded in 1967 and located on 35 acres of the Springfield Armory National Historic Site, STCC is a major resource for the economic vitality of Western Massachusetts. As the only technical community college in Massachusetts, STCC, a designated Hispanic Serving Institution, offers a variety of career programs unequalled in the state. STCC's highly regarded transfer programs in business, engineering, liberal arts, science and technology continue to provide the most economical options for students pursuing a four-year degree. With an annual enrollment of about 7,000 day, evening, weekend and online students, STCC is a vibrant campus rich in diversity.
For more information about STCC, visit www.stcc.edu. Follow us on Facebook, Twitter (@S_T_C_C) and Instagram (@stccpics).
MEDIA CONTACT:
Jim Danko, (413) 755-4812, jdanko@stcc.edu