Farmers' Market at STCC returns Sept. 13 with an extended season, new location
SPRINGFIELD, Mass. – The Farmers' Market at Springfield Technical Community College will have a longer season and new location as it enters its third year.
The market will be open for business each Wednesday from Sept. 13 through Dec. 13 between Buildings 2 and 13 – a change from the previous location on the campus green. Vendors will offer their goods for sale between 11:30 a.m. and 2 p.m. Free parking is available.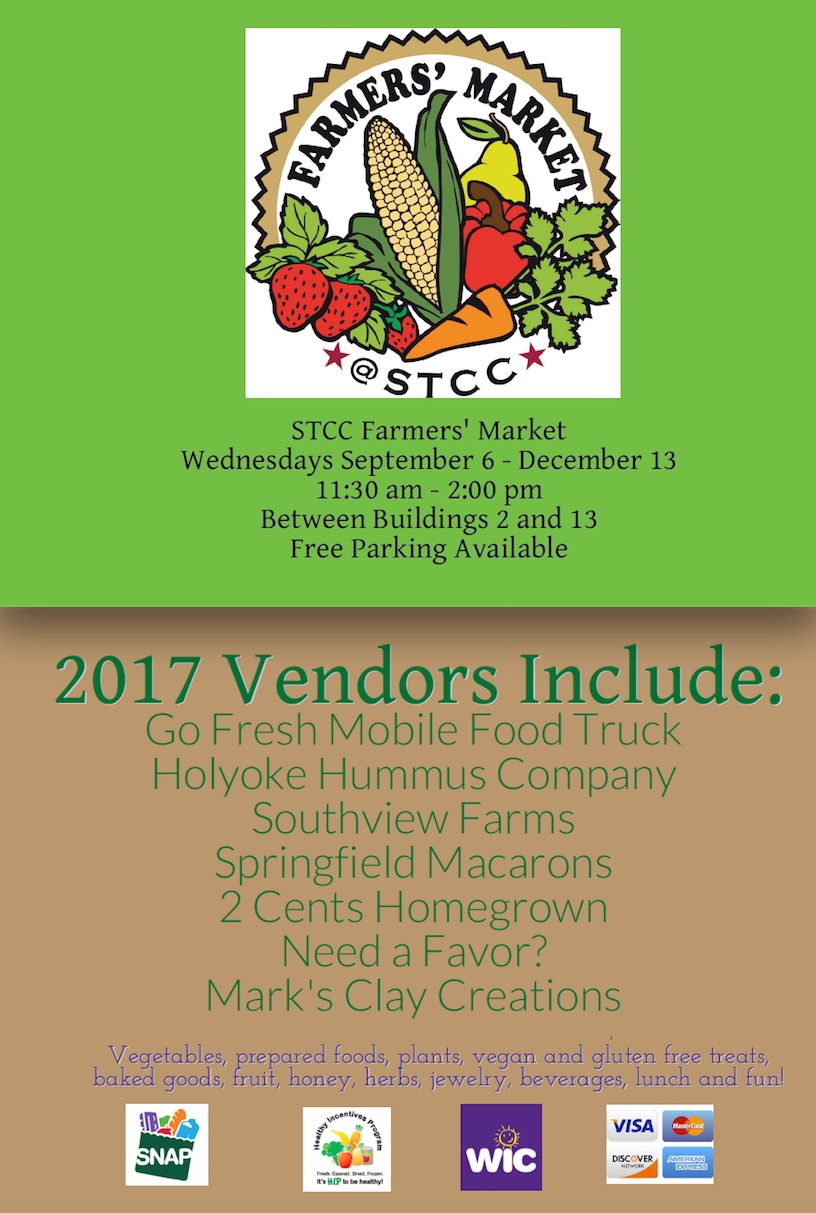 "We are very excited to have an extended season this year," said Farmers' Market Manager Tammy T. Ryan.
In prior years, the market ran through the end of October. With the season extending into the cold weather months, Ryan said the market will be moved indoors when the temperature drops.
The Farmers' Market at STCC, a collaboration between the college and community organizations, provides an opportunity for area residents and students to buy fresh, affordable produce grown close to home. Fruit and vegetables come from locally owned farms. The market also features music and vendors selling jewelry, lunches and beverages in addition to farmers offering their goods.
Vendors accept cash, credit and debit cards, Supplemental Nutrition Assistance Program (SNAP), Women, Infants and Children (WIC) and Elder coupons.
The state's new program called Massachusetts' Healthy Incentives Program (HIP) will allow SNAP recipients to receive a dollar-for-dollar match credited to their EBT cards on farmers' market purchases.
For students who qualify, STCC provides funds to purchase fruits and vegetables. If approved by Center for Access Services, students are eligible to receive a weekly $10 voucher. Students received $1,745 in vouchers in 2015 and $2,420 in 2016.
The vendors for the 2017 market include Go Fresh Mobile Food Truck, Holyoke Hummus Company, Southview Farms, Springfield Macarons, 2 Cents Homegrown, Need a Favor? and Marks Clay Creations.
They will be selling vegetables, prepared foods, plants, vegan and gluten free treats, baked goods, fruit, honey, herbs, jewelry, beverages and lunch.
The radio station WTCC, 90.7 FM, will host a live remote on Opening Day.
About Springfield Technical Community College
Founded in 1967 and located on 35 acres of the Springfield Armory National Historic Site, STCC is a major resource for the economic vitality of Western Massachusetts. As the only technical community college in Massachusetts, STCC, a designated Hispanic Serving Institution and an Achieving the Dream Leader College, offers a variety of career programs unequalled in the state. STCC's highly regarded transfer programs in business, engineering, liberal arts, science and technology continue to provide the most economical options for students pursuing a four-year degree. With an annual enrollment of more than 8,500 day, evening, weekend and online students, STCC is a vibrant campus rich in diversity.
For more information about STCC, visit www.stcc.edu. Follow us on Facebook and Twitter (@S_T_C_C).
Media Contact:
Jim Danko, (413) 755-4812, jdanko@stcc.edu