Filipina-American artist Donnabelle Casis exhibit to open Saturday at STCC's Carberry Gallery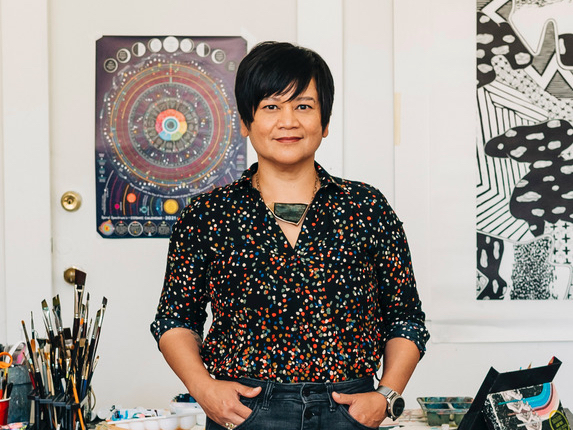 SPRINGFIELD, Mass. – The Amy H. Carberry Fine Arts Gallery in B28 on the Springfield Technical Community College campus presents a new 3D art installation by Filipina-American artist Donnabelle Casis.
Casis created new artwork called "Kinetic Peripatetic: A Moving Mobile Installation," which opens to the public this Saturday, April 30 from noon to 4 p.m. Her previous exhibition, Inkling, was first installed at the Carberry Gallery in March 2020 only to close after two days due to the pandemic.
"Carberry Conversations" continues on Tuesday, April 26 at 11 a.m. with a virtual interview between artist Donnabelle Casis and associate professor and gallery coordinator Sondra Peron. All Carberry Conversations are free and open to the public via Zoom. Visit stcc.io/conversations to register for the virtual event.
Donnabelle Casis earned her MFA in painting from the University of Washington. Her work has been included in national and international solo and group exhibitions. Casis has received numerous awards and grants, including the Neddy Artist Fellowship for painting granted by the Behnke Foundation and grants from the Northampton Arts Council/Massachusetts Cultural Council. Her work is included in several public and private collections. She is on the curatorial committee of "The Art Salon," and creator/founder of "Florence Night Out," and she promotes the work of Pioneer Valley artists on her weekly WHMP radio Art Beat segment. https://donnabellecasis.com
Her paintings explore the relationship of personal identity to visual systems of signification in both ancient and modern cultures. She draws from various sources such as Filipino tribal tattoos and textiles, facial recognition software, cosmology, and the philosophy of metaphysics, among others.
In observance of Asian American and Pacific Islander Heritage Month: The first week in May the gallery will be open during the following hours to view this new work by visual artist Donnabelle Casis:
Monday, May 2, and Tuesday, May 3, 10 a.m. to 1 p.m.
Wednesday, May 4, noon to 3 p.m.
Thursday, May 5, 11 a.m. to 2 p.m.
Friday, May 6, 10 a.m. to 1 p.m.
Masks are required for all in-person events. The gallery is free and open to the public. For easy access, use the Pearl Street gates and park in K Lot behind B28.
This special artist-in-residence exhibition and all associated events are supported in part by the School of Liberal and Professional Studies (LAPS) and the Fine Arts (A.A.) program.
About the Gallery
The Amy H. Carberry Fine Arts Gallery at Springfield Technical Community College features works by artists of local and national repute as well as STCC student work. The gallery is located in Building 28, the first floor, on the Pearl Street side of the STCC campus. The gallery is supported in part by funding from the School of Liberal and Professional Studies. Find the Amy H. Carberry Fine Arts Gallery on Facebook or follow on Twitter @STCCArtGallery.
About Springfield Technical Community College
STCC, the Commonwealth's only technical community college, continues the pioneering legacy of the Springfield Armory with comprehensive and technical education in manufacturing, STEM, healthcare, business, social services, and the liberal arts. STCC's highly regarded workforce, certificate, degree, and transfer programs are the most affordable in Springfield and provide unequaled opportunity for the vitality of Western Massachusetts. Founded in 1967, the college – a designated Hispanic Serving Institution – seeks to close achievement gaps among students who traditionally face societal barriers. STCC supports students as they transform their lives through intellectual, cultural, and economic engagement while becoming thoughtful, committed and socially responsible graduates.
MEDIA CONTACT:
Jim Danko, jdanko@stcc.edu, (413) 755-4812