Fourth annual Leadership Conference at STCC to feature speakers presenting their 'big ideas'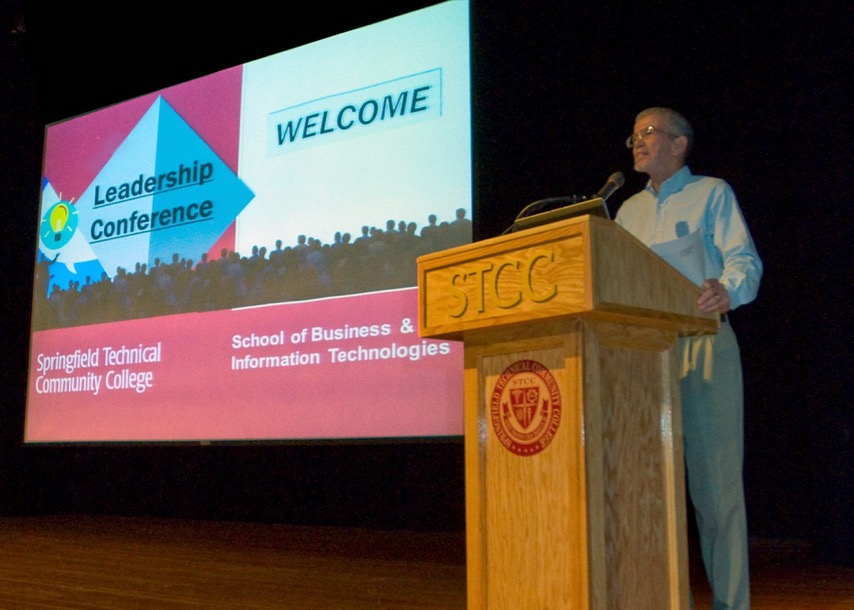 STCC Professor Paul Thornton is the event coordinator for the fourth annual Leadership Conference to be held June 15.
SPRINGFIELD, Mass. – Springfield Technical Community College (STCC) will feature a cross-section of leaders who will discuss their "big ideas" during the fourth annual Leadership Conference on Friday, June 15, from 8:30 a.m. to 1:30 p.m.
A continental breakfast will be served at 8 a.m., with presentations beginning at 8:30 a.m. Lunch will be served after the speakers have concluded their presentations.
The conference is designed for professionals and students who want to become more effective leaders.
Paul Thornton, STCC professor, Business Administration, is the event coordinator. He and eight others from area colleges and businesses will be speaking at the conference.
Thornton said, "Leaders seek opportunities to improve the status quo. They want to make things better. At the conference, each speaker is allowed up to 15 minutes to present his or her 'big idea' about leadership. I'm confident all attendees will gain some valuable insights and actionable ideas that will help them to be more effective leaders."
The STCC Foundation and Abbett Business Services Inc., of Holyoke, are sponsors of the Leadership Conference.
The conference is free, but registration is required. To register, contact Bridget Finn: bfinn@stcc.edu or (413) 755-4008.
Here's a list of the speakers and their bios:
Sandi Coyne has had an eclectic background in both education and nonprofit leadership based on helping people to achieve their life goals. She has worked with traditional and nontraditional college students, the homeless community, people living with HIV/AIDS, foster children and women in transition. Whether working with students or community members, she believes everyone has their own story and dreams. Sandi is an accidental blogger, a lover of quotations, and a believer in the human spirit. She is currently the program director for the Masters of Science in Organizational Leadership at Goodwin College in East Hartford, Conn.
Fred Kelly has over 30 years of experience as a sales leader in health care. He has worked for innovative technology companies, including Beckman Instruments, Datex-Ohmeda, and GE Heath Care. Currently, he serves as an area vice president of sales with Masimo, a leader in non-invasive measurements technology. Fred has earned numerous leadership awards as a sales representative, sales manager and area vice president. He has dedicated the last two decades to leading teams and driving the strategic objectives of organizations. One of his core beliefs is that one should "assume positive intent."
Jennifer Kriksciun is an instructional designer/developer at Travelers. Much of her work allows her to incorporate her design and technical skills with a great love for innovation and knowledge-sharing. Previously, she worked as an English as a Second Language (ESL) and developmental English instructor at Capital Community College. She also served as program administrator to a number of corporate-sponsored programs that provide academic support and assist in professional development. These programs also create internship opportunities in the business and insurance industry. She lives in Middletown, Conn., with her 17-year-old daughter.
Nicole Murdoch has spent most of her life in Massachusetts and attended graduate school at UMass Amherst. Nicole began her career in the software industry, and has spent the last 15 years leading transformational change strategies at Fortune 100 companies in the financial services and healthcare industries. She lectures at local universities, has presented at several conferences, and has been a successful small business owner. Nicole now resides in Western Massachusetts with her husband and two children. She works for Slalom, a consulting firm based out of Seattle, Wash.
Phil O'Donoghue is an assistant professor of theater and English at Springfield Technical Community College (STCC), where he teaches playwriting, acting and theater literature. In addition to directing at STCC, he has also directed at the Williston-Northampton Summer Theatre Program. He holds a master's in playwriting from Smith College, where he studied under Len Berkman, the Anne Hesseltine Hoyt Professor of Theatre at Smith College. O'Donoghue has had plays produced in New York, Los Angeles, and Boston. He is also an original member of the Northampton 24-Hour Theatre Project.
Gail Olmsted is a professor and Business Department chairperson at Springfield Technical Community College. She teaches courses in marketing and was a past recipient of the Joseph J. Deliso, Sr., Endowed Chair. Before joining STCC, she spent seven years on the faculty at Western New England College and also served as the Assistant Dean of the School of Business. She has a master of business administration degree and a bachelor of science degree in marketing from Central Connecticut State University. Prior to teaching, Gail worked for 16 years in a variety of marketing capacities in the telecommunications industry.
Frances Riddle graduated from Fine Arts programs at Greenfield Community College and the University of Massachusetts, Amherst. She earned her MFA from the Stamps School of Art & Design at the University of Michigan, Ann Arbor. Riddle is an assistant professor of art at Springfield Technical Community College, where she teaches design and drawing classes. As chair of the Visual and Performing Arts Department at STCC, Riddle organizes Fine Arts, Music, and Theater classes. In addition, she is the coordinator for the Associate in Arts in Liberal Arts Transfer Program.
Andrew T. Thornton has spent the last 15 years doing both inside and outside sales for the building materials industry. He has experience in both the retail and wholesale sides of the business. Thornton is a graduate of Western New England University and has an MBA from American International College. He was captain of his college basketball team, twice playing in the NCAA tournament. Thornton led his 6-year-old son's basketball team to great success the past two seasons. He believes 90 percent of selling is listening. His favorite quote is, "Talk is cheap. Execution is key."
Paul B. Thornton is an author, trainer, speaker and professor of Business Administration at Springfield Technical Community College. In 2015, he was the recipient of the Joseph J. Deliso, Sr., Endowed Chair. He has designed and conducted management and leadership programs for UMass Medical School, Mercy Health Systems, Kuwait Oil Corporation, Human Services Forum, Sunshine Village, and United Technologies Corporation. His articles have appeared in The Leader-to-Leader Journal, Management Review, Leadership Excellence, The Toastmaster, USA Today, and The CEO Refresher. Paul's latest book is Precise Leaders Get Results (Motivational Press).
About Springfield Technical Community College
Founded in 1967 and located on 35 acres of the Springfield Armory National Historic Site, STCC is a major resource for the economic vitality of Western Massachusetts. As the only technical community college in Massachusetts, STCC, a designated Hispanic Serving Institution and an Achieving the Dream Leader College, offers a variety of career programs unequalled in the state. STCC's highly regarded transfer programs in business, engineering, liberal arts, science and technology continue to provide the most economical options for students pursuing a four-year degree. With an annual enrollment of more than 7,700 day, evening, weekend and online students, STCC is a vibrant campus rich in diversity.
For more information about STCC, visit www.stcc.edu. Follow us on Facebook and Twitter (@S_T_C_C).
MEDIA CONTACT:
Jim Danko, (413) 755-4812, jdanko@stcc.edu