From STCC to Smith: Mother of 3 finds it's never too late to start college and excel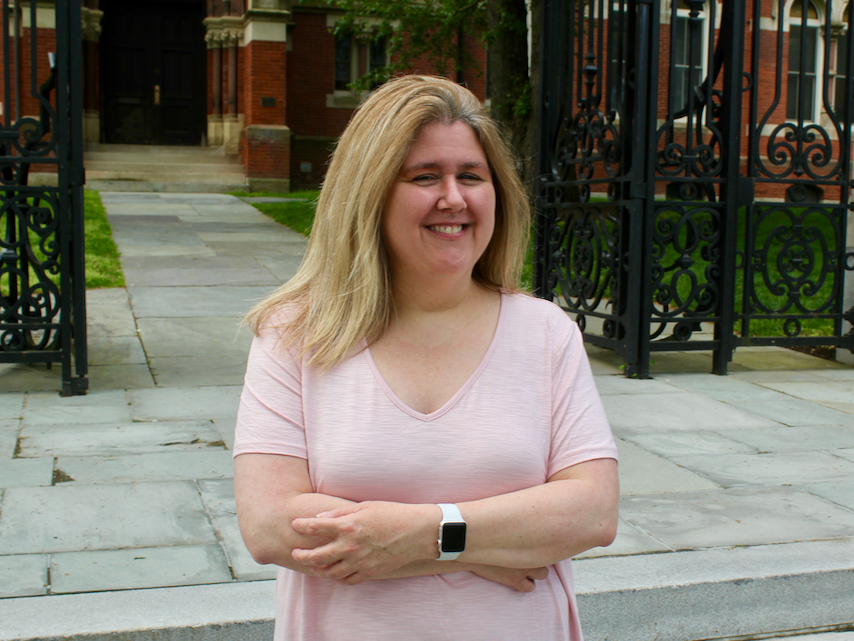 SPRINGFIELD, Mass. – By the time Shannon Metterville took her first college course at age 46, in the summer of 2020 at Springfield Technical Community College, she had put aside her need for a college education for nearly three decades.
Today she has 42 college credits from STCC that she will take to Smith College in Northampton. This fall, Metterville will continue her college journey as an Ada Comstock Scholar at Smith, which enables women of nontraditional college age an opportunity to complete a bachelor's degree.
She would not have made it to the elite private women's college without first enrolling at STCC – and without the support of her STCC professors and encouragement from her family. She challenged herself by enrolling in engaging honors classes at STCC. Metterville earned the designation of Commonwealth Honors Scholar, having completed the honors program at STCC.
For most of her life, Metterville did not think she would even go to college, let alone get in to a prestigious private institution. While attending to the more pressing needs of her family of five, she had believed that none of those family needs included higher education for herself.
As Metterville put it this spring in a transfer application essay: "I took my dream, and I folded it and folded it and folded it, until it was very small. Then I tucked it away, deep inside, into a place where it mostly went unnoticed."
Her decision to go to college in her 40s was inspired by a question from her daughter, Emily, around December 2020. Emily, now 24, who graduated from STCC with a degree in liberal arts in 2019, asked her mom, 'Do you regret it?' referring to her choice as a young woman to forgo college.
Emily's question led her mother on a path of self-reflection and growth. She said she certainly did not regret not going to college if that enabled her to raise her three children, Ian, 28, Danny, 26, and Emily.
But as her STCC professors have learned these past two years, Shannon Metterville isn't the type of student to leave stones unturned when she starts exploring a question. She likes to go deeper.
In her Smith College essay, she reflected on her decision not to go to college at age 20 when her son, Ian, was born: "I was his mother, and it was my duty to put his needs before mine. … It never occurred to me that by denying myself the things that would have given me confidence, given me joy, I was taking something away from him as well."
And so, 29 years after graduating from Quaboag Regional High School in Warren, Metterville signed up for an English composition class taught by STCC Professor of English Denise "Daisy" Flaim.
Starting off, Metterville was unsure of her capability, but what she lacked in confidence, she made up for with sheer determination. "If I was going to do this, I was going to give it my all," she said.
She was working 40 to 50 hours a week registering patients in the Harrington Hospital emergency department in Southbridge – a hard job made even more stressful during the COVID 19 pandemic. STCC courses became her oasis: She came home from work, showered away the stress and fatigue and despair of being a frontline worker during a pandemic, sat at her desk and indulged her mind. By writing, she learned she could write.
Shannon is truly an exceptional student and I cannot be more happy for her Professor John Diffley,

Coordinator of the Honors Program
"I very pleasantly discovered that I was good at it," she said.
Professor Flaim offered Metterville support and encouragement.
"I think she could see my talent, I guess you could say," Metterville said, still amazed at that memory.
"I can't tell you what that meant," she said, tears welling up, her voice catching. "It's a good feeling."
Metterville signed up for more classes, including honors courses for which she was recruited by John Diffley, STCC professor of history and honors program coordinator: a seminar, the psychology of love; a biology lab course, afflictions and maladies; honors history. Every class sparked her thirst for more. She even took a playwriting class.
"Shannon is truly an exceptional student and I cannot be more happy for her," Diffley said. "Through her hard work and exceptional abilities Shannon has earned the designation of Commonwealth Honors Scholar. Allowing students to explore their own academic and intellectual interests, build confidence, and find ways to make the Commonwealth Honors Program work for each individual student's goals is exactly what the program seeks to accomplish."
As Metterville put it: "I didn't want to just stay in my comfort zone."
She took anything she could with Professor Flaim, who became her advisor and mentor. After she submitted a paper about Virginia Woolf's "A Room of One's Own," Flaim suggested she consider transferring to Mount Holyoke or Smith colleges. At this, Shannon laughed, rolled her eyes and said 'Yeah, sure.'
"I didn't see myself that way," is how she would later explain her reaction.
Flaim thought her student's next step seemed obvious: "There is nothing she's not curious about, and she has intellectual firepower. She ate up everything we were doing, no matter the assignment."
It took convincing and coaching to help Shannon accept that she was indeed a strong candidate at Smith or Mount Holyoke, and when she did, both women cried. The tears were bittersweet.
"With any student, when they reach the point where they realize they have potential, it just breaks my heart that they didn't know it before," Flaim said. "And I feel so much joy for them."
STCC offers transfer opportunities to many colleges and universities to provide an affordable path to a bachelor's degree or higher. While some transfer, other students choose to pursue a two-year associate degree or one-year certificate from STCC to obtain skills employers are seeking.
This fall, 31 years after she graduated from high school, Shannon Metterville will take her seat as a fulltime college undergraduate. Her daughter hopes to be back at STCC in the respiratory program.
It's not lost on Shannon that at Smith, she'll be in classrooms with students who are younger than her grown children. But she learned something important at STCC: "I have something to contribute to younger people.''
This summer, she will quit her hospital job to focus exclusively on studying, a prospect that quite literally makes laugh with glee. She and her husband, Chris, recently moved to Three Rivers, which is a little closer for her commute to Smith and a bit farther for his job as a foreman installing swimming pools. He's more than OK with that.
He and the children are fully behind her. Shannon said her husband was shocked when he read an early draft of her Smith application essay.
"It makes me want to build you a big beautiful office with a desk in it," he told her.
She's going to need it.
Interested in applying to STCC? Visit stcc.edu/apply or call Admissions at (413) 755-3333.
About Springfield Technical Community College
STCC, the Commonwealth's only technical community college, continues the pioneering legacy of the Springfield Armory with comprehensive and technical education in manufacturing, STEM, healthcare, business, social services, and the liberal arts. STCC's highly regarded workforce, certificate, degree, and transfer programs are the most affordable in Springfield and provide unequaled opportunity for the vitality of Western Massachusetts. Founded in 1967, the college – a designated Hispanic Serving Institution – seeks to close achievement gaps among students who traditionally face societal barriers. STCC supports students as they transform their lives through intellectual, cultural, and economic engagement while becoming thoughtful, committed and socially responsible graduates.
MEDIA CONTACT:
Jim Danko, (413) 755-4812, jdanko@stcc.edu