From STCC to the Ivy League: Student reflects on academic journey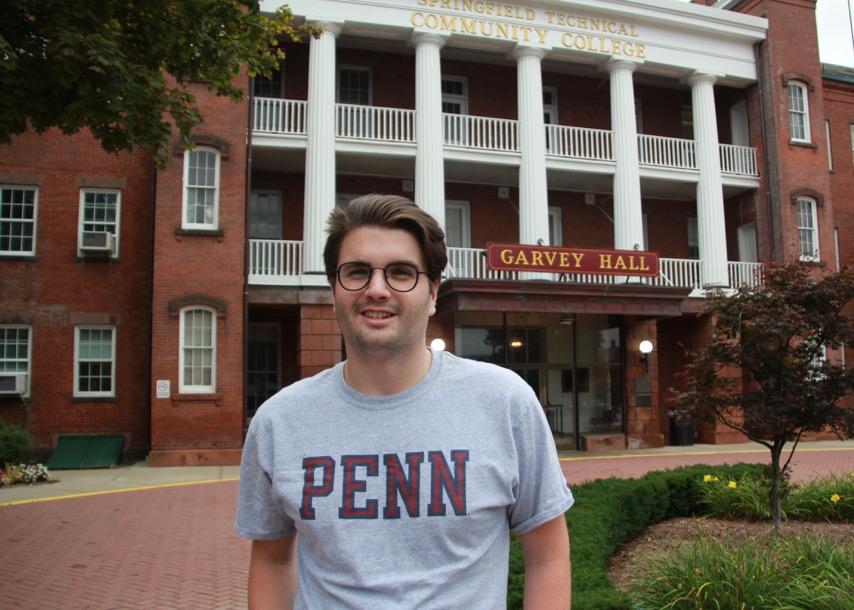 SPRINGFIELD, Mass. – When he graduated from Wilbraham & Monson Academy, Michael Caine could have gone on to a highly selective four-year college.
He got in to his first choice, a private liberal arts college. But he decided on Springfield Technical Community College, a few miles from his parents' home. The choice saved his family a lot of money. The cost of one year at STCC was about $5,000. The price tag on the private college he considered was 10 times more than STCC.
Caine's decision not only was affordable and practical, but it helped pave the way to a top architecture program. Today, he is pursuing a master of architecture professional degree from the University of Pennsylvania School of Design – ranked as the seventh best architecture graduate program in the country, according to DesignIntelligence's report "America's Best Architecture & Design Schools 2017-2018."
"It's kind of crazy that I got in," Caine said a few weeks before the fall semester began. "I read the acceptance email, and I was just awestruck."
The graduate school at Penn – one of the eight Ivy League schools in the country – was Caine's latest stop on a higher education journey that began at STCC. By choosing to start at STCC instead of a four-year college, Caine was able to explore academic programs and receive valuable feedback from professors at STCC to find out which field of study best suited him.
Like many students fresh out of high school, Caine had no idea what he wanted to study in college. But he spoke with faculty and took a wide range of classes – and discovered a passion for architecture.
"I figured out what I wanted to do at STCC," Caine said. "I first thought I'd go into landscape architecture, but one of the professors said, 'You're more of an architect type.' So I studied Architecture and Building Technology at STCC, and graduated with a 3.8 grade point average in 2016."
At STCC, Caine excelled not only academically, but he also took on leadership and volunteer roles. He served as student body vice president and campus activities board chair, where he planned student events. He promoted public higher education as a student speaker at the Department of Higher Education outreach events and was the architectural advisory club treasurer and advisory committee student representative.
It's incredible what I was able to do. Michael Caine,

STCC alumnus
"I loved getting involved. At STCC, it was really easy to get involved and it was very rewarding," Caine said.
Caine then transferred to the University of Massachusetts in Amherst and studied in the Commonwealth Honors College. He lived on campus and graduated with a bachelor of science degree in architecture and a minor in history of art and architecture.
At UMass, Caine continued to pursue activities outside of the classroom. He joined the American Institute of Architecture Students, which created an opportunity to get involved and a chance to travel. He served on the UMass chapter's Executive Board and maintained a 3.8 GPA.
"With that group, we went to conferences in Toronto and Dubai," he said. "We spent two days in in Dubai and one in Abu Dhabi. We saw the brand new Louvre Abu Dhabi, which is this architectural marvel. It's brilliant. We also went to the world's tallest building, the Burj Khalifa."
He believes his involvement in extracurricular activities, combined with his excellent grades, helped him get into the University of Pennsylvania's graduate program. He will study architecture for three years and will graduate with a master of architecture, a professional degree.
Caine and one other student from the UMass Amherst architecture program will study at Penn this fall. They will meet students who came from top-ranked programs at colleges and universities throughout the country.
"It's incredible what I was able to do," Caine said. "I never imagined going to an Ivy League after graduating from UMass and STCC."
STCC President John B. Cook said community colleges provide unique opportunities and incredible value for students. They can turn to dedicated faculty for support and advice. When they graduate, they leave knowing they received a high-quality education at a fraction of the cost of most four-year colleges or universities.
"We have many students like Michael Caine who make the smart choice to start at STCC," Cook said. "We're proud of Michael. He worked hard and applied himself at STCC and at UMass and now is enrolled in an Ivy League school and on the path to a rewarding career. We wish him great success in the future."
To learn more about STCC's programs, visit stcc.edu. To apply, visit stcc.edu/apply. Call (413) 755-3333 to speak with an admissions counselor.
To see jobs in this field, click here.
About Springfield Technical Community College
Founded in 1967 and located on 35 acres of the Springfield Armory National Historic Site, STCC is a major resource for the economic vitality of Western Massachusetts. As the only technical community college in Massachusetts, STCC, a designated Hispanic Serving Institution and an Achieving the Dream Leader College, offers a variety of career programs unequalled in the state. STCC's highly regarded transfer programs in business, engineering, liberal arts, science and technology continue to provide the most economical options for students pursuing a four-year degree. With an annual enrollment of more than 7,700 day, evening, weekend and online students, STCC is a vibrant campus rich in diversity.
For more information about STCC, visit www.stcc.edu. Follow us on Facebook and Twitter (@S_T_C_C).
MEDIA CONTACT:
Jim Danko, (413) 755-4812, jdanko@stcc.edu