Fulbright Scholars from Argentina experience STCC's Diversity Event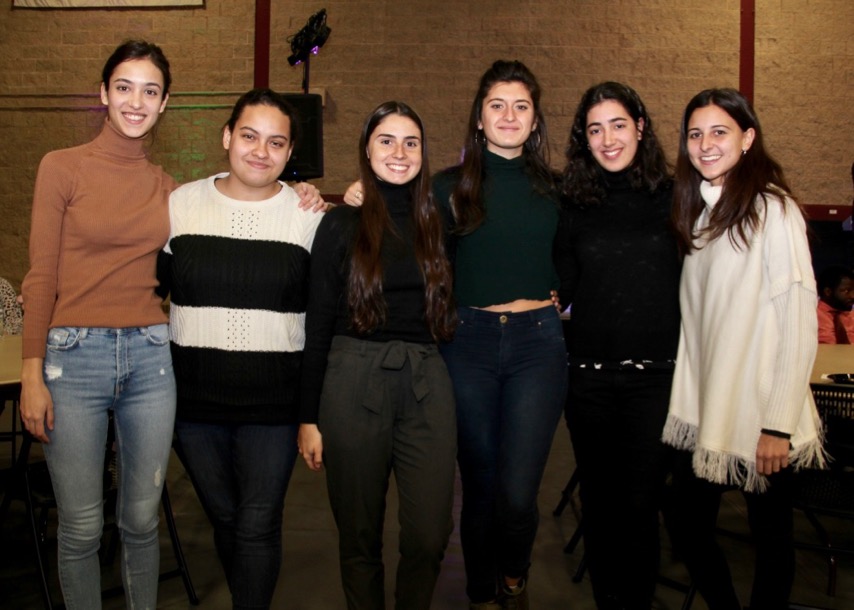 SPRINGFIELD, Mass. – The diverse mix of people who recently dined and danced at the Springfield Technical Community College's Soul Food and Jazz Luncheon included six Fulbright Scholars from Argentina.
"I love it," said Natalia Fonzo, an economics major at the Universidad de San Andrés (Buenos Aires) and one of the scholars. "There are people of all ages here. I thought it was only going to be my age."
Kamari Collins, vice president of student affairs at STCC, invited the Fulbright Scholars, who were studying at Mount Holyoke College in South Hadley between Jan. 20 and March 8.
"We serve a diverse student population which includes international students," Collins said. "We are thrilled the scholars were able to visit us and enjoy our Soul Food and Jazz Luncheon."
The annual Diversity Series event, popular with the students and the Springfield community, raises funds for student scholarships.
Roberto Mugnani, director of program development at Mount Holyoke, accompanied the six scholars to the event. The goal of the Fulbright Program – one of the most prestigious and competitive fellowship programs in the world – is to improve international relations between citizens of the United States and other countries.
"We want to establish more ties to STCC. At the same time, we want our visiting scholars to learn about the community – not just the campus at Mount Holyoke but the greater community in Springfield. Even though we were there just a short time, they got so much out of it," Mugnani said. "They had an opportunity to speak to some students and experience a different college campus. The STCC students were telling us about their study plans and their personal stories about how they decided to come to STCC. So it was a valuable experience for them."
Mugnani has directed a program for Fulbright Scholars from Argentina for the past three years at Mount Holyoke's professional and graduate programs. It is a summer study abroad program for students who want an academic and cultural experience on a college campus in the United States. (The southern hemisphere experiences summer in January-March).
We want to establish more ties to STCC. At the same time, we want our visiting scholars to learn about the community – not just the campus at Mount Holyoke but the greater community in Springfield. Roberto Mugnani,

Director of program development at Mount Holyoke
Students are required to have an advanced level of English to participate in the program as well as a high grade point average, Mugnani said.
"They are registering for some spring semester graduate courses for credit but are also anxious to become integrated with our campus community by participating in class sessions related to their major fields of study," Mugnani said.
The students, who are majoring in international relations, journalism, literature, literary criticism, politics and social sciences, were scheduled to return to Argentina on March 9.
Details about the Fulbright Scholars from Argentina:
Natalia Fonzo: Economics major at Universidad de San Andrés (Buenos Aires); study exchange with the Emerging Leaders in the Americas Program Scholarship in Montréal, Canada (2017); planning to write thesis on Hybrid Recommendation Systems; interest in stats, data science, AI, machine learning.
Pilar López: Literature major at Universidad Nacional de Rosario (Rosario, Santa Fe); took English course for a month in NYC (2013) and in Oxford (2015); work and travel program for two months in Colorado (2016); interest in writing, modern literature, literary criticism.
Magdalena Ponce: International Affairs major at Universidad del Salvador (Buenos Aires) and law major at Universidad de Buenos Aires; interest in human rights, international negotiation process, refugees and migrants related issues, political sociology and global governance.
Mariana Florencia Sanchez: Political Science at Universidad Nacional de la Matanza (UNLAM) (Buenos Aires): traveled to Peru, including Machu Picchu in 2017; interest in research (quantitative), social sciences, arts (music, photography).
Yazmin Azul Servidio Heddad: Social Sciences major, with minor in Communication and Journalism at Universidad Torcuato Di Tella (Buenos Aires): took an English Language Course in Oxford in 2013; exchange semester at the Universiteit van Amsterdam in the Netherlands in 2018: interest in media, psychology, cultural studies and anthropology, neuroscience, art, education, journalism and diplomacy.
María Mar Torres: Government, International Relations at Universidad Argentine de la Empresa (UADE) (Buenos Aires); born and raised in La Pampa, now in Buenos Aires for 3rdyear of study, graduating Dec 2019; may specialize in Human Rights for post-graduate studies; interest in different cultures, social movements, international organizations, leadership, entrepreneurship and gender studies
Interested in applying to STCC? Visit stcc.edu/apply or call Admissions at (413) 755-3333.
About Springfield Technical Community College
Founded in 1967 and located on 35 acres of the Springfield Armory National Historic Site, STCC is a major resource for the economic vitality of Western Massachusetts. As the only technical community college in Massachusetts, STCC, a designated Hispanic Serving Institution and an Achieving the Dream Leader College, offers a variety of career programs unequalled in the state. STCC's highly regarded transfer programs in business, engineering, liberal arts, science and technology continue to provide the most economical options for students pursuing a four-year degree. With an annual enrollment of more than 5,000 day, evening, weekend and online students, STCC is a vibrant campus rich in diversity.
For more information about STCC, visit www.stcc.edu. Follow us on Facebook, Twitter (@S_T_C_C) and Instagram (@stccpics)