Gateway to College at STCC inspires siblings to succeed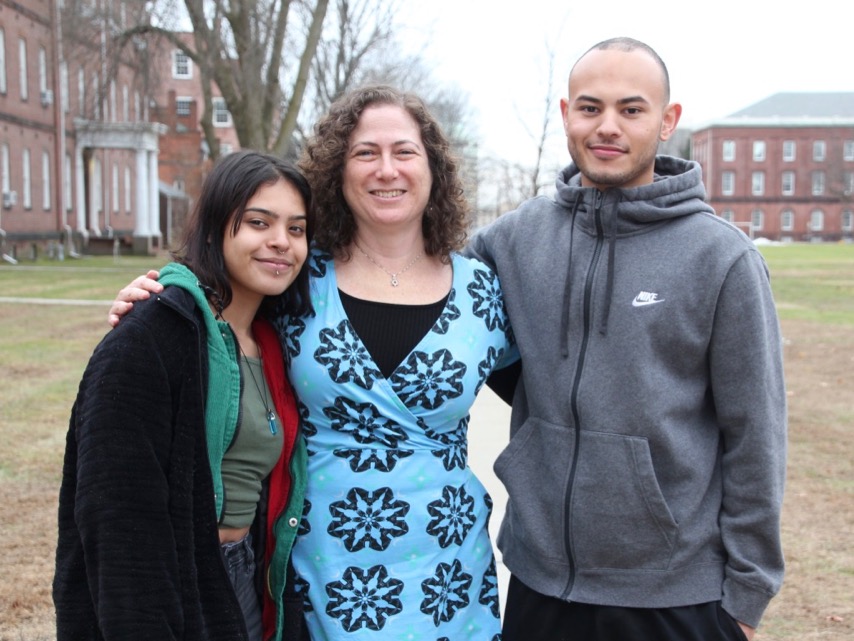 SPRINGFIELD, Mass. – For Fernando Rosa, Gateway to College at Springfield Technical Community College was his ticket to success.
The alternative education program helped him not only get a high school diploma, but also put him on the pathway to a college degree and a career in law enforcement. He was the first Gateway student to graduate from STCC in 2016. He then transferred to Springfield College. Today, he works as a corrections officer for the Hampden County Sheriff's Department.
When his younger sister Hayleigh Rosa started high school, Fernando encouraged her to consider Gateway. She enrolled and graduated in the spring. Today, Hayleigh Rosa is pursuing a biology degree from STCC, and dreams of one day working as a forensic pathologist.
"When I first came to Gateway I didn't feel like I was good enough for school," Fernando Rosa said. "Gateway taught me how to mature and gave me the right guidance. I had support, which I felt I needed to get through school and my studies. To have that support helps tremendously. It made me believe in myself. It made me feel like I can go to school and become something better."
Hayleigh said she left one of the public high schools in Springfield in 10th grade to enroll in Gateway, which she said was a better fit.
"I like taking classes with college students, which is what you can do when enrolled in Gateway. You have a shorter day and more independence than in a public school," she said. "I love the people there. They truly care about the students and check up on us even after we graduate."
(Gateway) made me believe in myself. It made me feel like I can go to school and become something better Fernando Rosa,

Gateway to College at STCC graduate
Hayleigh Rosa hopes to transfer to the University of Massachusetts after graduating from STCC. She will need many years of schooling if she wants to be a forensic pathologist. "I have to get my doctorate, but I know I can do it," she said.
Perhaps inspired by the experience at Gateway, her brother also is thinking about continuing his education. "My ultimate goal is to get my master's degree and then my doctorate in criminology, and hopefully be a professor. Maybe I'll come back to STCC to teach."
Gateway to College at STCC, which started in 2013, is a scholarship program that provides an alternative pathway for young people who have faced challenges in a traditional high school setting, including those who are behind in credits, not on track to graduate with their class, or have left school for various reasons. This includes charter school students, or those who may be homeschooled. Students take classes at STCC and earn their high school diploma and college credits at the same time.
While STCC is one of the most affordable higher education institutions in the region, the program can help reduce costs even further and provide access to people who might have thought college was out of reach. Students who are accepted into the program do not have to pay for tuition, fees or books. The credits they receive can be transferred into a college degree or certificate program.
"Students who enroll at Gateway must have a strong desire to succeed," said Gateway to College Director Katara Robinson. "We provide support and guidance, and help them work toward transforming their lives, but they have to want to achieve success. It takes dedication, motivation, and perseverance. Students that apply themselves see results and accomplish their goals as Fernando and Hayleigh Rosa have done. The Gateway experience helps build students' confidence, prepares them for the rigors of college coursework, and sets them on the path to achieve their education and career goals."
Anita Gallers, academic counselor at the STCC Gateway program, said Fernando and Hayleigh Rosa both took advantage of academic opportunities and connected with the staff, which led to their success.
"They were hard-working, motivated students who excelled at Gateway," Gallers said. "Fernando used to talk about his dream of working in law enforcement, and today he has a job with the Sheriff's Department. Hayleigh is enrolled at STCC and developing leadership and communications skills through the Student Ambassador program. She's focused and I have no doubt will achieve her dreams. We're so proud of them!"
Interested in applying to Gateway to College at STCC? Visit stcc.edu/gatewaytocollege or call Admissions at (413) 755-4480 for more information.
Click here to watch a video of Fernando and Hayleigh discussing their Gateway experience.
About Springfield Technical Community College
Founded in 1967 and located on 35 acres of the Springfield Armory National Historic Site, STCC is a major resource for the economic vitality of Western Massachusetts. As the only technical community college in Massachusetts, STCC offers a variety of career programs unequalled in the state. STCC's highly regarded transfer programs in business, advanced manufacturing, healthcare, liberal arts, and STEM fields continue to provide the most affordable options for students pursuing a four-year degree. With an annual enrollment of about 7,000 day, evening, weekend, and online students, STCC is a vibrant campus rich in diversity.
For more information about STCC, visit www.stcc.edu. Follow us on Facebook, Twitter (@S_T_C_C) and Instagram (@stccpics).
MEDIA CONTACT:
Jim Danko, (413) 755-4812, jdanko@stcc.edu