Gateway to College at STCC puts student on pathway to success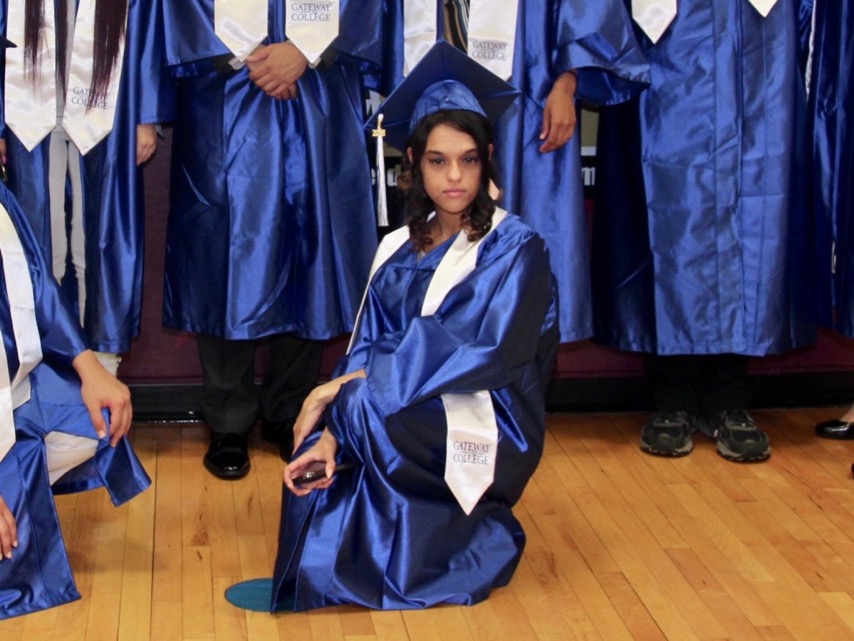 SPRINGFIELD, Mass. – Mahailey Butler today is pursuing a degree from Springfield Technical Community College, but a few years ago she had dropped out of high school and was facing significant obstacles. She wasn't sure what to do next.
"I dropped out because I was being bullied," said Butler, 21, of West Springfield. "I took about a year off to figure out what I was going to do. I looked at other schools and programs and my brother recommended Gateway to College at STCC."
Accepted into the Gateway to College program, Butler's life started to turn around. She felt better about herself and achieved academic success.
"I was able to get into the groove of things," she said. "I could manage better and work better. I was nervous at first and skeptical that I was going to be able to do it, because it's college, which I thought would be really difficult. Then when I got here, I saw that everyone was more mature. They wanted to focus on their studies, and it just felt like a safer and calmer environment than I was used to."
Gateway to College at STCC, which started in 2013, is a scholarship program that provides an alternative pathway for young people who have faced challenges in a traditional high school setting, including those who are behind in credits, not on track to graduate with their class, or have left school for various reasons. This includes charter school students, or those who may be homeschooled. Students take classes at STCC and earn their high school diploma and college credits at the same time. The program, which is one of the Springfield Public Schools' alternative high schools, is currently accepting applications for the fall. Visit stcc.edu/gateway to apply and learn more.
"I would definitely recommend it," Butler said. "I recommended it to my cousin. You get so much support, and not just from your teachers, but from the Gateway staff. They're willing to work with you. If you need more tutoring, they will help set up meetings. It felt more like a family than just talking to some random person."
When she was in a Springfield public school, Butler said other students bullied her. Butler was diagnosed with a neurological disorder as well as epilepsy. She said her health deteriorated due to the bullying. She ended up losing weight, dropping to 64 pounds, and was hospitalized for two weeks.
Mahailey is the ideal picture of perseverance. She exhibited great commitment and determination during her time here. Katara Robinson,

Director, Gateway to College at STCC
At the time, she was living in a neighborhood she felt was not safe, and her mother was facing her own health problems. One day, there was a shooting near her house.
"I lost all the weight because of all the stress, and I already had a previous eating disorder," she said.
She eventually recovered and enrolled in STCC's Gateway program. She moved to a safer neighborhood in West Springfield, where she lives today.
Butler said she enjoyed the environment at Gateway and the sense of independence she felt. "If I wanted this, I knew I had to work for it," she said. "They give you support, but it's not overbearing. They tell you, 'I'm willing to help you out, but you have to take that extra step with me.'"
The staff at Gateway to College at STCC praised Butler for her perseverance in the face of challenging circumstances.
"Mahailey is the ideal picture of perseverance," said Katara Robinson, director of Gateway to College at STCC. "She exhibited great commitment and determination during her time here, in spite of the obstacles and various challenges she faced. She's the ideal Gateway student because she managed to turn what seemed like a hopeless situation around, obtained her high school diploma, and earned college credits simultaneously, in spite of difficulties. She didn't give up in the face of challenges and setbacks. She got back up, pushed through, and took advantage of the resources provided by STCC and the Gateway program. We are grateful that we had the opportunity to support Mahailey through her endeavor to transform her life!"
Butler today is enrolled in STCC's general studies program. She works part time as a personal care assistant (PCA), taking care of her mother. Butler's goal is to graduate in the spring of 2021. After she earns her associate degree, she would like to transfer to a four-year college and study interior design and business management.
"I've always had a passion for arts and crafting," she said. "With home interior design, you're basically taking a blank room and trying to make it into a giant picture."
Gateway to College academic counselor Anita Gallers worked closely with Butler when she was enrolled in the program.
"Mahailey is a great example of the type of student who benefits most from Gateway, not only because of her obstacles in the past and struggles in the past, but also because of her readiness to do the work and accept the support of our program," Gallers said. "Mahailey is someone who is the model of persistence and perseverance. She just kept pushing and kept moving along no matter what the obstacles were."
Interested in applying to Gateway to College at STCC? Visit stcc.edu/gateway or call the office at (413) 755-4480.
About Springfield Technical Community College
Founded in 1967 and located on 35 acres of the Springfield Armory National Historic Site, STCC is a major resource for the economic vitality of Western Massachusetts. As the only technical community college in Massachusetts, STCC offers a variety of career programs unequalled in the state. STCC's highly regarded transfer programs in business, advanced manufacturing, healthcare, liberal arts, and STEM fields continue to provide the most affordable options for students pursuing a four-year degree. With an annual enrollment of about 7,000 day, evening, weekend, and online students, STCC is a vibrant campus rich in diversity.
For more information about STCC, visit www.stcc.edu. Follow us on Facebook, Twitter (@S_T_C_C) and Instagram (@stccpics).
MEDIA CONTACT:
Jim Danko, (413) 755-4812, jdanko@stcc.edu