Graphic communications and photography program at STCC creates opportunities for creative minds
SPRINGFIELD, Mass. – Elizabeth Lolos, of Chicopee, says she wanted to turn her passion to create art into a career.
"I've been an artist my whole life," Lolos said. "I thought the best career path was in graphic design."
Ashleigh Ayers, of East Longmeadow, also has loved art for as long as she can remember.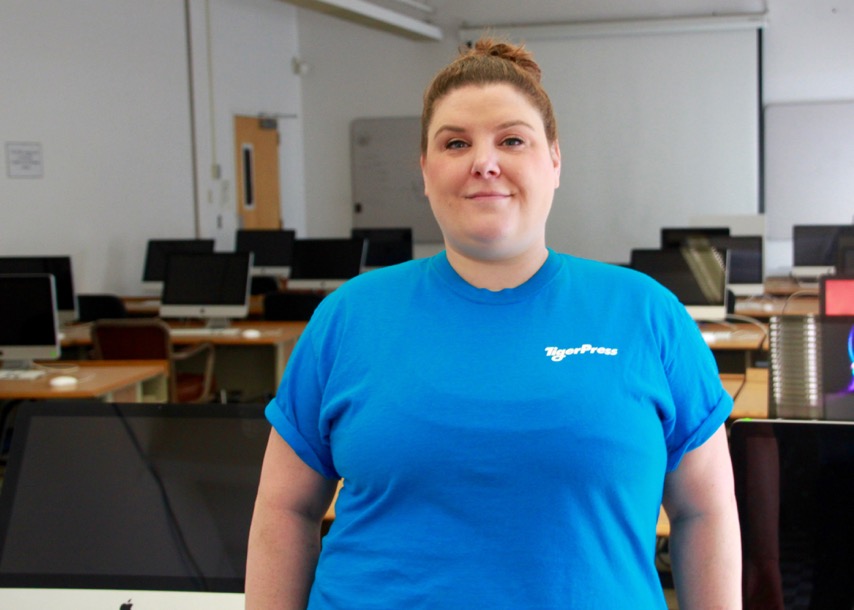 "I've been drawing since forever," she said. "In middle school I started working with graphic design and websites."
They both found the perfect program at Springfield Technical Community College. They enrolled in the graphic communications and photography program, which includes several options allowing students to zero in on their area of interest. Lolos and Ayers excelled academically. The women graduated with high honors and found full-time jobs.
STCC President John B. Cook said, "We love hearing that our graduates have found rewarding careers. One of our goals is to align our academic programs with the needs of area employers. The graphic communications and photography degree creates a pathway to positions at advertising and marketing companies in the area. The program is especially appealing to people like Liz and Ashleigh who have a talent for art."
Students in the two-year associate degree program can choose digital photography, graphic design or web and advertising design. One-year certificate programs also are available in digital photography, digital publishing and graphic arts entrepreneurial.
When I came to STCC, I thought the professors were great. They actually cared about what you were doing. They checked in with your work. Ashleigh Ayers,

STCC graduate who works as a web developer
Lolos decided to study graphic design and in May received an associate degree in graphic communications and photography. She now works for TigerPress, a printing company in East Longmeadow. She runs the plates that are used to transfer an image to paper as part of the process of making booklets, magazines, signs, catalogs, flyers and other printed products.
"Liz has been working in our prepress department for a few months now making plates and creating artwork for golf scorecards," said Wayne Gustafson, prepress manager at TigerPress. "She came in with a good working knowledge of InDesign (a software used to create publishing projects) and has responded well to training in more advanced concepts such as tables and font management. Liz now produces most scorecards on her own with occasional help from a senior operator. She performs all of our plate making now as well as processor maintenance."
"It's a great company," Lolos said. "It's not often that you find a job that you really love."
Lolos credits STCC's program with helping her to land her dream job. "I definitely wouldn't have gotten that job without my degree," she said.
Lolos didn't start college straight out of high school. She had worked as a waitress for 19 years before enrolling at STCC.
But she said her interest in graphic design goes back to her teen years. When she was in high school, Lolos loved to paint and create murals. But she didn't think she was ready for college.
"I felt like if I waited until I was older I probably would do a little better," said Lolos, who graduated from STCC with a 3.7 grade point average.
The program inspired her to do her best. "All the professors are really nice. You can go to them with anything," she said. "I liked that a lot of the classes are project-based and you do hands-on work."
Ayers, who earned straight A's and graduated with a degree in graphic arts technology in 2016, also pointed to the instructors when asked what she liked best about the program. Before she applied at STCC, she spent one semester in another college's graphics program, which she didn't like.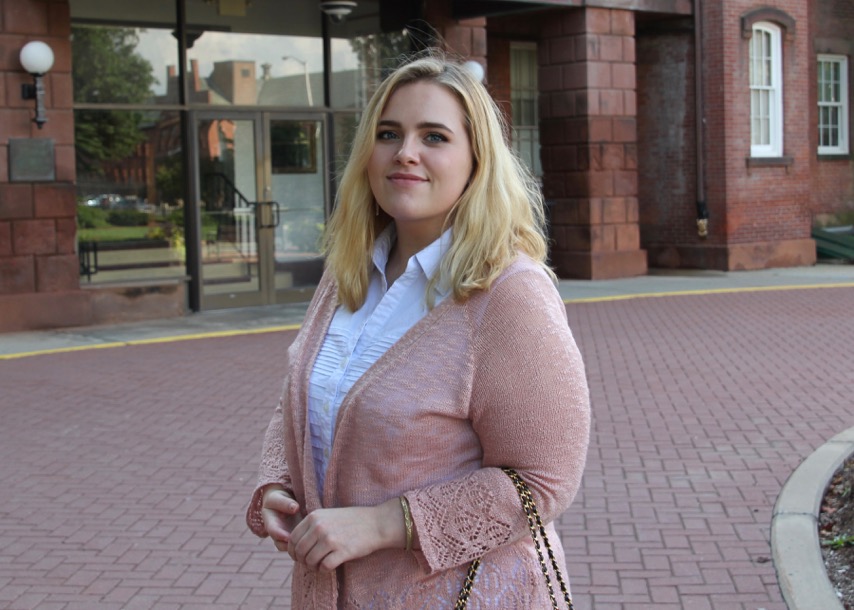 "When I came to STCC, I thought the professors were great. They actually cared about what you were doing. They checked in with your work," she said.
The professors have industry experience and connections, which is appealing to students who need to get a foot in the door, she noted. One of her instructors, adjunct professor Christopher Zarlengo, has worked in area advertising agencies.
"Having professors with actual experience in the business is a big selling point," she said.
With help from Zarlengo, Ayers was hired as an intern at Envision Marketing Group in East Longmeadow. The company offered her a full-time web developer position in November.
"Having an internship first makes it a lot easier to find an actual job because of the connections you can make," Ayers said. "A good internship makes a big difference in how your career ends up."
At Envision, Ayers designs websites for a wide range of companies. She chooses colors, fonts and photos, among other responsibilities, and said she applies the core principles she learned at STCC.
Envision Marketing Group President Dan Buendo said college programs like graphic communications and photography help produce qualified job candidates.
"It can be tough to find qualified web designers," he said. "Ashleigh is one of the more qualified people I've seen coming right out of school. She's been great. We're really happy with her."
STCC helped to create a career pathway for both Ayers and Lolos. Professor Matthew Kriftcher, department chair, said a degree in graphic communications and photography opens doors for creative students seeking careers in printing, publishing, advertising and commercial photography.
"If you want to be creative and learn hands on," he said, "graphic communications and photography is the field to explore."
Interested in enrolling in the graphic communications and photography program? Visit stcc.edu/apply or call the Admissions Department at (413) 755-3333 for more information.
To see job opportunities in this field, click here.
About Springfield Technical Community College
Founded in 1967 and located on 35 acres of the Springfield Armory National Historic Site, STCC is a major resource for the economic vitality of Western Massachusetts. As the only technical community college in Massachusetts, STCC, a designated Hispanic Serving Institution and an Achieving the Dream Leader College, offers a variety of career programs unequalled in the state. STCC's highly regarded transfer programs in business, engineering, liberal arts, science and technology continue to provide the most economical options for students pursuing a four-year degree. With an annual enrollment of more than 7,700 day, evening, weekend and online students, STCC is a vibrant campus rich in diversity.
For more information about STCC, visit www.stcc.edu. Follow us on Facebook and Twitter (@S_T_C_C).
CONTACTS:
Jim Danko, (413) 755-4812, jdanko@stcc.edu