Health information technology degree program at STCC wins accreditation
SPRINGFIELD, Mass. – The health information technology program at Springfield Technical Community College was awarded accreditation, a big step forward for an area of study that can help hospital workers like Pamela Rau advance in their careers.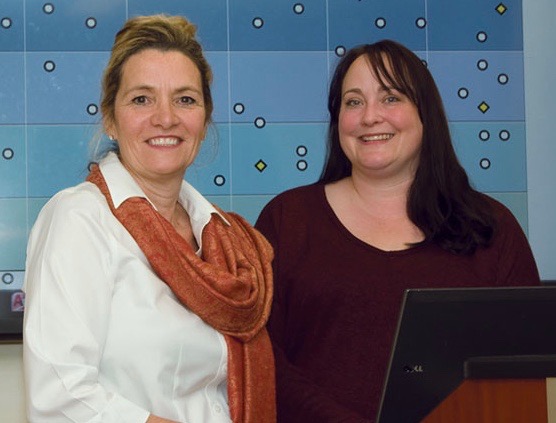 "It was interesting because what I learned on the job coincided with what I learned in school," Rau said. "And the things I learned in school helped me grow in this position in my job. I was very impressed with the program."
Her next step is to take a certification exam to become a Registered Health Information Technician (RHIT). She also hopes to earn a bachelor's degree in health care administration.
But her academic journey started with STCC's Health Informatics and Information Management (HIIM) program, which awards degrees in health information technology. On Dec. 20, the two-year-old program received accreditation from the Commission on Accreditation for Health Informatics and Information Management Education (CAHIIM).
Accreditation, a tool for assuring academic quality, shows that the program meets a certain minimum standard. A graduate of the accredited HIIM program at STCC becomes eligible to take professional certification exams.
It's a great program. What you're learning in school is what you're going to do in the field. Edith Santana,

health information technology student
Tracey A. McKethan, department chair and professor of health information technology, said the program went through a rigorous process involving an on-site review by accreditors and met 33 standards.
"There are no other programs like this in western or central Massachusetts or in northern Connecticut," McKethan said, noting that STCC's program has a 100 percent graduation rate.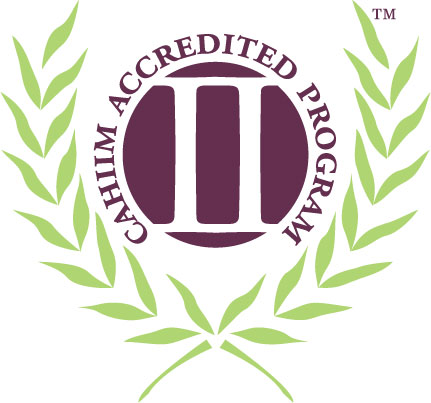 The HIIM program prepares students, who are awarded degrees in health information technology, for certification and practice as registered health information technicians. The program has transfer agreements with four-year institutions, which means students can apply their credits from STCC to pursue bachelor's degrees. Master's programs also are available.
The technicians typically work at hospitals, nursing homes, long-term care facilities, mental health centers or large medical practices. As the custodians of patient medical records, the technicians must be able to translate complex data into understandable, interesting and simplified information for the general public.
According to the American Health Information Management Association, professionals holding the RHIT credential ensure quality of medical records by verifying their completeness, accuracy and proper entry into computer systems. Technicians use data to improve patient care or control costs. Some might work as coders, which involves analyzing the medical information and coding diagnoses and procedures in the patient record to allow the hospital to get reimbursed appropriately. Some coders can work remotely from home.
McKethan said RHIT professionals don't interact with patients. Instead, they mostly work on computers, sifting through regulations and ensuring compliance with laws. They do consult with doctors and other health care professionals. Their critically important work might include reporting data to cancer registries and the Centers for Disease Control and Prevention.
"It's a growing field," McKethan said. "With more regulations being pushed out by the government and insurance companies, you really need these highly skilled, credentialed people in certain positions at hospitals and larger practices."
About one-third of McKethan's students are workers like Rau who are seeking to earn a degree and advance in their careers. Most of the other students enroll in the program seeking to make a career change.
"This is a nice program for incumbent workers who are already in health care, but are looking to move to the next level. They know that a lack of a degree and a credential are holding them back," McKethan said.
McKethan added: "The field of health information technology is wide open and offers great opportunities for everyone from the career changer to the recent high school graduate."
Kristin Audette, of Springfield, was working as a pharmacy technician when she heard about the STCC health information technology degree.
"HIT combines two of my career interests: information technology and health care," Audette said. "I would point any working adult looking to change careers to STCC. They know where the jobs are."
Edith Santana, 31, of Springfield, is currently enrolled in the program. Santana works as a health information management clerk at Shriners Hospitals for Children, under the supervision of Rau.
"I've been in the health information management field for about 2½ years, and I want to be able to move up," Santana said. "It's a great program. What you're learning in school is what you're going to do in the field."
Santana said she would recommend the STCC program to anyone interested in pursuing a career in health information technology.
"I find this field interesting," Santana said. "Things are always changing. You'll never get bored in this field."
For more information, call the admissions office at (413) 755-3333 or visit www.stcc.edu/apply. Fall applications are due by April 30.
About Springfield Technical Community College
Founded in 1967 and located on 35 acres of the Springfield Armory National Historic Site, STCC is a major resource for the economic vitality of Western Massachusetts. As the only technical community college in Massachusetts, STCC, an Achieving the Dream Leader College, offers a variety of career programs unequalled in the state. STCC's highly regarded transfer programs in business, engineering, liberal arts, science and technology continue to provide the most economical options for students pursuing a four-year degree. With an annual enrollment of more than 8,500 day, evening, weekend and online students, STCC is a vibrant campus rich in diversity.
For more information about STCC, visit www.stcc.edu. Follow us on Facebook and Twitter (@S_T_C_C).
Media Contact:
Jim Danko, coordinator of media relations
(413) 755-4812, jdanko@stcc.edu