High School of Commerce students experience college life at STCC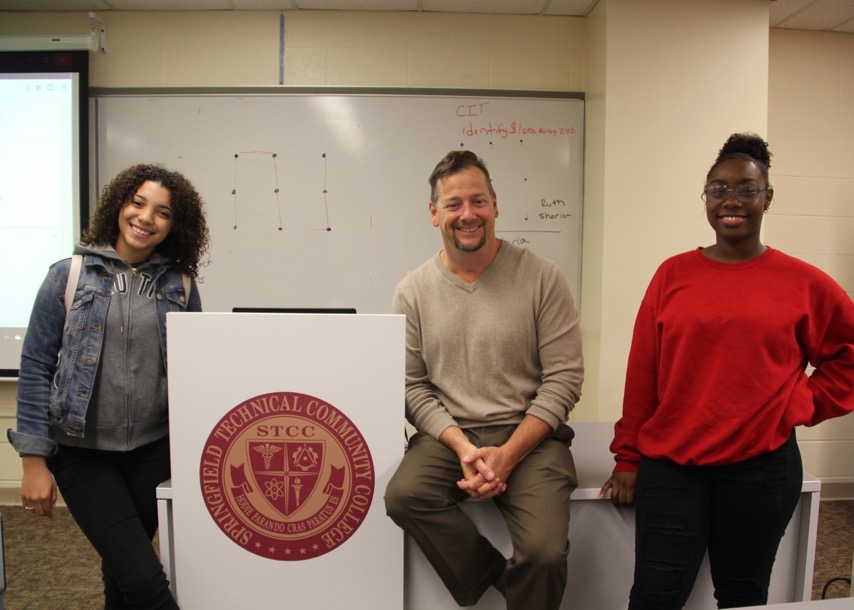 SPRINGFIELD, Mass. – On an early Monday morning this fall, more than a dozen students sat behind rows of tables and jotted down notes in a mobile app programming class taught at Springfield Technical Community College.
They asked questions and discussed ways to solve mathematical problems. With their backpacks at their sides and notebooks in front of them, they could have been mistaken for STCC students. But they all came from the High School of Commerce, which is undergoing a program redesign.
This fall, STCC welcomed more than 40 Commerce students who chose to take one of three college-level classes offered to them: mobile app programming, computer basics and airbrushing techniques. The classes are offered Mondays, Wednesdays and Fridays during the high school students' usual first period.
The number of students marks a big jump from years past, when only a handful from Commerce attended STCC classes. In the coming years, even more students from Commerce are expected to walk through the gates of STCC as part of the redesign efforts.
STCC agreed to work with the 11th- and 12th-graders through its collaboration with the Springfield Empowerment Zone Partnership, which last year launched the redesign of Commerce.
STCC has been a key player in the redesign of Commerce, and this is a powerful first initiative on their side to make sure we're providing amazing opportunities for these kids. Matthew Brunell,

Springfield Empowerment Zone Partnership
The SEZP serves as a steward of Commerce and 11 other public schools through a partnership of the Springfield Public Schools, the teachers' union and the state Department of Elementary and Secondary Education.
As part of the redesign, SEZP this year launched a "career pathways" curriculum that will provide students with options of study to direct them to college or a career of their choice, said Matthew Brunell, program director at SEZP.
Under this redesign, some of this fall's "pathway" freshmen at Commerce will take courses at STCC in a couple of years when they are juniors.
The Commerce students studying three days a week at STCC this fall are paving the way for the redesign plan, as they help STCC to prepare for an increased number of "pathway students" who will take college-level classes in the coming years.
"STCC has been a key player in the redesign of Commerce, and this is a powerful first initiative on their side to make sure we're providing amazing opportunities for these kids," Brunell said.
Geraldine de Berly, vice president of academic affairs and chief academic officer at STCC, said she looks forward to seeing the college's partnership with SEZP blossom over the coming years.
"This is a wonderful collaborative approach," de Berly said. "The Commerce students are getting first-hand college experience. We're thrilled to see these young students in our classrooms, and we encourage them to consider enrolling at STCC after they graduate from high school."
Brian Candido, professor and program chair for STCC's Computer Information Technologies program, has been working closely on the Commerce redesign.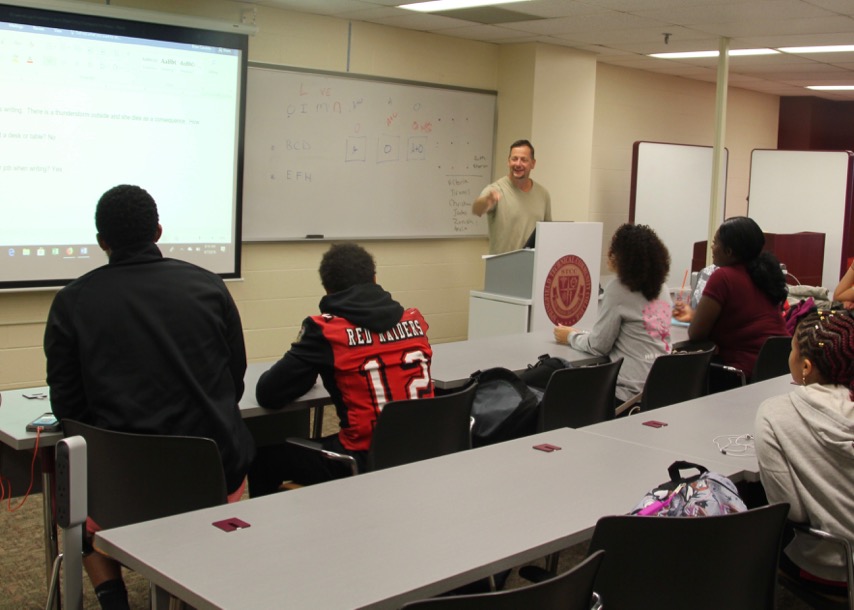 "We're really excited to be working with the Springfield Empowerment Zone Partnership," Candido said. "The students here this fall had the freedom to pick one of three courses. A lot of them have plans to go to college, and they saw this as a great opportunity."
Zaniah King, 17, a senior at Commerce who is enrolled in the mobile app programming class, said she enjoys having Candido as a professor and likes the college environment. She looks forward to going to college after high school.
"It's giving me an early college experience," King said. "For this class, I get three college credits. I like it here. It's different from high school because there's a little more freedom. They let you express yourself more in college than in high school."
Another key partner in the redesign effort is the Latino Education Institute at Worcester State University, which works to help Latino students succeed through mentorship and other supports. "Commerce students get help with assignments from mentors, who also offer guidance about college expectations." said Kelley Gangi, Chief of Instructional Improvement for the Springfield Empowerment Zone Partnership.
"The mentors are able to attend courses with Commerce students at STCC on Mondays, Wednesdays and Fridays," Gangi said. "The support and mentorship is customized based on student need to ensure success with those college-level classes."
Vincent Grassetti, who is teaching Computer Basics: Concepts & Applications, said he finds the students to be interested and engaged in the material.
"I think this will be very beneficial for them," he said. "They get to see what a college looks like and take college courses. I'm going to treat them the same way we treat our own in-house students. I will expect certain things from them, and they're going to have to produce. I think they'll be fine. After they finish at Commerce, hopefully they will transition to STCC."
Interested in applying to STCC? Visit stcc.edu/apply or call Admissions at (413) 755-3333.
About Springfield Technical Community College
Founded in 1967 and located on 35 acres of the Springfield Armory National Historic Site, STCC is a major resource for the economic vitality of Western Massachusetts. As the only technical community college in Massachusetts, STCC, a designated Hispanic Serving Institution and an Achieving the Dream Leader College, offers a variety of career programs unequalled in the state. STCC's highly regarded transfer programs in business, engineering, liberal arts, science and technology continue to provide the most economical options for students pursuing a four-year degree. With an annual enrollment of more than 7,400 day, evening, weekend and online students, STCC is a vibrant campus rich in diversity.
For more information about STCC, visit www.stcc.edu. Follow us on Facebook, Twitter (@S_T_C_C) and Instagram (@stccpics).
MEDIA CONTACT:
Jim Danko, (413) 222-9311, jdanko@stcc.edu