Honors Program at STCC inspires students to excel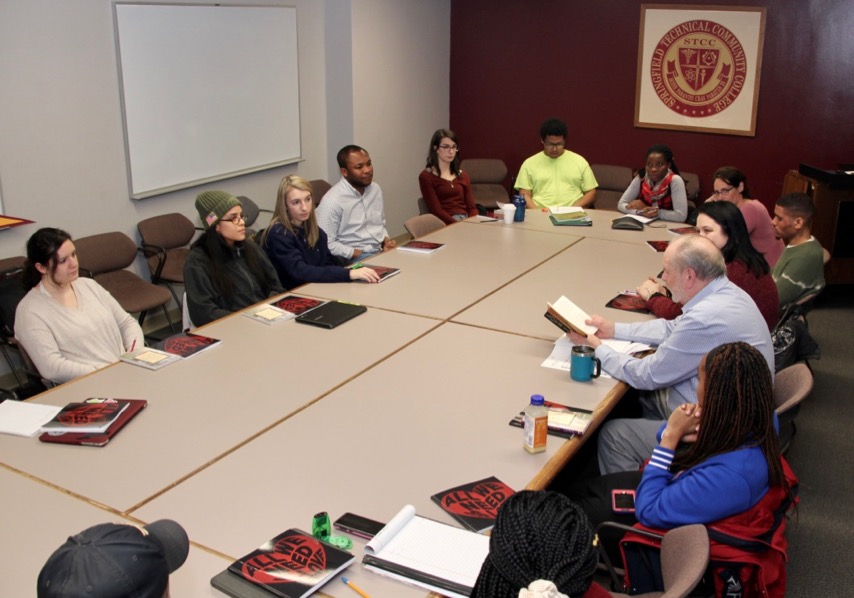 SPRINGFIELD, Mass. – When Aimee Ludwin found the Honors Program at Springfield Technical Community College, she started to see the world differently.
She enrolled in an honors seminar called Seeing Beyond Seeing, a course taught by Professor Sondra Peron that pushes students to expand their own views of art. Ludwin never imagined she would be in a college honors class when she was in high school. She didn't graduate from high school and described herself as a poor student when she was younger. She only started to appreciate education later in life when she enrolled at STCC.
"Contemporary art can be subjective," said Ludwin, who transferred to Elms College in Chicopee and is pursuing a bachelor's degree in social work. "It's not always pretty. It was a little difficult for me. I wasn't a fan of contemporary art and had to learn to think differently for that class. I had to think about how I was understanding things."
She observed art that might not have been "pretty," but the course taught her to think about the artist's process. "Someone was up for days thinking about an art project. Somebody was almost possessed, and they had to make that. They made it real and that I find amazing," Ludwin said.
The art course is an example of how the Honors Program at STCC helps students develop critical thinking ability as well as verbal, visual and writing skills, said program coordinator John Diffley, a history professor at STCC.
"The Honors Program gives students the opportunity to go deeper than they would in normal classes and explore topics of their own choosing," Diffley said.
It has helped to hone my critical thinking and communication skills. I've always liked taking on new challenges. I feel strongly that the Honors Program has pushed me out of my comfort zone. Nicole Bedard,

STCC student enrolled in Honors Program
As part of the Commonwealth Honors Program, the honors track at STCC offers students who complete the work exclusive transfer opportunities and recognition as honor students throughout Massachusetts. Many of the honors program students transfer to four-year colleges and universities to seek bachelor's degrees.
"One of the benefits of the program is it helps you stand out as a student when you're applying to a four-year university or college," Diffley said. "It really gives you a leg up against other students."
Both new and current students are eligible to participate in the STCC Honors Program. To join, students must meet certain academic requirements. First-year students can join if they earned a 3.5 grade point average (GPA) in high school. Students who didn't reach that threshold in high school but who earn a 3.2 GPA after their first semester at STCC can enroll in the program
Nicole Bedard, of Monson, a first-year STCC student majoring in radiology, said she has enjoyed making connections in the program with students and professors.
"Through the experience of taking honor seminars, I've been exposed to new perspectives and new information," Bedard said. "It has helped to hone my critical thinking and communication skills. I've always liked taking on new challenges. I feel strongly that the Honors Program has pushed me out of my comfort zone. I really like the person I am becoming because of that."
Kimberly Quinonez, of Springfield, said she never thought she would be a successful student, let alone an honors student. She dropped out of school in the seventh grade and returned later to an adult education program at STCC.
"It took me five years to complete my GED (high school equivalency credential) and that was part of the reason I felt a little discouraged. Being in the honors program caused me to step out of fear, self-doubt and begin to see myself in a different light," Quinonez said.
"I remember my first meeting with Professor John Diffley," Quinonez added. "During this time I was nervous and kind of on the fence about my abilities to be successful while in the honors program. As professor Diffley was explaining about how the program works, my inner spirit became alive with excitement. I felt as though something had been woken up in me. That feeling was the professor's words of encouragement giving me a desire to be all that I could be while I am in college."
One of her favorite courses was called the Psychology of Love, taught by Professor Eric Brown, who challenged her to dig deep into a subject to find truth.
"The Honors Program brought out my greater qualities that I never knew were there, Quinonez said.
Diffley said he's always impressed seeing students in the program develop skills that they can apply for the rest of their lives.
"One of our goals is to help students build self-confidence and self-esteem through their intellectual achievements," Diffley said. "Many of our students enter the program unaware that they have so much potential to succeed. We're thrilled to see them blossom, get their degree and take what they learned to the next level."
To learn more about the Honors Program at STCC, visit stcc.edu/honors. To apply for the spring semester at STCC, visit stcc.edu/apply or call Admissions at (413) 755-3333
About Springfield Technical Community College
STCC, the Commonwealth's only technical community college, continues the pioneering legacy of the Springfield Armory with comprehensive and technical education in manufacturing, STEM, healthcare, business, social services, and the liberal arts. STCC's highly regarded workforce, certificate, degree, and transfer programs are the most affordable in Springfield and provide unequalled opportunity for the vitality of Western Massachusetts. Founded in 1967, the college – a designated Hispanic Serving Institution – seeks to close achievement gaps among students who traditionally face societal barriers. STCC supports students as they transform their lives through intellectual, cultural, and economic engagement while becoming thoughtful, committed and socially responsible graduates.
MEDIA CONTACT:
Jim Danko, (413) 755-4812, jdanko@stcc.edu